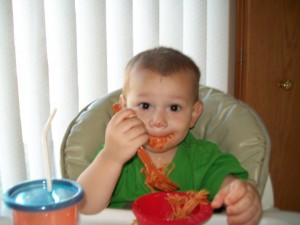 Lately, with everything going on in our family, we have had to make some changes in order to simplify our life and utilize our time in the best way possible. So, we have simplified dinnertime. Instead of spending an hour cooking a meal, we've opted for simpler ways to feed our children that keeps them satisfied and us out of the kitchen for two hours every evening cooking and cleaning up afterwards.
The kids eat a normal breakfast of cereal or toast and then Ruben usually outdoes himself and cooks a meal for lunch that does require kitchen time but not too much. He'll make something like hamburgers, conchitas or fideo (mexican sort of pasta soup dishes that are easy to make), pork chops, hot dogs, steaks, etc….. But he cooks around helping the two older kids with their schoolwork and trying to keep the two younger kids from doing something too dangerous (our boys are the picture of wild sometimes). I've actually been really impressed that he's been doing this since we started school. He even cleans up afterwards! And has food ready for me when I get home!
So for the most part, Ruben handles lunch during the week.
Dinnertime is another story. Ruben and I normally have hours of work to do in the afternoons. Many times, Ruben has to start on homework shortly after I get home from school and before he leaves for his night class. I, in turn, try to start on homework about 2-3 hours after I get home from school and have had time with the kids. This means I don't have a lot of time to spend in the kitchen so dinner is usually something like leftovers from lunch, something easy to make like spaghetti, or something I can just throw in the oven like a frozen pizza. It's simple, easy, and it works for the season of life we are in.
I cook with each of the three older kids once a week too, and we've made that super easy yet still enjoyable for them as well. Before we'd follow a recipe and make some elaborate thing like monkey bread that takes a ridiculous amount of time and effort to make from scratch…..now we put premade pillsbury cookie dough on a baking sheet and throw it in the oven. They're still happy! And I'm happy! It works. 🙂
For more WFMW tips and ideas, please visit We are THAT Family!