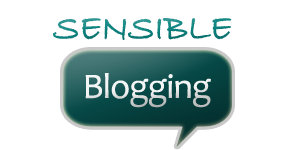 At the beginning of the month, I was planning on offering a web design tip or tutorial every Tuesday.  I hadn't started yet because I wasn't quite sure where I should start, but after thinking it over, I'm simply going to start with a series on blogging in general.  Where to start?  What's the difference between Blogger and WordPress? Do I need a domain? How do I buy a domain? And answering other similar questions like these.
This week I'm going to answer the question "Where do I start?"
How do you start a blog?  Well, first off, you need an idea or a main topic that you'll be blogging about. In order to narrow this down some questions you might ask yourself would be:
What would I like to blog about? (For example, family and parenting, homemaking, frugal living, or scrapbooking.)
What are my passions and interests?
Do I have a hobby that I could share with the world?
Is there a gap in some area that I could fill in with my knowledge and expertise?
What would my niche be?
Once you know what you want to blog about you'll need to ask yourself a few more very important questions:
Have I researched this area well?
What is my motivation for blogging?
Do I have time for a blog, and how will I fit posting into my daily life?
Have I discussed this idea with others for their input, and what do they think?
After you've researched your idea and you know what you want to blog about, it's time to decide on a name for your blog. This can be tough because there are so many blogs already out there that there's a good chance someone else has already thought of the name you'd like for your blog. I ran into this problem back when I started blogging two years ago. I was starting a frugal blog on coupons, deals, and saving money, and well….let's just say there's no lack of these types of fabulous blogs out there.  Finding a great name that someone else hadn't already chosen was a bit challenging, but I finally came up with "A Lot of Savings" and stuck with it.
I started my first blog on Blogger, so, before I had purchased my own domain (we'll discuss how to do this in the coming weeks), I used blogger's free domain of www.alotofsavings.blogspot.com. Please notice that my domain name (www.alotofsavings.blogspot.com) was the same as the title of my blog, A Lot of Savings.
May I please suggest that you always try to keep the title of your blog the same as the domain name of your blog? For example, don't title your blog "Happy Mom" and have your domain name be www.threekidsandme.com. Sure you could do this, but why? It makes it harder for readers to remember your domain name if you do?  If your blog is titled "Happy Mom," then make your domain name, www.happymom.com or if you haven't yet purchase your own domain, www.happymom.blogspot.com or www.happymom.wordpress.com. Having the title of your blog and your domain name the same from the beginning makes a lot of sense and helps readers to find your blog and refer it to others easily. And that's what we want, right? 🙂
Next week, I'll discuss the differences between blogger, wordpress.com, and wordpress.org, to help you decide which platform is the best fit for you.