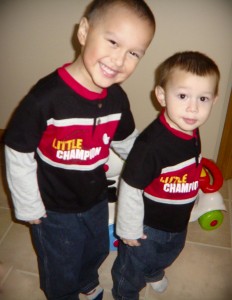 Today, for Frugal Friday, the question was asked, "What is your bad money habit?"  I know right away what my answer to that is, and it's something that you'd think someone as frugal as me would have in check.
It's staying ON A WRITTEN BUDGET.
Can you believe it?  It was my goal for 2010 to stay on budget, but I've never quite made it.  I mean I've written the budget out and discussed it with my husband, but we just haven't been able to implement it successfully yet.  The reason is partly because our income has fluctuated so much in the last three years.  There have been times where we've had money to spare at the end of the month, and times where we have struggled to keep our heads above water (God has been faithful each and every one of those times, though).
At the moment…God is sustaining us.  He is providing for us each month and the bills are being paid.  No, there isn't much money left over at the moment, but we are making it, everyone has everything they need, and we know that sometime this year (Lord willing), our financial situation is going to change and we will have more funds available to breath and allow us to really stay on a budget….even save money!  That would be a nice change!  We are actually hoping to have our car paid off by the end of March, and that will allow for a lot more breathing room!  I can't wait!
But anyway, being unable to stay on a budget is my "bad money habit."
Do you have a "bad money habit?"  Have you been able to make a budget work for your family?
For more Frugal Friday tips and ideas, please visit Life as Mom.