Since we've changed our eating habits to eating more raw foods (fruits, vegetables, nuts, and seeds), and eating far less animal products (chicken, pork, and beef), I've had to come up with new ways to continue making dinner delicious and enjoyable.  One simple and easy way I've done this is to introduce the kids to baked potatoes with coconut oil on them instead of butter.  Wow!  These are so good. The coconut oil melts quickly on the potatoes and makes them moist and delicious instead of dry like you'd have if you were simply eating a baked potato without butter or coconut oil.
These are so good that even my very picky children eat them and ask for more.  No one even misses the butter.  The coconut oil is that good, and it's so much better for you. It even helps in assisting you to lose weight faster!  That's my kind of oil!
I can't say it's only because we've been using coconut oil, it's rather because of the total overall changes that we've been making in our diet, but our family has collectively lost about 20 pounds in the last month. And I think switching to coconut oil had a little something to do with it.
We use it beyond baked potatoes, but since this post is about using it with our baked potatoes, I'll get back to the point.  Here are the ingredients I use to make baked potatoes.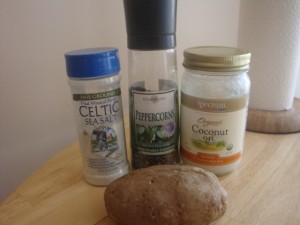 Ingredients:
Celtic Sea Salt (sea salt is much better for you than the regular table salt we're used to)
Pepper
1 tsp. Coconut Oil
Potato
To make these quickly:
Simply wash the potato and then poke holes in it with a fork. Then cook the potato in the microwave for 3-4 minutes depending on the size of the potato (a little longer for larger potatoes, a little less for smaller potatoes).  After about 3-4 minutes, turn the potato over and microwave another 4 minutes.  Let the potato rest after it's finished cooking because it will be very hot. Cut the potato open.  Add the coconut oil, salt, and pepper.  Enjoy!
As you can see from the pictures, the coconut oil melts right away on the warm potato, and a little goes a long way. And if you want to cook more than one potato in the microwave at the same time, you can do this with no problem.  The amount of time it takes to cook more than one potato is relatively the same.
A quick note if you are not used to using coconut oil, or have never purchased it before (like I hadn't until about 5 weeks ago).  You can find it in most grocery stores, even at Walmart or Target.  Look for it in the aisle where you'd find baking items.  If you can't locate it, ask a store employee, and they will likely be able to point you in the right direction.
Overall, this is a quick, simple, easy, delicious, and frugal way to lunch, dinner, and even breakfast in our home.
Oh, and one last thing.  Did you know that pototoes have a very high satiety index?  That means two medium sized baked potatoes will make you feel fuller and more satisfied longer than many other foods.
Do you use coconut oil?  I'd love to hear some of the ways you incorporate it into your meals!
For more Frugal Friday tips and ideas, please visit Life as Mom.