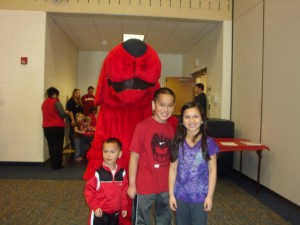 We've found a hidden gem when it comes to finding fun and inexpensive things for our family to do. What is it you ask?
The Park District.
They put out a catalog once per season (Fall, Summer, Winter, Spring), and it is packed with fun things for the kids to do, and they even offer a lot activities for adults and whole families. In the picture, the kids were attending an event with Clifford. I think it was called, Clifford's Birthday Party? But they got lunch, a picture with Clifford, and got to participate in some fun crafts for only $20 for four people. Ruben took the older ones while I stayed home with David, and just look at the fun they had!
The two older kids, Nathan and Breanna, are currently signed up for swimming classes through the park district, too. They had their first lesson last week, and it was fun watching them being pulled out from their comfort zones when it comes to the water. They were doing things with the instructor that they would NOT have been willing to do if I were teaching them. The best part is that they actually enjoyed it! I wasn't sure if that was going to be the case because they took swimming lessons once before through our old park district, and they REALLY protested being signed up again. I actually text messaged Ruben shortly after the lesson started, and my exact message was, "I have a feeling the kids are not going to want to come back next week. The instructor is going a bit fast!" :-0 I was wrong, though. Thankfully!
Some other classes we've done over the years…..
1. AquaTots – This class is a parent/child class that focuses on getting little ones used the water. We sang songs and did little exercises like having the kids throw a small toy and scooping to get it. We also sang songs like "I'm a little tea pot" and tried to get the kids to put their ear in the water at the "tip me over and pour me out part." Fun!
2. Mommy & me stroller fitness class – What fun this was! I would take Isaac and David in our double stroller and meet up with other moms at a park with a trail or at the mall on cold/rainy days, and we'd really get a work out! These instructors did not play games! Wow.
3. Gingerbread house – Ruben did more than one of these classes with the kids where they enjoyed decorating a gingerbread house.
4. Swimming classes – of course.
5. Summer Bowling – Nathan did this a couple summers ago and loved it.  He and several other boys were taught how to bowl properly, and they got a free pizza lunch every week, too!
6. Karate classes – Ruben, Nathan, and Breanna have both taken karate classes in the past. I would sign them up again except for the location the classes take place is a bit of a drive and not worth the gas.
7. Daddy/Daughter breakfast – Ruben and Breanna created a lasting memory for this one.
8. Lots more – These are just a few! 🙂
And there you have it. I've you've never taken a look at what your local park district has to offer, here's some encouragement to give them a try. Oh, and they offer lots of FREE events, too.
For more Frugal Friday tips and ideas, please visit Life as Mom.
This post is also linked to Thrifty Thursday.