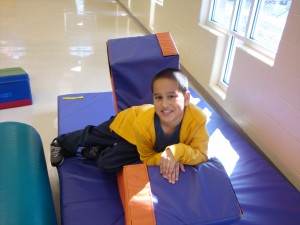 We have four kids, soon to be five, and it's hard to spend one-on-one time with each child unless we consciously make an effort to do so. For us that means we have to write down the times that we'll have one-on-one time with each child on our family calendar because if it's on the calendar, it will most likely get done.
Ruben has one-on-one time with the kids by taking an individual child out on a "Day Out with Dad" every month. We write down on the calendar which day each child will have their "day out" and then plan from their what activities they'll do. We try to keep the cost for a "Day Out with Dad" to $15 or less, and we normally have no problem staying below that amount. In order to stay under budget, it helps to plan ahead and save coupons I think might make for a fun time for Ruben and one of the kids.
For example, last week Ruben took Breanna out for their time together, and they went to a local pizza and fun center and had pizza, pop, and game-time for only $12. We got the voucher for this package at 50% off by purchasing it online. They really enjoyed it.
I, on the other hand, spend time with the kids individually by scheduling a monthly cooking day with them. The three older ones get to pick which recipe they want to make, and I make sure we have the ingredients together before it's time to cook. The kids have really come to enjoy this time, and they usually know what they want to make well in advance of their day to cook with me.

I'm hoping to share more of the recipes we've made in the next couple of weeks as school finishes up.
Anyway, this is how we spend one-on-one with the kids, and it works for us!
How do you make individual time with your children?
For more WFMW tips and ideas, please visit We are THAT Family!