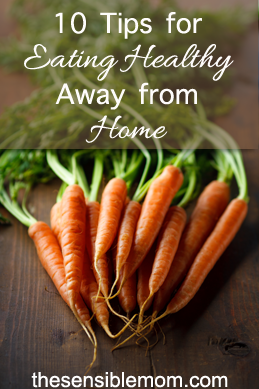 Eating away from home can often be disastrous if you are trying to lose weight or simply eat healthy.
Here are some tips I've implemented to help me stay on track while eating away from home:
1. Bring your own food. If you are going on a road trip, pack a lunch and snacks to eat in the car or at a rest stop. If you are just going to be out of the house for the day, at work for example, pack a healthy lunch and snacks to eat on breaks and your lunch period. When I worked at my call center job, one of my favorite things to do for lunch was to pack a big salad. I was sitting down at a computer for most of my shift, so a salad was a good choice, since I wasn't burning many calories or moving my body much.
2. Always leave the house with a bottle of water. This way, you'll stay hydrated and avoid the urge to run through the drive-thru to quench your thirst with soda/pop. If you are on vacation, consider keeping a case of water in your car for easy access.
3. If you are on vacation, bring plasticware and disposable cups, plates, bowls, etc…to use in your hotel room. This way you can avoid the thought that you have to eat out in a restaurant because you don't have utensils.
4. Buy food at the grocery store and take it back to your workplace, car, or hotel room to eat. When I attended a 5 hour class for a semester at the community college,  on my lunch break, I'd go to the local grocery store and buy a roll and some lunch meat to assemble a quick sandwich instead of going through the drive-thru. On our trip to Georgia, we did the same thing except we took the food back to our hotel room to eat.
5. If you do get fast food, don't buy drinks or eat inside the restaurant. You'll save money by not spending on soda and drink healthier by simply drinking water. I've found that if we sit down and eat inside the restaurant, we tend to spend more money and drink pop more often.
6. Order salad. Just try to be sure that the ingredients are actually healthy, because sometimes the salads at restaurants are higher in calories than their burgers.
7. Share a meal. Oftentimes, the meals we order are really enough for two people. Consider sharing a meal with your husband or kids.
8. Use coupons. I keep a good amount of coupons for a variety of restaurants in my purse, so that they're on-hand if we find ourselves with a need or desire to eat out. Try to keep coupons for places with healthier options.
9. If you do eat at a sit down restaurant, order water. You'll not only save $1-$3, but you'll also avoid the added high fructose corn syrup by not ordering soda/pop.
10. Plan what you are going to eat before you leave the house. If you know you'll be eating out and where you'll be eating, visit that restaurant's website and decide what you will order ahead of time. Also be sure to check out the nutritional content in the food you'll be ordering.
How do you eat healthy away from home?