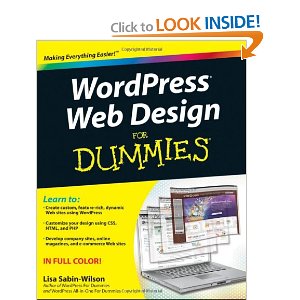 I finished reading WordPress Web Design for Dummies by Lisa Sabin-Wilson and wanted to do a quick review of it.
What I thought, overall:
I thought this book delivered on exactly what it promised. It shows you how to build WordPress themes, and throws in so many tips, short-cuts, and great recommendations that this book is worth picking up even if you skip the chapters that talk directly about how to build WordPress themes (These chapters happen to be VERY code-heavy (PHP, HTML, & CSS)).
Because this book uses a lot of code and assumes that you already know how to use WordPress, this book is NOT for beginners. For this reason, I would recommend checking this book out from your local library before you buy it.
I did like the fact that I could skip around and read some of the later chapters while at the same time reading the chapters that were packed with a lot of code. This is the way "Dummies" books are designed. You don't have to read them cover to cover unless you want to. My favorite chapters were the ones that talked about plugins. The author made several good plugin recommendations (both free and premium) that I ended up installing on The Sensible Mom.
What I liked about the book:
:: the website recommendations that give me more tools for my blog design business
:: breakdown of how to create a portfolio gallery using WordPress
:: detailed explanations of helpful plugins
:: the showcase of beautiful websites built on WordPress
:: the pieces of code in the book that you can use to give your theme more functionality, even if you don't want to build a full-blown theme
What I didn't like:
:: all the code! 🙂 and that the chapters with code were so long, but I KNOW this was necessary
There really isn't anything else that I didn't like.
If you are new to WordPress or just want to learn how to use it better, I recommend reading the author's first "Dummies" book, which is called WordPress for Dummies. After you've read that book, I would recommend reading this book even if you aren't going to be a WordPress web designer, because you will glean so many helpful ways to make your blog better. Just skip the chapters will the code, mainly chapters 11-13.
What books have you read recently?