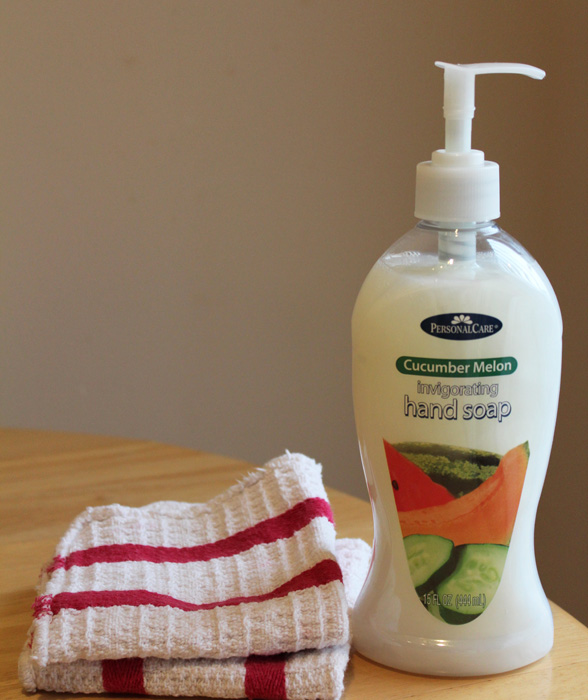 I accomplished February's DIY project right around the end of last month. I made homemade hand soap. One gallon, all for around $5.00. That's hard to beat, especially when the hand soap is made with organic soap.
I used Dr. Bonner's Peppermint Bar soap made with organic oils. I purchased it from Traders Joes for less than $3.50.
This recipe was SO easy to pull off. You essentially shred a bar of soap, put it in a large pot, add one gallon of water plus 2 Tablespoons of glycerin and cook. While it cooks, you can enjoy the fragrant aroma coming from your kitchen. Our's smelled like peppermint. Mmmm….
When the soap dissolves, you simply turn off the heat, then wait about 10 hours until the consistency changes to that of liquid hand soap. Here's what our soap looked like right after I put it on the stove.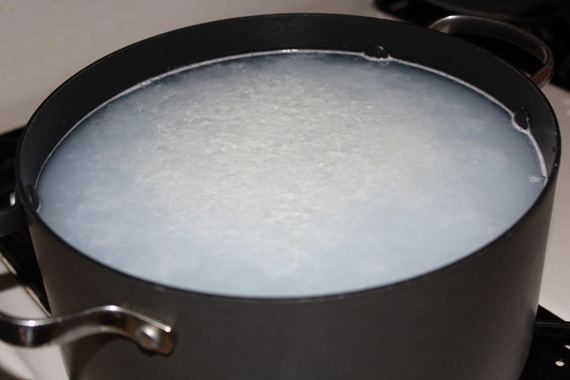 After reading the comments on the website where I found the recipe and seeing how my hand soap wasn't looking like soap in the first few hours, I wondered if this little DIY project was going to turn out well.
But it did turn out well. Very well. I ended up with a whole gallon of high quality liquid hand soap that doesn't have the chemicals and dyes you might find in other hand soaps. I think the reason is that I started with a high quality bar of soap. This really seems to make a difference, so if you were thinking about making hand soap for your family, too, I'd definitely be sure to make it with a high quality bar of soap. 🙂
Here's the recipe:
DIY Homemade Liquid Hand Soap
Ingredients
1 High Quality Bar of Soap (Preferably Dr. Bonner's)
1 Gallon Water
2 Tbs + 1-2 Tsp Glycerin
Instructions
Grate bar of soap and put it into a large pan on the stove
Add water and glycerin and cook on medium heat
Stir ingredients and cook until soap completely dissolves
Once the soap dissolves, turn off heat and allow hand soap to cool on stove and set to the consistency of hand soap (about 10 hours)
Transfer to containers - you may need a funnel for this part
http://thesensiblemom.com/2012/03/februarys-diy-project-homemade-hand-soap/
Here's a video tutorial I created for how to make homemade hand soap:

This month's DIY project is homemade face wash! Looking forward to it!