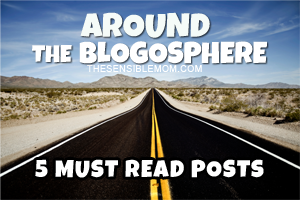 I know I haven't been around much the past few days. Between getting ready to move, hosting my dad for a visit until the end of next Saturday, a stomach bug interrupting the flow of things, and regular life with 5 kids, I've been a bit busy.
And I'm trying not to get too overwhelmed with all of the little details that need attention right now…..like packing, changing our address, turning off utilities, turning on utilities, getting doctor's visits in, eye appointments, orchestrating our trip to Georgia for the closing, and on and on.
Good thing I found some great posts this past week to take my mind off of my ever increasing to-do list! 🙂
First, you can enter a fun giveaway on Mountain Mama's blog to win a four pack of movies! She's giving away some fantastic Christian films. The four films include Courageous, Flywheel, Facing the Giants, and Fireproof. I've see all four of these movies and loved them. We don't actually own any of them, though, so winning this set would be great. 🙂
The Mogul Mom shares 5 Things you can do to Automate Your Social Media Marketing for Summer.
I really enjoyed this post by Simple Mom entitled, A Day in the Life. I enjoy getting a peek into the lives of other moms and fellow bloggers and see glimpses of 'how they do  it.'
Another post I liked reading this past week was found on Smockity Frocks where Connie talks about how she manages her blogging time. She's a busy mom with more kids than I have, so I can learn a thing or two from her, for sure.
And finally, Thrifty and Thriving shares some insight into how, what, and when to score some great deals on Easter clearance.
Have you read any great posts this week?