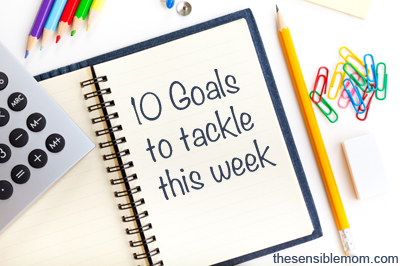 I'm going to jump right in, since dinner is in the oven, and I have limited time to write this post. 🙂

Family/Mothering Goals:
1. Spend more time talking with the kids and less time "doing" – even though we have lots to do
2. Cook with Breanna
Personal Goals:
3. Continue drinking at least one homemade juice a day. We purchased a Breville Juicer before we left Illinois and started using it a few days ago. It works fantastic! And the juices are delicious. We had carrot pear juice today – just carrots, pears, and a little water in the juicer. I also made fresh apple juice for Breanna, which she says is her favorite so far. It was just 3 green apples, juiced. Nothing else added.
4. Organize my desk
5. Start counting my calories again
Home Management Goals:
6. Where should I start? Okay, I think I'll focus on organizing and getting our master bathroom unpacked.
7. Unpack the boxes and remove the clutter from the school room
Business Goals:
8. Post one blog post each day
9. Work on client project that I'm behind on
10. Create graphics for new topics I'll be posting on
What are your goals for the week?