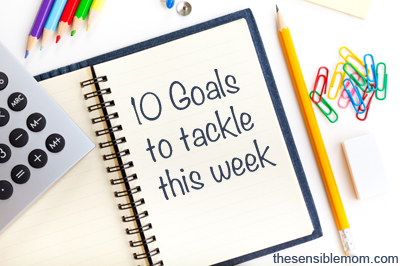 Hi guys! I know I haven't been around at all in the last 2 weeks….I've been busy working on a couple of projects that pretty much consumed my blogging time. We've also been taking time to learn more about nutrition, and we are transitioning our family's diet to a mostly whole foods plant based diet, which includes very little dairy and animal products.
I feel like all the changes we've been making for the last 1.5 years since we began learning a healthier way of eating has brought us here. For the longterm, we are eliminating meat from our diet, except for rare exceptions (holidays, vacation, visiting family, & the occasional Chick-fil-A

), and we are going to try to cut down our dairy consumption to only a small portion of our diet.
I'll talk more about the diet changes we are making in other blog posts, onto this week's goals!
Family/Mothering Goals:
1. Create a more structured homeschooling plan for Nathan & Breanna
2. Fix and write in baby books
Personal Goals:
3. Juice everyday this week
4. Start reading the ebook, Tell Your Time  (affiliate link) by Amy Lynn Andrews * I never got to this last time I mentioned it *
5. Work on speaking more gently to my children and giving them focused attention when they are talking to me
Home Management Goals:
6. Unpack 1 box from the garage
7. De-clutter kitchen counter
Business Goals:
8. Post one blog post each day and start my regular posting schedule!
9. Return email/messages I'm behind on
10. Create graphics for new topics I'll be posting here on The Sensible Mom
What are your goals for the week?