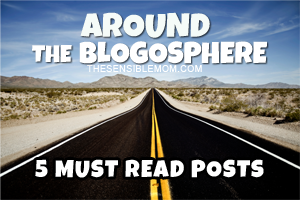 What to read some posts (or watch a video) that I thought were pretty great this past week?
Check these out:
Hands Free Mama wrote a post called Moment of Impact that impacted me. I've been talking to my husband about sharing more deeply here on The Sensible Mom about real life. How hard it is to be a mom sometimes. How hard it is to be a mom to 5 kids. Along with the joys, I struggle. I'm thinking about sharing a post maybe once a week that goes a bit deeper into our everyday lives.
This isn't a new post, but I just read it this week and thought it was packed with helpful information. It's titled, What Copywriters Know That the Rest of Us Don't on Sarah Mae's website, It's the Idea.
This next one is a video and not a post, but I can totally relate to it and thought it was funny. It really captures what it's like to be a blog/website designer sometimes. 🙂 The website is about letting people know about free legal documents, so that they don't get taken advantage of.
Whole New Mom wrote a post on how to make Amazing Homemade Glass Cleaner that it definitely worth trying.
Wellness Mama wrote a post about what A Typical Day looks like for her, and I just love reading these types of posts. Love reading how other moms go about their days.