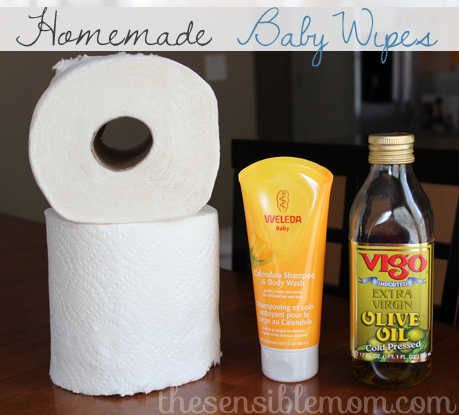 Homemade baby wipes. I never would have thought of making homemade baby wipes for my firstborn, twelve years ago.
It has taken me 12 years and 5 children to finally make homemade baby wipes.
And it was so easy. A 9 yr. old can do it. (except for the part where you need a very sharp knife to cut the roll of paper towels in half – do not let your 9 yr. old do that :-))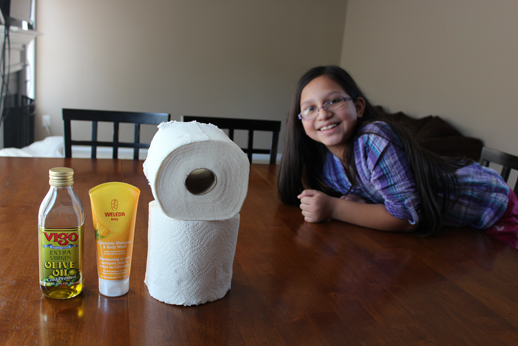 Here's how we made our baby wipes:
Ingredients
1 Roll of high-quality paper towels (cut in half)
2.5 Cups of water (1 1/4 cup per half-roll of paper towels)
2 Tablespoons of baby wash (1 Tbs. per half-roll of paper towels)
2 Tablespoons of olive oil (1 Tbs. per half-roll of paper towels)
1-2 Containers to store baby wipes
Instructions
In a small bowl, mix together 1 1/4 cups of water, 1 tbs. of baby wash, and 1 tbs. of olive oil and set aside
Place 1 half-roll of paper towels in the container you will be using to store your baby wipes, then pour the mixture you set aside over the top of the paper towels
Place the lid on the container and let the baby wipes sit covered for 10 minutes
After 10 minutes are up, flip the container with the wipes over and let it sit another 10 minutes
When the second 10 minute chunk of time is up, open the container, and remove the cardboard center - it should come out easily and your wipes will now be ready to pull through the center
Repeat these steps with the second half-roll of paper towels
Store in covered containers and pull the wipes through the center/middle of the paper towel rolls to use
http://thesensiblemom.com/2012/08/diy-baby-wipes/
Here's what our finished baby wipes looked like in the container: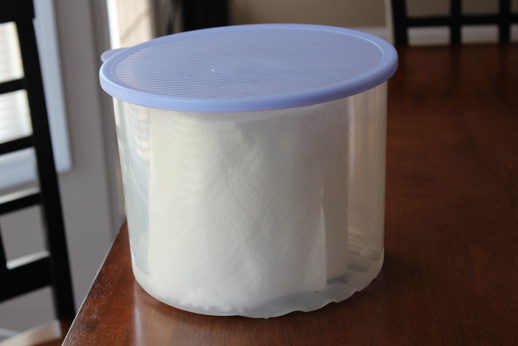 The picture only shows one half-roll, but we ended up storing both half-rolls in the container pictured. They fit snugly together.
How do we like our homemade baby wipes?
They're great. They get the job done, and they're not full of chemicals, which is the best part. We've been using the wipes for about 1.5 weeks, and they've stayed moist like the store bought baby wipes. No drying out.
Overall, a big thumbs-up! And we will be making these again.
Side notes:
You don't have to store the baby wipes in plastic containers. Large plastic bags would work great, too. In fact, storing them in plastic bags would make carrying the wipes around in a diaper bag a lot easier.
We used cold-pressed olive oil, but you can also use baby oil.
We used Weleda Baby Calendula Shampoo & Body Wash to make our wipes. It's free of synthetic fragrances, and it was on clearance at Publix.
Have you ever made homemade baby wipes? Have you made any DIY projects lately?
See more of my DIY projects.