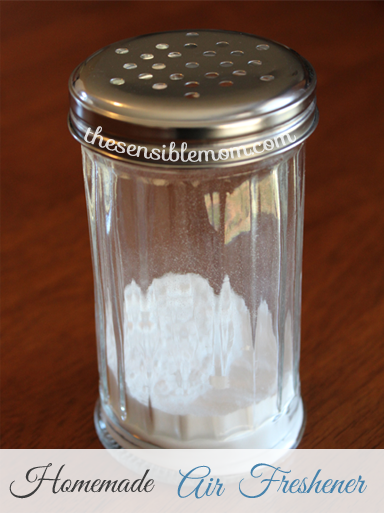 I'm sensitive to smells, and I definitely lean toward more mild odors when it comes to anything that we put in the air of our home or even on our bodies.
I…don't wear perfume, and I don't buy air fresheners for our home because of the bad-for-you chemicals in them.
So naturally when my husband wanted to find a way to freshener the air in our home, we talked about finding a way to do it without buying the spray air fresheners from the store.
He did some research, and he came to me with the idea of using baking soda, some of our essential oil, and a jar with holes at the top.
It made sense. The baking soda removes odors. The essential oil gives off a lovely fragrance. The jar with holes at the top is a great container as it allows our homemade air freshener to remove the bad odors from our home while replacing them with a lovely lavender smell.
He was able to find a cheese shaker (our jar with holes in it) at the dollar store for $1. Yay! That ended up being the perfect container for our homemade air freshener.
We added 1/2 cup of baking soda + 8 drops of lavender essential oil, gave it a stir, and it works. 🙂
After we tried out one, we ended up making 2 more for a total of 3 of these homemade air fresheners for our home. We also let the kids know what they were, so they wouldn't be curious. So far so good, as we have a very curious 3 year old son.
Here's the super simple recipe:
Homemade Air Freshener

Ingredients:

1/2 cup baking soda

8 drops essential oil (we used lavender, but you could also use rose, peppermint, vanilla, or whatever you have on hand)

jar with holes at the top

Directions:

Add the baking soda and essential oil to the jar and stir. Cover with a lid that has holes in it. Place in an area of your home that is out of the way of small children and pets.

Enjoy!
Have you ever made your own homemade air freshener? Do you have a natural method to get rid of odors in your home?
Would you love to have more recipes like this one for other DIY homemade health and beauty products? Snag my new ebook with 21 easy recipes for only $4.99 $3.99.