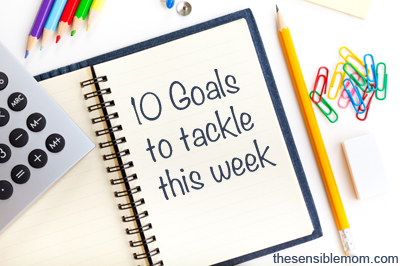 Even though I didn't get all of my goals accomplished last week, one thing I did do consistently changed my week.
That one thing?
Waking up before my children – most of them. Our 12 yr. old son, Nathan, wakes up while it's still dark just about every day. But we have a rule that he has to stay in his bedroom until 7:00am.
Getting up before the kids changed my mornings for the better. I was able to be more productive and get more things done in probably half the time it would have taken me otherwise.
Here's how I did with the rest of  week's goals:
Family/Mothering Goals:

1. Take at least 40 pictures of the kids this week

2. Go to the library and spend even more time reading to the kids

Personal Goals:

3. Juice at least 3 days this week – I drank juice only one day last week.

4. Read my bible everyday this week – I didn't open God's Word everyday, but almost everyday. Waking up before the kids is also helping me to spend more time in God's Word and in a devotional that I'm reading.

5. Wake up by 5:00am every morning – While I didn't get up by 5:00am every morning, I did get up before most of the kids each day. This is something that I'm definitely going to continue.

Elisabeth is 10 months old now, and I'm ready to start getting back to early morning productivity. I used to be able to get up around 5:00am each morning, but after I got pregnant with Elisabeth, I just couldn't do it. Then after I gave birth to her, I tried to get back into waking up before the kids, but I failed. I decided to accept that I wasn't going to be able to do it while Elisabeth was so young, but last week's success gave me hope that I can start trying to make this a habit again.

Home Management Goals:

6. Make more body scrub

7. Make a menu for what we'll eat this week

Business Goals:

8. Start executing the things I learned at the conference

9. Blog about the conference – I did blog about the Bloggy Conference, but didn't get to blogging about the Savvy Blogging conference.

10. Continue working on a project in progress
Here are this week's goals:
Family/Mothering Goals:
1. Make a fall treat for our family – something with pumpkin in it
2. Read to the kids and return library books
Personal Goals:
3. Wake up by 5:30am every morning
4. Read my bible everyday this week
5. Exercise with the kids
Home Management Goals:
6. Tidy up the area around the DVD player and remove unnecessary clutter
7. Go through Elisabeth's clothes and remove the pieces that no longer fit her
Business Goals:
8. Attend a webinar
9. Write 3 blog posts
10. Work on client projects
What goals do you have for this week?