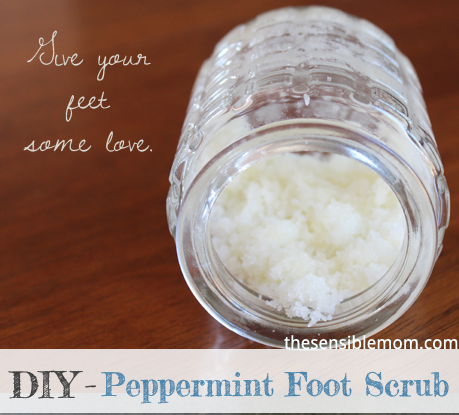 I've never used foot scrubs until this year.
What was I thinking? Especially when they are so easy to make at home.
There's no need to go out and buy expensive foot scrubs when you can create your own fabulous, budget-friendly foot scrubs at home.
Trust me. If you've never used a foot scrub before, you must try it.
The heels of my feet, actually, my feet altogether haven't felt this good in years.
I don't know if it's because I constantly wear flip-flops or because I rarely wear socks that my heels have taken a beating, but they were in pretty bad shape.
My poor husband can attest to that. 😉
I had some real progress going with my feet until I neglected them again in the midst preparing to attend the blog conferences and then actually attending them . At the conferences, I wore flip flops and another pair of shoes that while comfortable, were not friendly to my feet. Not friendly at all.
By the end of the last conference, my feet needed some serious love.
So I headed into my kitchen last night and prepared a foot scrub that smells lovely and works great. Here's the recipe: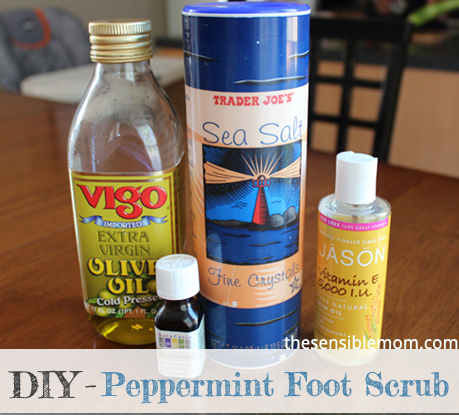 Peppermint Sea Salt Foot Scrub
Ingredients:
3.5 tbs. sea salt (I used fine crystals, because that's what I hand on hand. Ideally, I would probably use a more coarse sea salt.)
1 tsp. vitamin e oil
1/2 tsp. olive oil (I used cold pressed olive oil.)
5 drops of peppermint essential oil (optional)
Directions:
In a small bowl, stir together the sea salt, vitamin e oil, and olive oil. Then stir in the peppermint essential oil.
To Use:
Massage the  foot scrub all over your feet, and then rinse it off. Be careful stepping out of the shower or bath whenever you've just used a foot scrub, because your feet may be a bit slippery.
Enjoy!
In case you were wondering…
I get my vitamin e oil from Vitacost (referral link – you can get $10 off your first purchase if you sign up through my link). It's the Jason brand.
The sea salt is inexpensive from Trader Joes. I can't remember the cost, but I want to say $1?
The cold pressed olive oil is from the grocery store, Publix.
The peppermint essential oil is from Vitacost (referral link – you can get $10 off your first purchase if you sign up through my link) again. It's the Aura Cacia brand.
*You could also check Amazon.com
 for ingredients.
Do you use foot scrubs? Have you ever tried a homemade version?
Would you love to have more recipes like this one for other DIY homemade health and beauty products? Snag my new ebook with 21 easy recipes for only $4.99 $2.99.
This post contains my affiliate links.