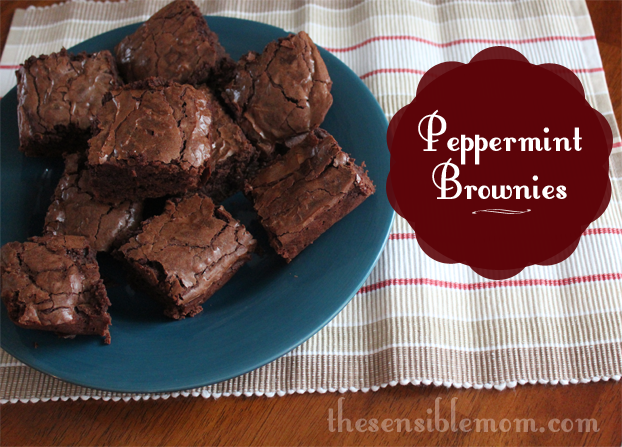 My family loves brownies, and we especially love eating them homemade.
I decided to add peppermint syrup to our brownie recipe, and the result was delicious. These brownies are chocolate-y goodness with a hint of peppermint. The peppermint in these brownies is just right. You can taste it, but it isn't overpowering.
Delicious.
I think you'll really enjoy this recipe.
Ingredients
3 ounces bittersweet chocolate, chopped
4 ounces semi-sweet chocolate, chopped
8 tablespoons unsalted butter (1 stick), cut into pieces
3 tablespoons cocoa powder
1 1/4 cups sugar (I used organic sugar)
3 large eggs
2 teaspoons vanilla extract
2 tablespoons peppermint syrup (I used the Torani brand syrup)
1/2 teaspoon salt
1 cup all-purpose flour
Instructions
Adjust oven rack to the middle position, and then heat to 350 degrees.
Line an 8-inch square pan with foil, and then lightly spray the foil with vegetable spray.
Add the chopped chocolate, butter, and cocoa powder to a bowl and stir, then microwave for 1 to 3 minutes. Make sure to stir the chocolate mixture every 30 seconds, so that it is well mixed. Let the chocolate cool slightly when finished.
In a separate large bowl, whisk the sugar, eggs, vanilla, peppermint syrup, and salt together until combined.
Whisk in the melted chocolate mixture.
With a spatula, stir in the flour until no streaks are left.
Pour the batter into the pan and bake until a toothpick inserted in the center of the brownies comes out with only a few crumbs. This should take approximately 50-60 minutes.
Let the brownies cool completely before serving. Enjoy!
http://thesensiblemom.com/2013/01/recipe-peppermint-brownies/

Related Posts