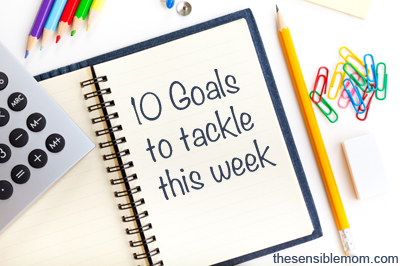 Finally, life has settled into normal. Pretty much, anyway. We had a regular day today that involved family meals, homeschooling, playing outside, and work.
I didn't even unpack a single box. Not that we don't still have boxes to unpack, but all the urgent ones and the ones that were taking up living space have mostly been unpacked.
My Goals
With 'normal' comes fresh goal-setting for the week, and this is something I'm excited about.
Here are the goals I plan to accomplish this week:
Family/Mothering Goals:
1. Go on an outing with Breanna
2. Make reading goals for the kids
Personal Goals:
3. Drink juice 4 days this week
4. Read 10 pages of the book, Desperate
5. Walk on the treadmill 4 days this week
Home Management Goals:
6. Clean the small loft area that is cluttered with toys
7. Wipe down the sofas
Business Goals:
8. Work on client project
9. Write 4 blog posts
10. Answer emails
What are your goals for this week?