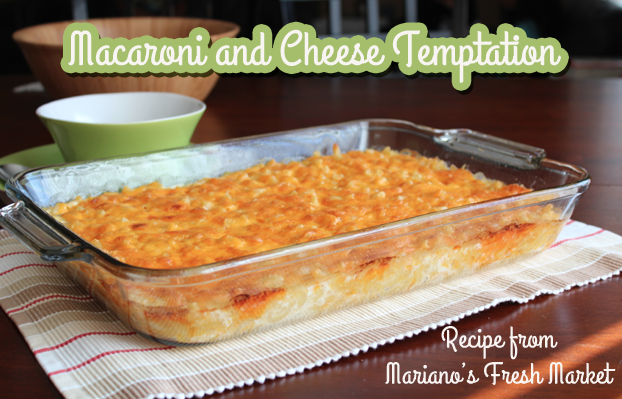 I recently discovered a gem of a grocery store.
It's a gem that is sort of right in my backyard now that I'm back in Illinois (near Chicago).
It's Mariano's Fresh Market, where the motto is "Shop well. Eat well. Live well."
Shop well? Because they have a wide variety of foods at competitive prices…and double coupon days. Stores that double coupons are almost non-existent in Illinois. It's a sad reality.
Eat well? Because they offer an amazing selection of food that is healthy and nutritious. They've got a jaw-dropping bakery section,too, for when you want to have a treat.

Live well? Because at Mariano's, not only can you find fresh and nutritious foods to feed your body, but they care about you. Their employees are some of the best. Within 20 seconds of walking in the store, an employee walked right up to us and greeted us with freshly squeezed orange juice.
When I wasn't sure where to sign up for a Mariano's Rewards Card, I was helped by another employee who was more than happy to give me the rundown on what I needed to do. Then she kindly steered me in the direction of the kiosks at the front of the store where I was able to go through the quick process to sign up for my rewards card. (There's no standing in the customer service line to fill out a form to get a rewards card. Approximately two minutes at the kiosk, and you have your card.)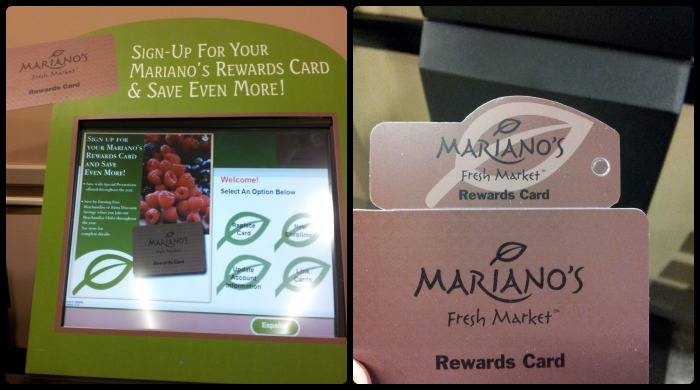 When I was wandering around with three kids looking for the bathroom, an employee actually asked if she could help me, before I had the chance to even ask.
I was completely impressed by Mariano's, and the icing on the cake was when we went to leave the store and saw that there were three tables set up for kid's crafts.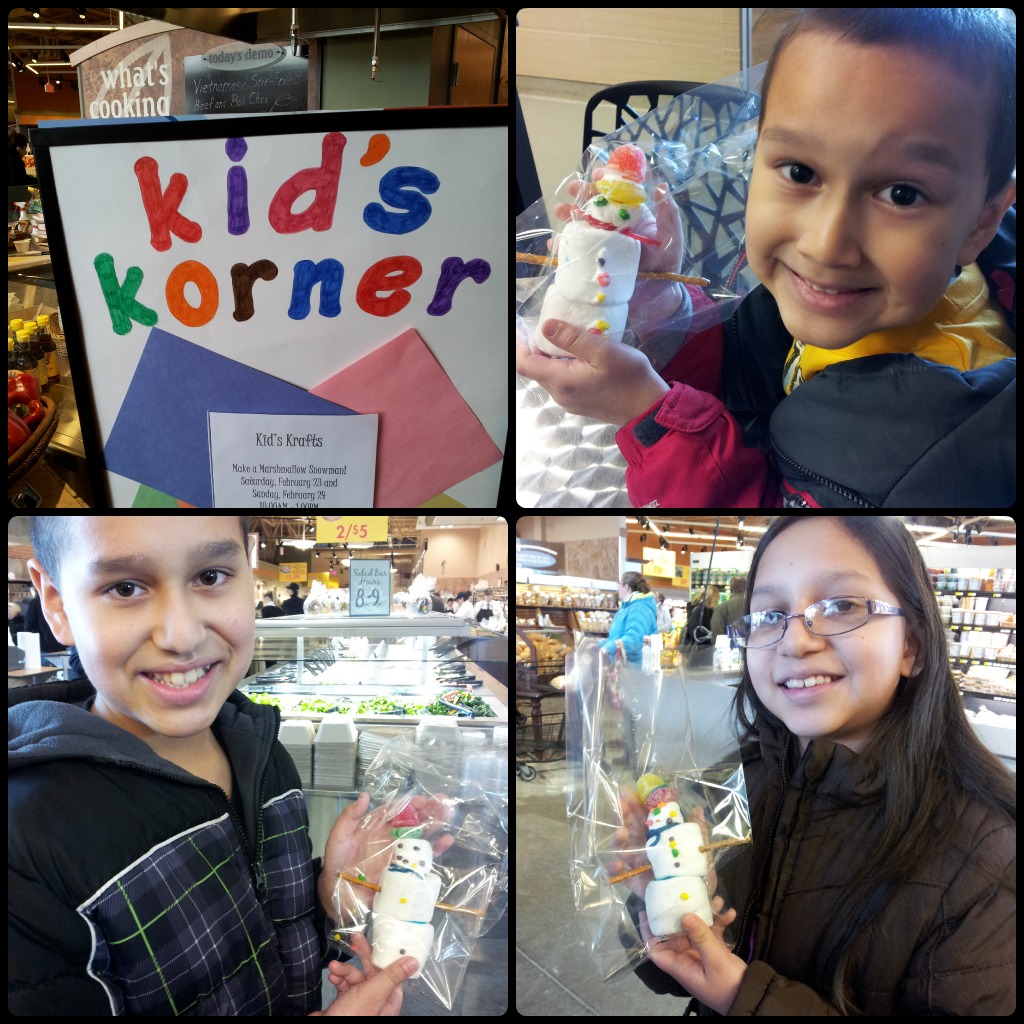 All five kids left the store with adorable marshmallow snowmen. They were a fun treat on the car ride home. And we needed to get home quickly, because Mariano's is a bit of a drive for us and we had eggs, milk, and cheese that needed to get into the refrigerator.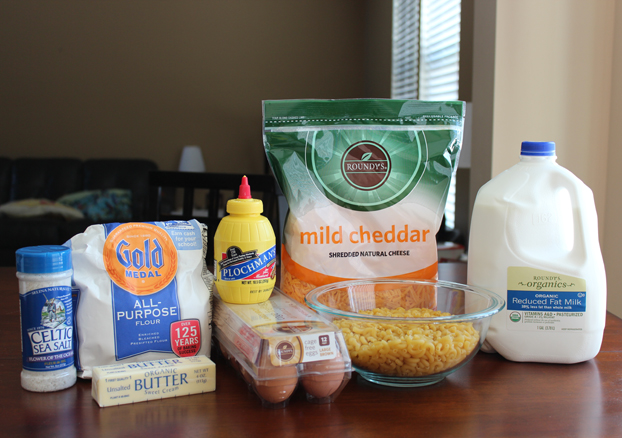 We went to Mariano's to pick up ingredients to try a recipe on their website.
So even if you don't have a Mariano's store where you live, you can still visit their website and try one of the many recipes there.
I've never made homemade macaroni and cheese before, so I knew when I went through the recipes on the website that their Macaroni and Cheese Temptation recipe was going to be the one for me.
I would finally make homemade macaroni and cheese. It's been a long time coming.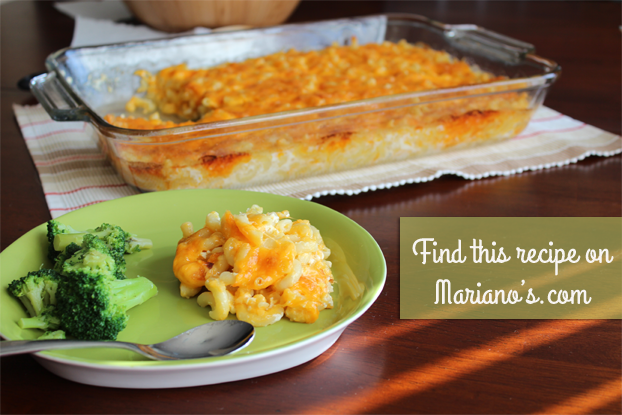 I like this recipe, because it only requires one type of cheese. It's simple and easy to make, and it provided a nice Sunday lunch for my family.
I ate too much of it, and the scale will pay me back tomorrow. 😉
But it was totally worth it.
Here's the recipe:
Macaroni and Cheese Temptation
Ingredients
1/2 lb macaroni or other dry pasta
1 tbsp butter
1 tsp yellow mustard
1 whole large egg, lightly beaten
1/2 tsp salt
3 cups (about 12 ounces) grated cheddar or other yellow cheese (divided use)
1 tablespoon all-purpose flour
1-1/2 cups milk
Instructions
Preheat oven to 350°. Grease a 1-1/2-quart casserole (I used coconut oil).
Cook macaroni in large saucepan according to package directions. Pasta should be tender, but not too soft. Drain well and allow to cool slightly. Return to saucepan.
Stir in butter, mustard, egg, and salt. Add 2-1/2 cups cheese and flour, tossing well to evenly distribute ingredients. Turn mixture into prepared casserole dish. Pour milk over macaroni and cheese. Use the back of a spoon to press down ingredients and level the top. Bake for about 35 minutes. Sprinkle remaining cheese on top and bake about 10 minutes longer or until the custard is set and the top is golden and crusty.
http://thesensiblemom.com/2013/02/eating-well-is-easy-with-marianos-fresh-market-and-an-easy-recipe-for-homemade-macaroni-and-cheese/
I doubled the recipe to make enough for my family of seven, and we had leftovers. Without doubling, this recipe makes 4-6 servings. I hope you enjoy it.
Have you ever made homemade macaroni and cheese?
If you're interested in finding out more about my shopping trip to Mariano's, you can check out my Google+ story — there are lots of pictures! 🙂
You can also follow Mariano's Fresh Market on Facebook and Twitter for their latest updates and recipes.
I am a member of the Collective Bias®  Social Fabric® Community.  This shop has been compensated as part of a social shopper insights study for Collective Bias®  and Mariano's  — All opinions are my own. #cbias #SocialFabric