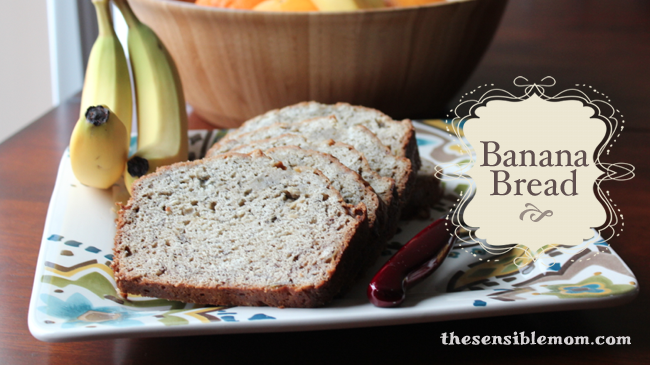 I've been wanting to share this recipe for banana bread with you for a long time.
It's a recipe that originated in the America's Test Kitchen Family Cookbook and that I've modified to my family's tastes.
It's delicious, trust me. For my family, this recipe is just right and we look forward to a tasty new loaf of banana bread once we realize that we have some very ripe bananas hanging around our fruit bowl.
Here's the fabulous recipe:
Ingredients
2 cups flour
3/4 cup sugar
3/4 teaspoon baking soda
1/2 teaspoon salt
3 ripe bananas, mashed
6 tablespoons unsalted butter, melted and cooled
2 eggs, lightly beaten
1 teaspoon vanilla extract
Instructions
Adjust oven rack to the lower middle position and preheat oven to 350 degrees
Lightly coat a 9 by 5-inch loaf pan with cooking spray or coconut oil
In a large bowl, whisk together the flour, sugar, baking soda, and salt
In a separate bowl, whisk together the mashed bananas, butter, eggs, and vanilla extract
Carefully pour the banana mixture into the flour mixture and mix just until combined, do not overmix
Pour the batter into the prepared loaf pan and smooth the top of the batter
Bake for 60-70 minutes until the banana bread is golden brown and a toothpick inserted in the center comes out with only a few crumbs
Let the banana bread cool for at least 45 minutes
Serve and enjoy!
http://thesensiblemom.com/2013/03/banana-bread/
I love that this banana bread is not only scrumptious, but it's easy enough for my 10 year-old daughter to make mostly on her own.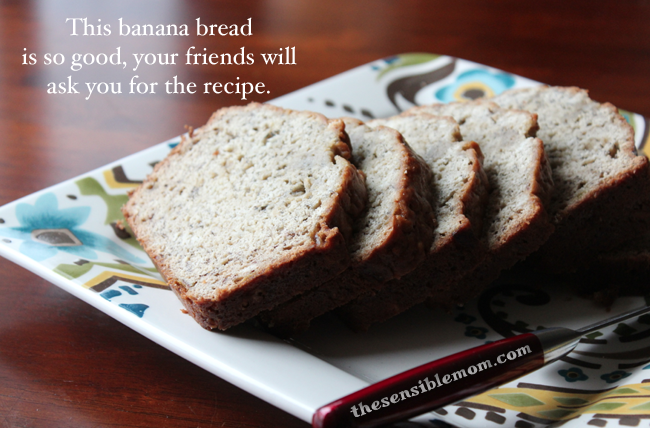 She recently made a loaf when we had company over, and it didn't disappoint. I hope you enjoy this recipe as much as we do.
Do you have a favorite banana bread recipe? What's your favorite food to serve when you have company?
P.S. Here is the link to The America's Test Kitchen Family Cookbook (referral link) on Amazon.com. I love this cookbook, and I love that the recipes are easy to modify to our tastes.