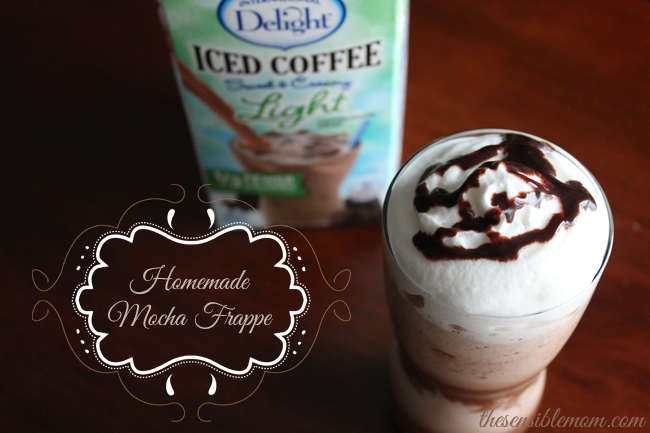 If you're a regular reader of The Sensible Mom, then you know I am a die-hard coffee lover. I drink it every single day, at least twice a day.
Freshly brewed hot coffee, iced coffee, latte, frappe — I love them all. And while I try to keep sugar out of my coffee as much as possible, I do enjoy some sweetness in it occasionally. But even when I sweeten up my coffee, I try not to go overboard. I'd much rather have a low-sugar coffee drink, than the crazy sugar-filled creations I used to make. Reduced calorie coffee is the way to go, because I know if I want to enjoy two cups a day and still lose weight, I need to restrain myself.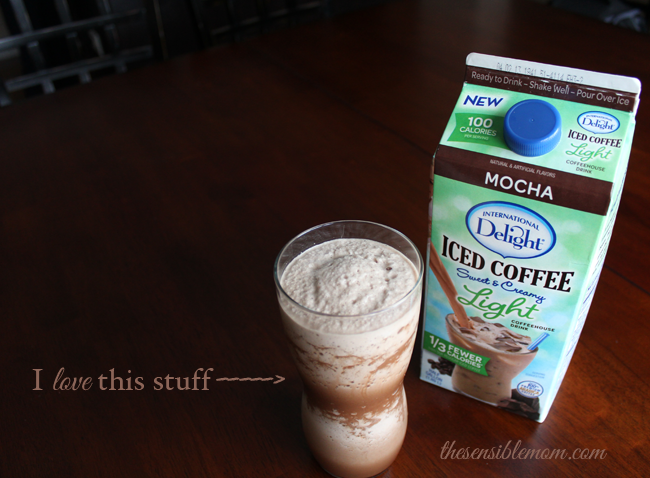 I mentioned that one of my favorite coffee drinks is a frappe, specifically mocha frappes. I'm a gold star rewards member of, well, you-know-where, and part of the reason is because I love frappes. I don't, however, like the hefty coffeehouse prices of those frappes, which is why I normally only go to you-know-where when I have a gift card.
How I create frappes that taste great but cost less
In order to save on calories and money, I have to find ways to make my favorite coffee creations at home. And a great way to create mocha frappes with all the dreaminess of a coffeehouse frappe but not all the calories, is with International Delight's sweet & creamy Light Iced Coffee.
I recently made a trip to Walmart with my daughter to buy the mocha light iced coffee and then I got to work on creating a delicious homemade mocha frappe.
I think you'll love it.
And I made it using only a blender so that I could be sure you could create this recipe at home, too. I have a frappe maker (a gift from my husband who knows that the way to my heart is coffee :)), but I decided to brew the coffee on its own and bring the ingredients together in the blender. It's so, so easy.
Here's the recipe I came up with using the mocha International Delight Light Iced Coffee.
Ingredients
2 cups ice cubes
3 tablespoons chocolate syrup
1/4 cup mocha International Delight sweet & creamy Light Iced Coffee
1/2 cup brewed coffee, hot
whipped cream (optional)
Instructions
In the order that they're listed, add the ingredients to a blender
Blend until smooth
Top with whipped cream and a drizzle of chocolate sauce (optional)
http://thesensiblemom.com/2013/03/homemade-mocha-frappe/
I hope you enjoy making this homemade mocha frappe recipe, and I can't wait to see what other knock off creations we come up with using the light iced coffee. Since my recipe only calls for 1/4 cup at a time of the light iced coffee, I have plenty leftover to experiment making more of my favorite frappe flavors.
I think it should last me at least a month. 😉
Have you ever tried making a homemade frappe? What's your favorite way to enjoy coffee?
To save on International Delight's #LightIcedCoffee, be sure to sign up on their website for a coupon. To stay in touch with I.D., you can follow them on Twitter and on Facebook.
I am a member of the Collective Bias®  Social Fabric® Community.  This shop has been compensated as part of a social shopper insights study for Collective Bias®  and WhiteWave #cbias #SocialFabric #LightIcedCoffee — All opinions are mine.