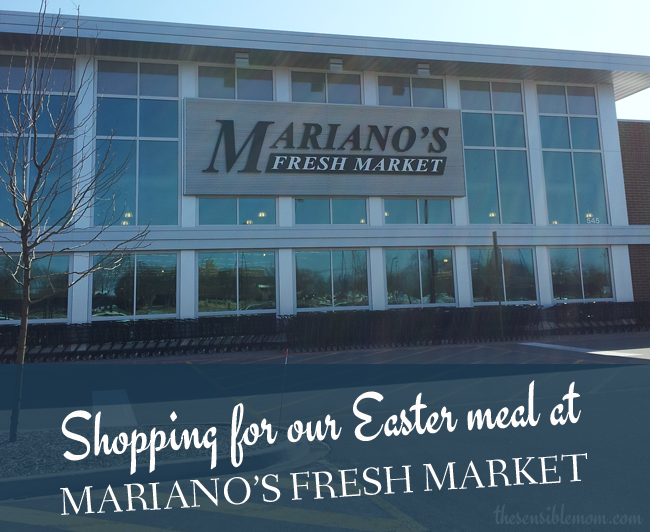 Now that we are living near Chicago again, we are extremely blessed to be able to shop at a Mariano's Fresh Market grocery store.
It's what I'd call "the bomb" grocery store. It just is. Seriously. It's unlike any other grocery store I've ever been to in my life.
Why? Because shopping there is more than just your average, everyday grocery shopping trip to the store. You can turn a regular trip to the store into an experience at Mariano's. You can literally go there for a delicious sit-down lunch, get a cup of coffee afterwards, then grocery shop.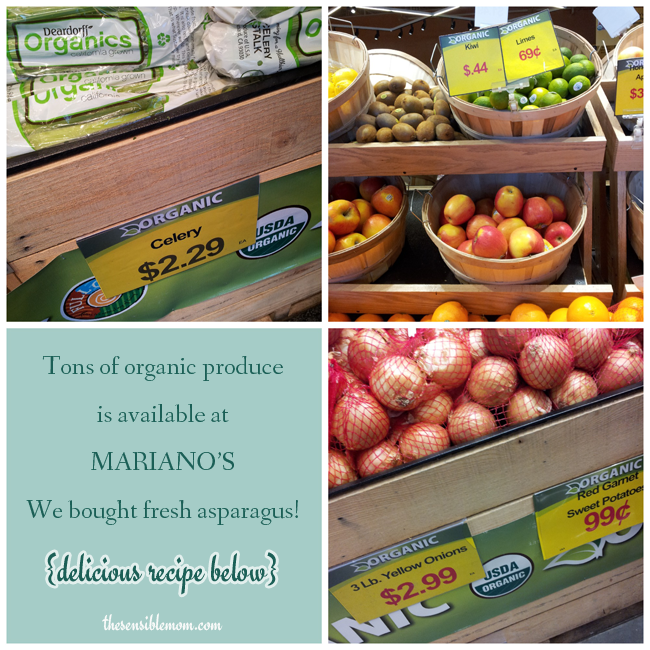 Once you have everything you came to shop for, you can pick up a hot dinner To-Go from the plethora of options, then take out your Mariano's rewards card and check out with the nicest cashiers ever. Finally, head home to enjoy a delicious family meal that you didn't have to cook yourself after a 'hard' day of shopping.
That's what Mariano's offers, in a nutshell. Oh, and if you go to Mariano's on the weekend, they have great kid's activities. They're having an Easter egg hunt this weekend. There's going to be over 2,000 Easter eggs for the kids and parents get free donuts. (Um, are grocery stores allowed to be this awesome?)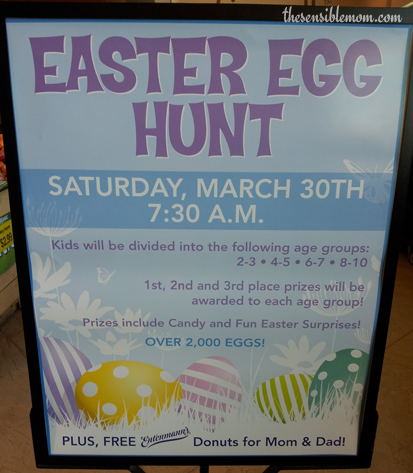 So as you can see, Mariano's is not your average grocery store, which is why shopping there for our Easter meal made sense. I picked up the ingredients I needed to make a great meal, and today I'm sharing two delicious Easter recipes that my family enjoys and that I think you'll like, too.
I'm trying to keep our Easter meal a little on the healthier side, so as I mulled over ideas for what to prepare this year, I decided on asparagus as the perfect side dish. I can make it in the oven in less than fifteen minutes, so while the ham is resting on top of the stove (after it's finished baking), I can quickly prepare and cook the asparagus so that it's ready when the ham is ready to be served. Perfect timing.
Here's the 'pin'able version of the recipe to make it easy to for you to find later.
Here's the printable version:
Whole Wheat Carrot Cupcakes
The other amazing recipe that I made this weekend to test out for my Easter meal was whole wheat carrot cupcakes. These turned out fabulous! I modified a recipe for carrot cake from The America's Test Kitchen cookbook, and wow, these were delicious!
Even my 6 year-old son, who is very picky about fruits and vegetables in his desserts, could not get enough of these cupcakes. You can actually see the carrot strands in these cupcakes, but that didn't even matter to my picky eaters. These cupcakes were devoured.
Oh, and I had guests over on Saturday afternoon, and they loved them, too. I used the Mariano's brand whole wheat flour to make these cupcakes, and I used their store brand vanilla frosting. The frosting was a perfect complement to these whole wheat carrot cupcakes. Yum, yum, yum.
Here's the printable recipe:

Whole Wheat Carrot Cupcakes
Ingredients
2 1/2 cups whole wheat flour
1 1/4 teaspoons baking powder
1 teaspoon baking soda
1 1/4 teaspoons cinnamon
1/2 teaspoon nutmeg
1/8 teaspoon cloves
1/2 teaspoon fine sea salt
4 large eggs
1 1/2 cups granulated sugar (we used organic sugar)
1/2 cup brown sugar
1 1/2 cups grapeseed oil
1 pound carrots, peeled and grated
Instructions
Adjust an oven rack to the middle position, and then preheat the oven to 350 degrees.
Line cupcake pans with cupcake baking cups and set aside.
In a large bowl, whisk together the flour, baking powder, baking soda, cinnamon, nutmeg, cloves, and salt, then set aside.
In a separate large bowl, whisk together the eggs and sugars for about 2 minutes.
Slowly add in the grapeseed oil and continue whisking until it is thoroughly combined with the egg/sugar mixture. This should take 1-2 minutes.
Whisk in the flour mixture to the liquid mixture until no steaks remain.
Add in the carrots and stir the mixture with a spatula.
Using a 1/4 measuring cup (so that the cupcakes are the same size) and a spoon (if needed), measure out 1/4 cup of the batter at a time and add to individual baking cups.
Once all the baking cups have batter, place the cupcake pan(s) in the oven and bake for 20-25 minutes or until a knife inserted in the center comes out with only a few crumbs.
Cool for 30-45 minutes, then frost and enjoy!
http://thesensiblemom.com/2013/03/marianos-is-a-great-place-to-shop-and-im-sharing-two-recipes-for-your-easter-meal-asparagus-and-carrot-cupcakes/
Overall, I'm thankful that I was able to find just what I needed at Mariano's to make a delicious Easter meal for my family, and I'm thankful that in trying out my Easter recipes this past week, I found a new cupcake recipe to make for my family on special occasions.
What are some of your favorite Easter recipes?
If you're interested in finding out more about my shopping trip to Mariano's, you can check out my Google+ story — there are lots of pictures! 🙂
You can follow Mariano's Fresh Market on Facebook and Twitter for their latest updates.
I am a member of the Collective Bias®  Social Fabric® Community.  This shop has been compensated as part of a social shopper insights study for Collective Bias®  and Mariano's  — All opinions are my own. #MyMarianos #cbias #SocialFabric