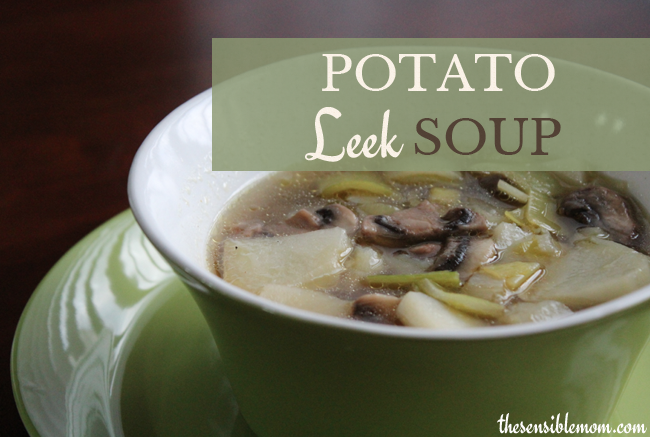 I have a delicious, healthy, and all-around flavorful recipe for you today.
It's a recipe for potato leek soup, and it's definitely a soup that you'll want to have in your arsenal of recipes to make over and over again. My mom gave me a great vegan cookbook for my birthday this year, and this recipe originated from that book. The original recipe called for the soup to be pureed, and I simply could not do that.
Just Say No To Pureeing
Look at that picture. This soup in its whole, chunky state is just about perfect. It's too good to puree, and I can't do it. 😉 (Bonus = less dishes to wash afterwards)
After deciding not to puree the soup and making several other changes to the recipe, I've created a new, delicious and hearty potato leek soup. We've made this soup several times already, and it's so, so good.
Here's the recipe:
Ingredients
2 tablespoons extra-virgen olive oil
2 large leeks, trimmed, washed, and chopped coarsely
1 pound mini baby bella mushrooms, washed and sliced
4 cups vegetable broth
4 1/2 cups water
5 large russet potatoes, peeled and cut into small chunks
1 1/4 teaspoons fine sea salt
pepper, to taste
lemon juice (optional)
Instructions
Heat the extra-virgen olive oil in a large pot, then add the leeks and mushrooms to cook.
Stirring occasionally, cook the leeks and mushrooms for about 7 minutes, then add to the pot the vegetable broth, water, potatoes, sea salt and pepper.
Continue cooking the soup over medium-high heat until the potatoes are soft and cooked through.
Once the potatoes have cooked through, remove the soup from the heat.
Serve and enjoy! (Optional: Serve with a splash of freshly squeezed lemon juice.)
http://thesensiblemom.com/2013/04/potato-leek-soup-and-a-giveaway/
Do you know what makes this soup even more enjoyable to make in the kitchen?
A great set of Good Cook kitchen knives to chop the potatoes, mushrooms, and leeks is just what I need to get this soup cooking on the stove sooner rather than later. This Good Cook chef's knife is great for chopping potatoes.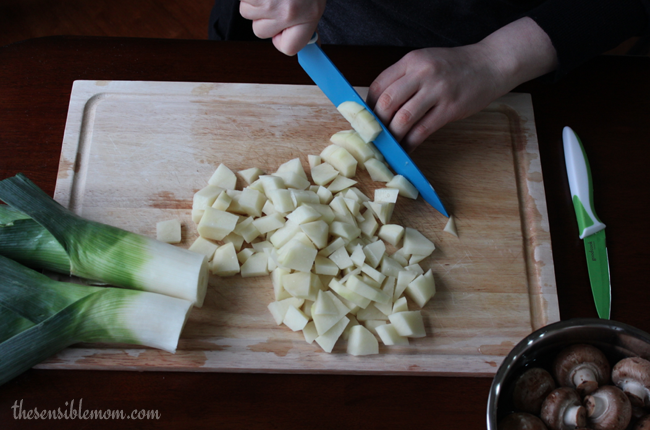 And this paring knife is perfect for slicing the mushrooms that'll go into the soup.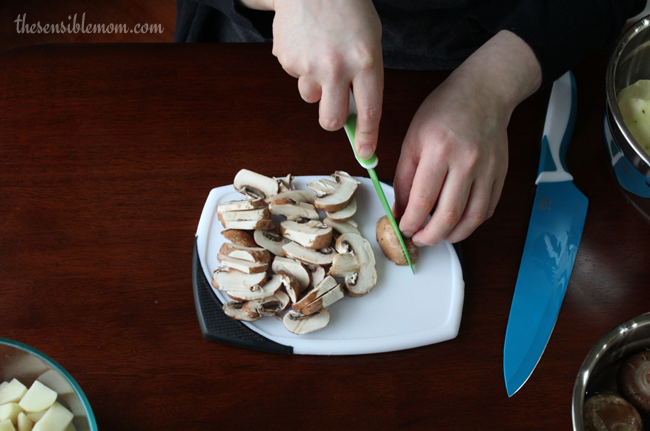 Seriously. These knives get the job done.  And, the colors? Well, they're pretty great, too. Just look at these vibrantly colored nonstick kitchen knives…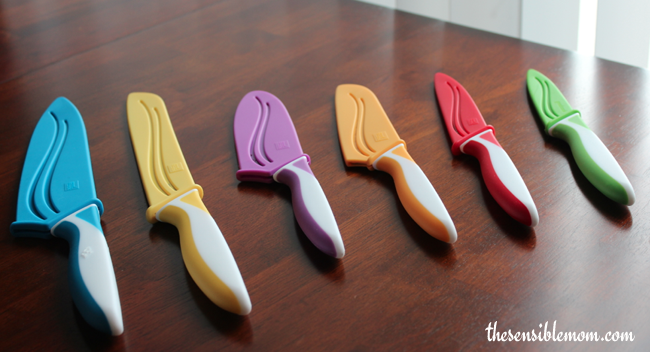 The colors alone are sure to make meal prep a little more fun! But be careful, because these knives are extremely sharp.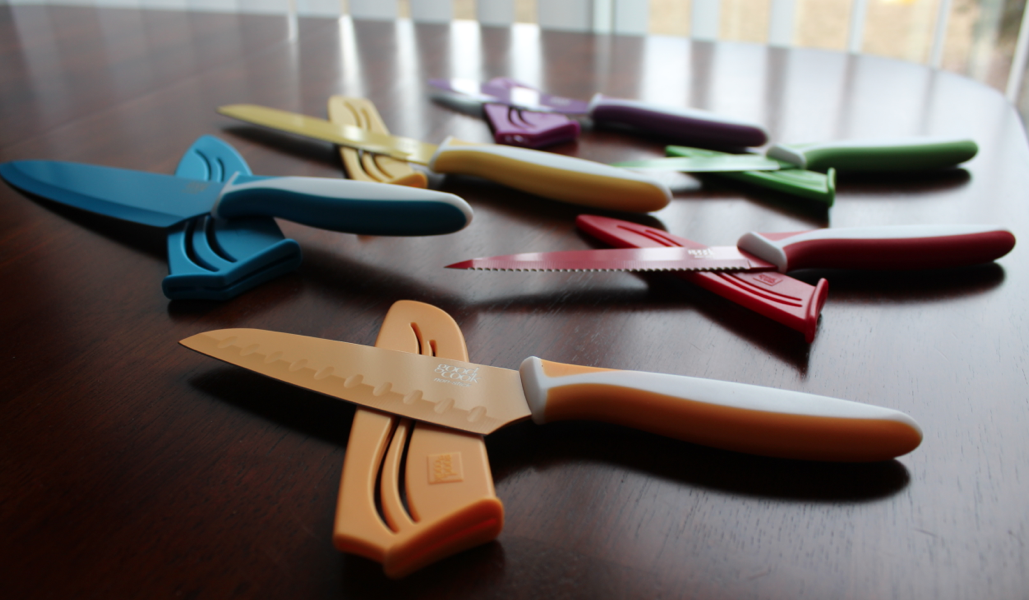 More about these Good Cook knives:
Add some color to your cutting! These nonstick knives are fun to have in the kitchen. They're sleek, stylish high performers. (Safety note: Although every knife in this collection comes with its own fitted safety sheath, these products are not kids-in-the-kitchen friendly because they are very sharp. Please keep out of reach of children.)

Nonstick Knives
These nonstick-coated knives come in inviting colors for ready access—the bright coding signals that purple is for sandwiches, green is for paring, etc. The serrated blades are crafted from high-carbon steel, which stays sharp through regular use. The nonstick coating prevents crumbs from sticking. Each knife includes a safety sheath to help protect the blade and allow for safe storage. The soft-grip, ergonomic handle fits comfortably in the hand and provides better control when slicing and when hands are wet.
Now for the giveaway!
One very happy reader of The Sensible Mom will win their very own SET of Good Cook Nonstick Knives valued at  $125!
Here's How to Enter the Giveaway:
Just follow the instructions on the Rafflecopter. I've included options for extra entries, too!
This giveaway will run from April 14th – April 17th at 12:00am. The giveaway is open to US Residents only, ages 18 years old and above.  The winner will be randomly chosen. I will promptly send the winner an email notifying the winner that they've won, and the winner must respond within 48hrs. of the giveaway's end, otherwise I will have to draw a new winner. And finally, prizes can not be shipped to P.O. Boxes.
Now go ahead and enter below! 🙂
a Rafflecopter giveaway

One more thing…
Save Money
Readers of The Sensible Mom can get 30% off these knives as well as their entire order at goodcook.com with the promo code: NONSTICK. This promo code is valid through April 15, 2013.
A special thanks to Good Cook for supplying me with this fabulous knife set to review and for providing a set to one of my readers. You can see the selection of knives that I received here on the Good Cook website.