Special thanks to Good Cook for providing the fabulous kitchen tools to make this outstanding enchilada recipe.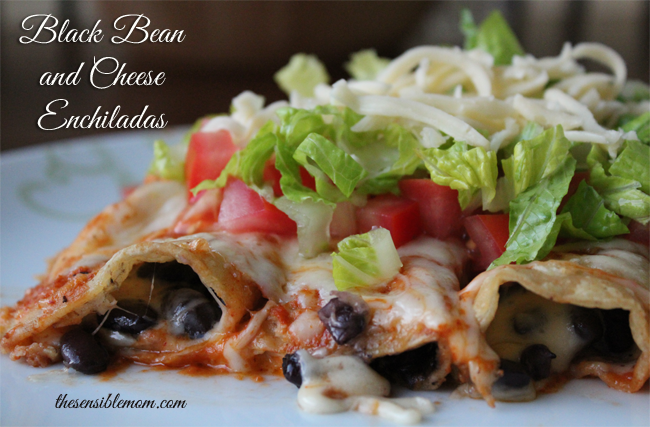 I'm mexican, and I've eaten my fair share of enchiladas.
But somehow, whenever I've tried to make them on my own, I've ended up with a mushy mess of what's supposed to be enchiladas.
So I've steered clear of making them on my own for a long time. Instead, I've admired the photos that other bloggers have posted of their amazing looking enchiladas and thought, "How did they do that?" and "How come enchilada recipes never turn out well for me?"
Or, "What's wrong with me? Why can't I make such a ridiculously simple recipe taste good?"
Well, assuming you've read the title of this post, you know that things have changed. 😉
I can make enchiladas now, AND they taste good. They actually taste good enough to share with people beyond your immediate family. My dad popped in for a sort of surprise visit from Mexico this week. He called on Monday morning to…um…let me know that his flight would be in at 9:15pm and needed a ride to my house from the airport. Yeah. This is how he rolls his style of living, and we've become accustomed to it.
Anyway, he loved them.
Good Cook Touch Kitchen Tools
I used my fabulous Good Cook kitchen tools to make this recipe happen. The tool I used most often and absolutely love is this cutting board.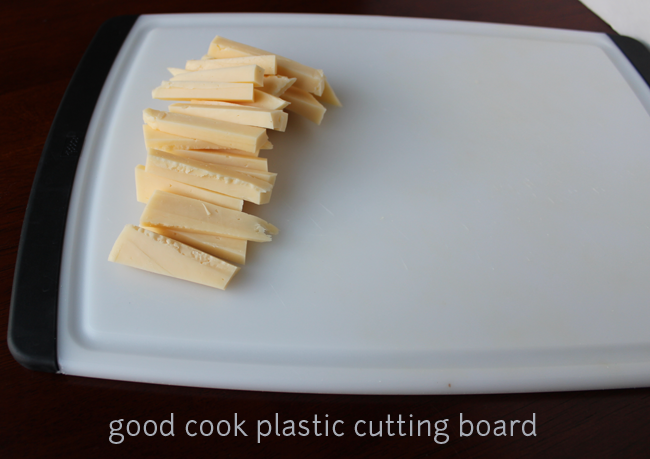 It was perfect for cutting lettuce, tomato, and cheese for the enchiladas. It doubled as a great surface on which to assemble the enchiladas, too.
Enchilada Sauce

To make these enchiladas, you'll want to make the sauce first. Then as the sauce simmers, go ahead and start prepping the other ingredients.
Ingredients
2 dried guajillo chilies
8 oz. can of tomato sauce
2 cups vegetable broth
1/4 teaspoon garlic powder
1 1/2 tablespoons chili powder
1 tablespoon extra-virgen olive oil
1 1/2 teaspoons paprika
1/4 teaspoon sea salt
1/4 teaspoon dried oregano
1/4 teaspoon cumin
1/4 teaspoon cayenne pepper
Instructions
Heat the chilies in a cast iron skillet (or pan) over medium-high heat until they're aromatic or for about 2–3 minutes - turning them once or twice as they cook. For best results, make sure the chilies don't burn.
Turn off heat and add enough water to cover the bottom of the pan. Allow the chilies to soak in the water for at least 10-15 minutes.
While chilies soak, add all of the other ingredients to a blender.
After the chilies are finished soaking, take them out of the pan, and remove the stems and seeds.
Add chilies to a the blender with the other ingredients and blend until smooth.
Once smooth, pour the sauce into a saucepan and allow it to simmer on low heat as you prepare the enchiladas that go with the sauce.
http://thesensiblemom.com/2013/05/enchilada-recipe-black-bean-cheese-enchiladas/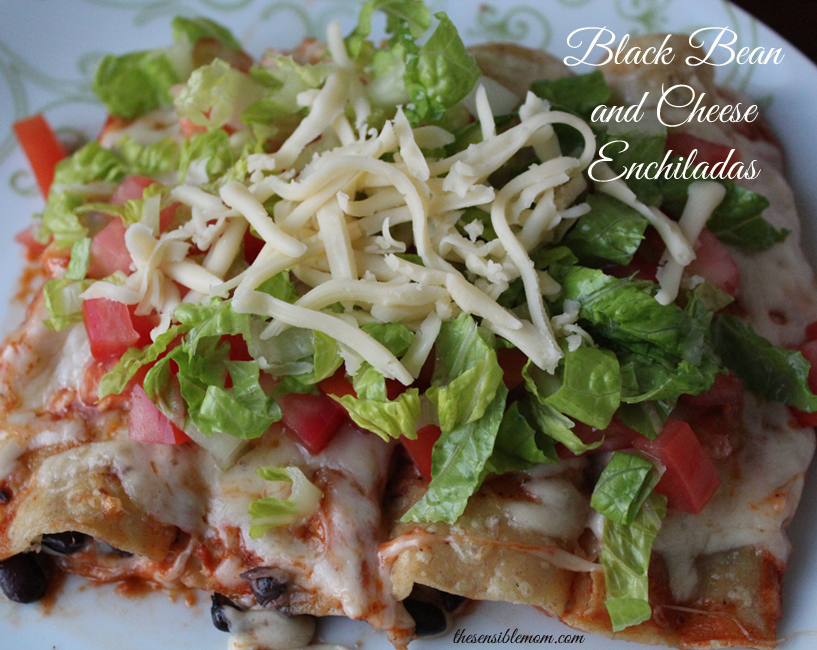 Perfection is Not Required
Now, when you're making enchiladas, it's not like you're baking a cake. You can use a little more or less cheese than I did or you could add different toppings to your enchiladas. One thing I love about this recipe is that it's versatile. Just try not to overstuff the enchiladas. You want to be able to roll them closed and remember that the cheese will melt and start to come out, so it's okay to go easy on the cheese inside the enchilada. You're going to be putting more on top anyway. 🙂
Here's the full Enchilada Recipe:
Black Bean & Cheese Enchiladas
Ingredients
One package of corn tortillas
2-3 tablespoons oil (I used grapeseed)
9 oz. package of chihuahua cheese (you can usually find this type of cheese at the grocery store, but if you can't, then use mozzarella cheese), you'll slice as much as you need for the inside of the enchiladas and then shred the rest
2 cups black beans, warmed through (freshly made or canned)
Enchilada Sauce (see above recipe for the sauce)
Romaine lettuce, chopped
Tomatoes, diced
Extra cheese to go on top of the lettuce and tomato once the enchiladas have finished cooking (optional)
Instructions
Preheat oven to 425 degrees.
Add about 1 tablespoon of oil to a pan (or cast iron skillet) and heat. Once the oil is hot, add one tortilla to the pan and cook about 1 minute per side, just until the tortilla is soft and pliable. Repeat this step for the remaining tortillas.
In each tortilla, add 2-4 strips of cheese, and about 2 tablespoons of black beans. Then roll the enchilada closed and place in a large baking dish.
Repeat these steps until the pan is full or you're out of tortillas.
Pour enchilada sauce over the enchiladas in the baking dish, being careful NOT to overdo it.
Top with shredded cheese and place in the oven.
Cook for about 15 minutes or until the cheese on top of the enchiladas has melted.
Remove from oven, plate, top with lettuce, tomato, and more cheese (optional).
Serve and enjoy!
http://thesensiblemom.com/2013/05/enchilada-recipe-black-bean-cheese-enchiladas/
I can't wait to make these enchiladas again!
They were devoured and next time, I'll be sure to double the recipe so that we can have leftovers the next day. 🙂
What's your favorite mexican recipe?
Want to have a little fun and maybe win a Good Cook product?

The Good Cook Touch Treasure Hunt is going on for a few more days (ends May 21st, 2013). Read my post on it here and be sure to enter my giveaway to win a Good Cook 2 quart Batter Bowl!

Scroll down the post and visit the other participating blogs to find even more giveaways to enter. Have fun!

Save money on your Good Cook purchases.

Readers of The Sensible Mom can get an extra 10% off their order on goodcook.com with the promo code: HUNT. *The Good Cook Touch products have an instant savings of 30% off.

A special thanks to Good Cook for sending me with some of their wonderful products to review for this post.