Sponsored by Goodies Co. — a snack-tacular way to try new foods.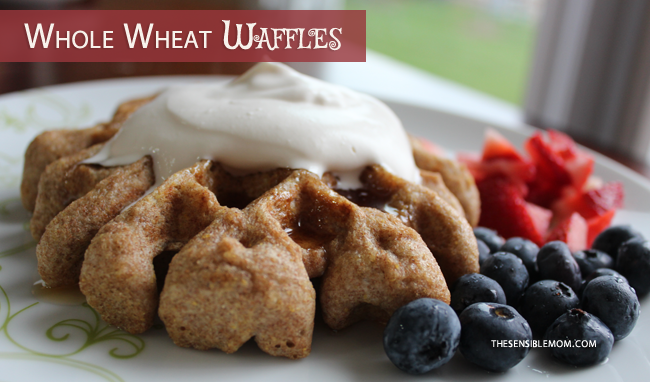 I had the chance to observe something recently.
We don't all eat our waffles the same way.
Seriously. I made our favorite recipe for whole wheat waffles, and all five of my children had their own way of eating them.
Nathan, our firstborn, liked his waffles with homemade whipped cream, syrup, and strawberries to top.
Breanna, our oldest daughter and thoughtful second child, started her waffles off with only homemade whipped cream and syrup. She preferred to have her fruit to the side so that she could sprinkle it on top of the waffle when she was ready to add it.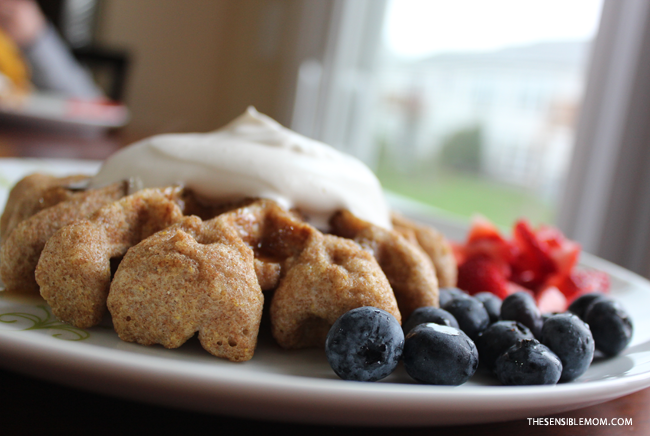 Isaac, our middle child, liked his waffles with homemade whipped cream and syrup on top. He wanted only strawberries on the side of his plate and there was no chance they were going to end up on top of his waffle. 🙂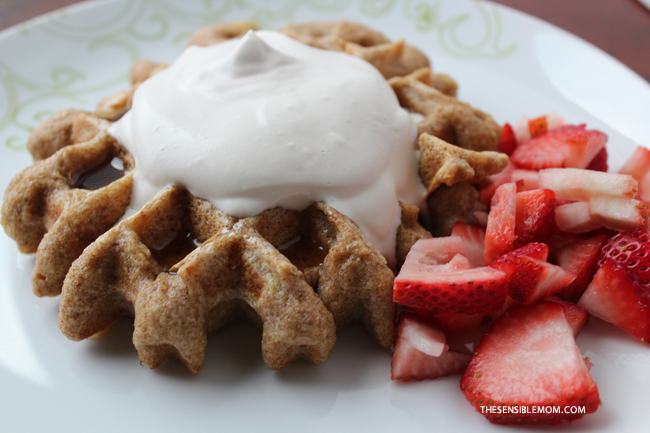 David, our four year old, well, no explanation is needed for how he liked to eat his waffles. The picture says it all.
And finally, Elisabeth, our baby girl, shared a plate of waffles with mama. We aren't picky, and we like it all.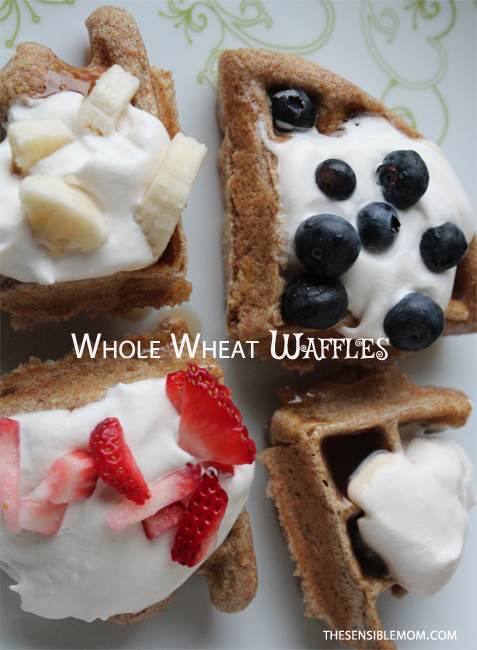 It was interesting to see how each kid chose their own individual way to eat a waffle.
And, in case you'd like to experiment with your family, OR you just want a great whole wheat waffle recipe, here you go…
Ingredients
2 cups whole wheat flour
2 tablespoons fine ground cornmeal
1 teaspoon fine sea salt
1/2 teaspoon baking soda
2 large eggs, separated
4 tablespoons unsalted butter (melted and cooled)
1 3/4 cups buttermilk (or I used 1 3/4 cups of almond milk mixed with 2 tablespoons of vinegar -- left standing for 5-10 minutes)
Pinch cream of tarter
Instructions
Preheat the waffle maker. (I use a Belgian waffle maker)
In a large bowl, whisk the flour, cornmeal, sea salt, and baking soda together.
In a separate bowl, whisk together the egg yolks and melted butter. Then add the buttermilk (or almond milk substitute) to that mixture.
In a third bowl, beat the egg whites and cream of tartar with an electric mixer on medium high speed until soft peaks form.
Pour the buttermilk mixture into the large bowl with dry ingredients, and gently whisk until just incorporated (some lumps should remain). Then fold the whipped egg whites into the batter.
Spray the waffle maker with vegetable spray to keep waffles from sticking.
Pour the prepared batter onto the waffle maker and cook through, about 4 minutes per waffle. (I use a measuring cup to measure out 1 cup of batter at a time and then pour it over the waffle maker) *You can keep waffles warm in a 200 degree oven or serve one at a time.
http://thesensiblemom.com/2013/05/recipe-whole-wheat-waffles/
I hope you love this recipe as much as we do.
How do you like to eat your waffles? Do you have a favorite go-to recipe? 
Psst…a little information about the sponsor of this post. Pretty neat program.
"Goodies Co. is a highly sought after monthly subscription and to get yours, you will need to visit and enter the code BLOGVIP to instantly receive your invitation. Typically, there is a waitlist to get an invitation, however through our partnership with Goodies Co. you can skip the line and get right in.

Once you enter the code into the promo page, you will receive 2 emails from Goodies. The first will state you are in line for your invitation, the next will instantly tell you your invitation has arrived. This shows you how you skipped the line!"
UPDATE: I created a YouTube video that features this recipe, and you can check it out here: