A special thanks to Good Cook for the set of produce keepers that I received
to share with my readers and facilitate a giveaway.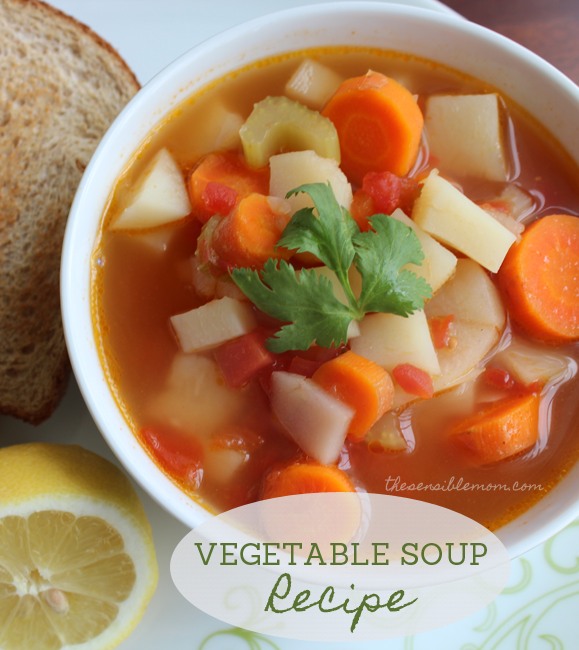 I love to find ways to create as many meals as possible that are loaded with nutrient-rich vegetables.
One meal that became a fast favorite in our home is the recipe for vegetable soup that I'm sharing today. It's full of vegetables and hearty enough to satisfy your family for lunch or dinner. Besides being healthy for you, one of the best parts of this soup is that you can make a big pot of it and eat it for lunch or dinner for at least 3-4 more days depending upon the size of your family.
A Funny Story
I've mentioned before that my dad was staying with me for a few weeks, and I made this soup for him. He loved it, and with him in the house, there's no such thing as throwing food away or wasting anything that is remotely edible. It kills him to see food go in the garbage.
He ate this soup every day until it was gone…like two days for him. 😉 And now he makes his own big pot of vegetable soup (a variation of my recipe) at my brother's home. Since he's started making soup and eating healthier, he has seen a definite improvement in his health, which has been a huge encouragement for him.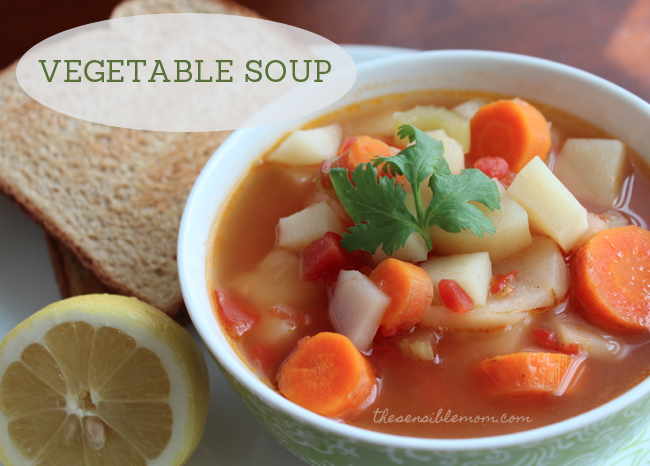 Here's the Recipe for Vegetable Soup. I hope you enjoy it.
Ingredients
2 tablespoons grapeseed oil (or extra-virgen olive oil)
1 onion, minced
2 to 3 ribs celery, chopped
8 carrots, peeled and chopped
3 garlic cloves, minced
2 teaspoons sea salt
8 to 9 russet potatoes, peeled and chopped
1 48 ounce container of vegetable broth
4 cups water
1 28 ounce can diced tomatoes, drained
pepper
lemon juice (optional)
Instructions
In a large pot over medium heat, cook the grapeseed oil (or extra-virgen olive oil) for a few minutes, just until it looks shiny, then add the onion, celery, carrots, garlic, and 1 teaspoon of sea salt. Stir the ingredients together and cover the pot.
Cook until the vegetables are soft (about 15 to 20 minutes), stirring occasionally.
Once the vegetables are soft, stir in the potatoes, vegetable broth, water, diced tomatoes, remaining teaspoon of sea salt and pepper.
Turn heat to medium-high and cook uncovered until the potatoes are soft.
*(Optional) Once the soup is served in bowls, squeeze a splash a lemon juice over the top.
http://thesensiblemom.com/2013/06/recipe-for-vegetable-soup/
Good Cook Produce Keepers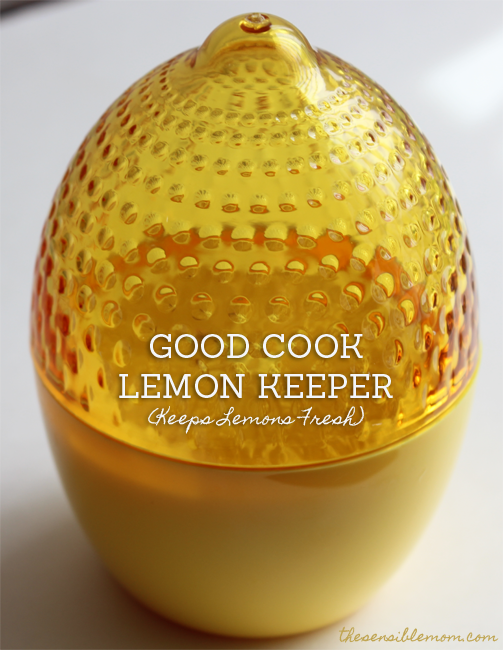 Time Saving Tips
As a wife and working mom of five, I don't have a lot of time to spend in the kitchen each day, so I try to find little ways to streamline the process. One way that I've found to make getting dinner on the table less stressful (besides just having my husband cook :)) is to chop the veggies ahead of time and store them in Good Cook produce keepers in the fridge, until I'm ready to use them.
Because the produce keepers keep fruits and veggies fresh for days, you can chop produce on the weekends and store it in the Good Cook keepers until you're ready to use the produce for meals during the week.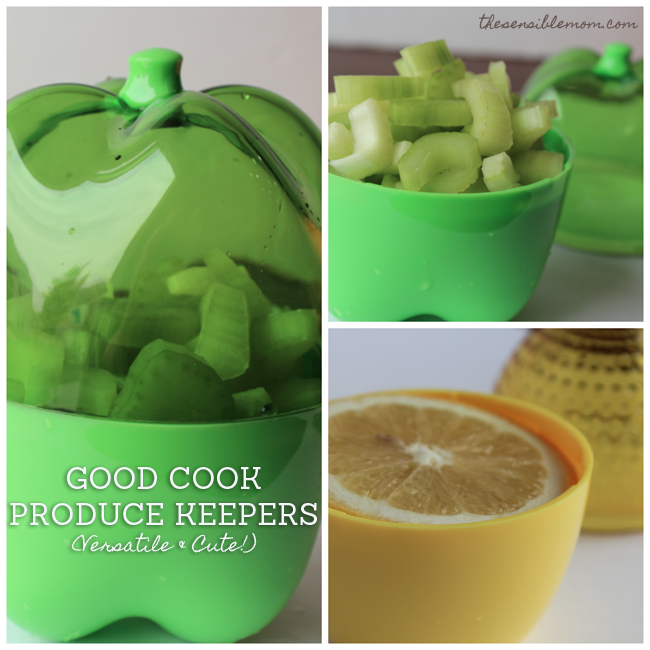 Keep Your Potatoes from Turning Brown
Another tip I came across a few years ago is this one for keeping your potatoes from turning brown before you're ready to use them in a recipe. I wanted to share this tip with you, because it really comes in handy for when I'm making vegetable soup.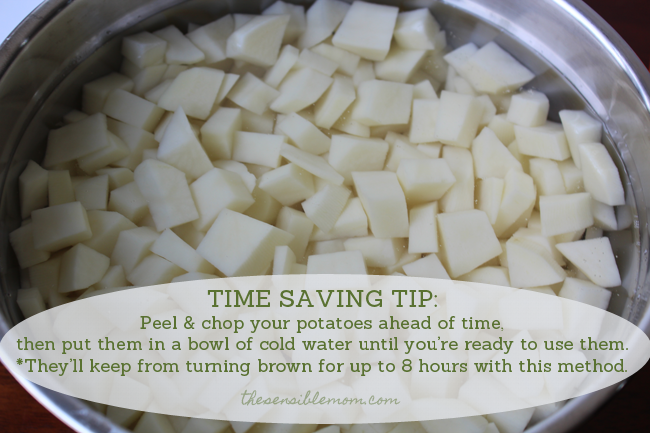 And now, it's time for the GIVEAWAY!
FOUR very excited readers will win their very own Good Cook Produce Keeper SETS! Woo-hoo!
Everything included in the set is pictured here: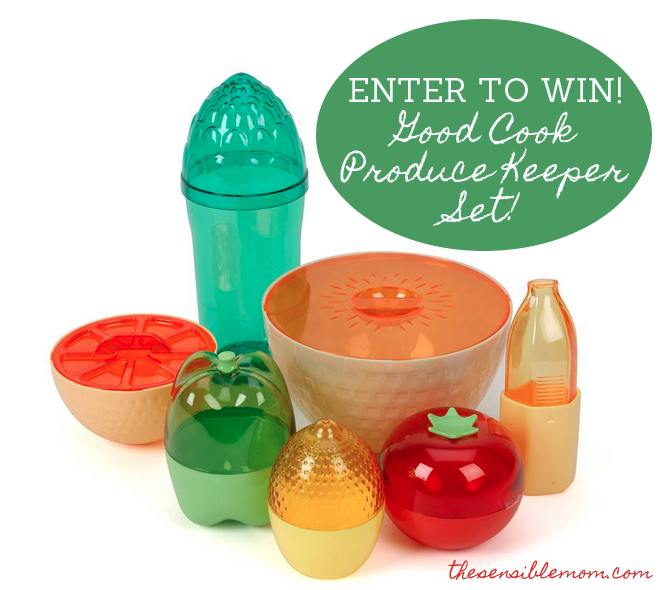 How to enter the giveaway
Simply enter this giveaway using the Rafflecopter below. I've included options for extra entries, too!
This giveaway will run from June 25th – June 30th at 12:00am. The giveaway is open to US Residents only, ages 18 years old and above. The winners will be randomly chosen. I will promptly send the winners an email notifying them that they've won, and the winners must respond within 48hrs. of the giveaway's end, otherwise I will have to draw a new winner(s).
Enter below!
a Rafflecopter giveaway

Finally, save money on your Good Cook purchases.

Readers of The Sensible Mom can get an extra 25% off their order on goodcook.com with the promo code: KEEPERS.

And if you buy ANY produce keeper, you'll receive a FREE Banana Keeper! (Offer available online only.)