A special thanks to Good Cook for the Stuffed Burger Kit and Cast Iron Grill that I received
to create a recipe and share it.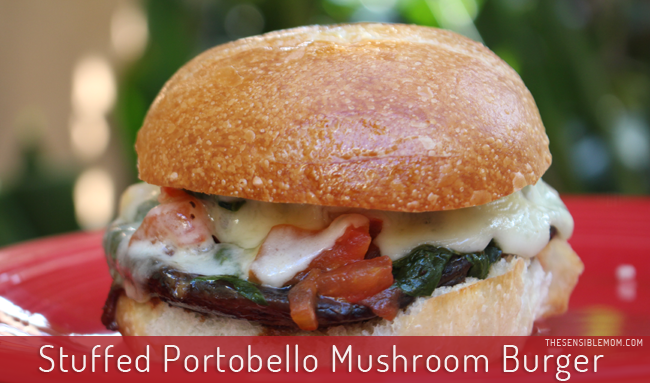 Since we've cut down on the amount of meat we eat as a family, I've been searching for new ways to enjoy the foods we love but in healthier, meat-free versions.
One way to still enjoy a juicy burger that's satisfying and meat-free is to replace the beef with a portobello mushroom. Trust me. You won't miss the beef at all when you're eating portobellos. They're "meaty," juicy, and delicious.
Stuffed Portobello Mushroom Burgers
You can even go a step further and STUFF the portobello mushroom with more veggies and other ingredients that pair well with mushrooms. In my latest encounter with portobellos, I decided to create a stuffed portobello mushroom burger that was simple yet satisfying. For some reason, I'm starting to develop a habit of creating recipes in hotel rooms…since that's what happened again with this stuffed mushroom burger.
I put this simple recipe together during a family vacation in Florida, and it was so, so good!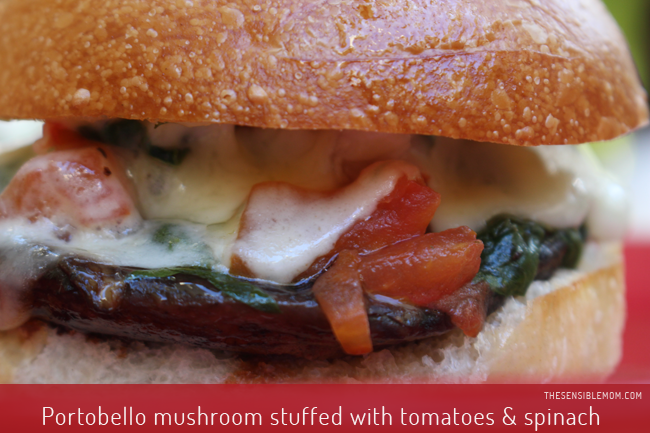 Stuffed Burger Kit
The Good Cook stuffed burger kit I used in the creation of this recipe certainly came in handy. My favorite parts of the kit are the knife, flexible cutting board, spatula, and the stuffed burger press (also known as the burger stuffer). The stuffed burger press makes it simple and easy to create a mouthwatering stuffed burger.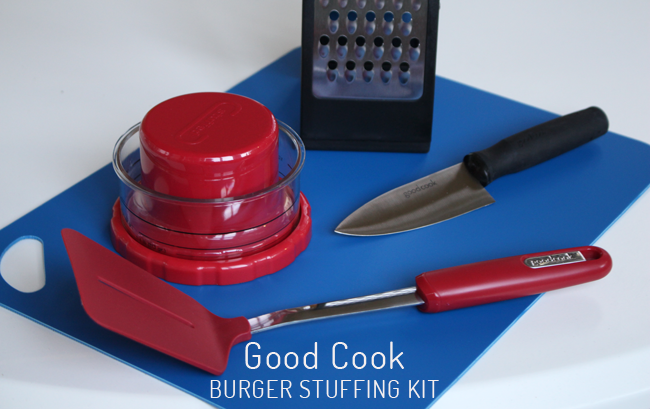 Speaking of mouthwatering burgers, here's the recipe for the Stuffed Portobello Mushroom Burger

Stuffed Portobello Mushroom Burgers
Ingredients
3 rolls or buns, sliced
3 small tomatoes, diced
1 cup spinach, roughly chopped
1.5 tablespoons plus 1 teaspoon of olive oil
3 portobello mushrooms
6 slices provolone cheese
salt
pepper
Instructions
In a bowl, combine tomatoes and spinach then season with salt and pepper. Set aside.
Preheat the oven to 400 degrees. You'll toast the buns in the oven.
In a skillet, heat one teaspoon of olive oil over medium heat.
Slather portobello mushrooms with the remaining 1.5 tablespoons of olive oil, season with salt and pepper, and then place them in the hot pan.
Cook mushrooms for 3 minutes per side, and then (gill side up), stuff them with the tomato spinach mixture.
Cover the pan and cook stuffed mushrooms for about 4 minutes.
Top each mushroom with 2 slices of provolone cheese, turn off heat, and remove the pan from the burner. The cheese will continue to melt.
Spread a little olive oil on the inside of the buns and place them in the oven to toast for 5 minutes.
Remove buns from oven and transfer to plates. Carefully place stuffed mushrooms on toasted buns and enjoy!
http://thesensiblemom.com/2013/09/stuffed-portobella-mushroom-burgers/
What's your favorite way to stuff a burger? Have you ever used portobello mushrooms in place of beef?
Want to save money on your Good Cook purchases?
Readers of The Sensible Mom can get an extra 25% off their order on goodcook.com with the promo code: BurgerLovers.