This is a compensated campaign on behalf of Latina Bloggers Connect and The National Peanut Board.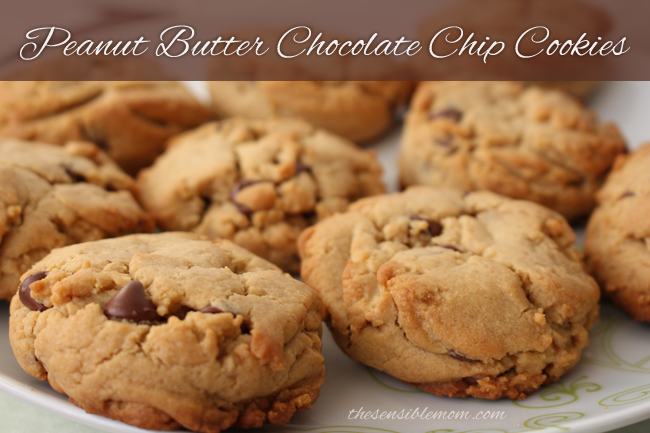 Today was a great day.
I haven't had many of these lately, but during yet another hospital stay this week, David (my son who was recently diagnosed with a rare disease called aplastic anemia), received a blood transfusion. And while this is certainly not what I wanted, it's what David needed, and that little bag of red cells gave me back my happy, loving, ball of energy 4-year-old son…for today and hopefully for at least the rest of this week before the tiredness and crankiness takes over again.
Peanut Butter + Family Day
It was fitting to have a treat day today. I made Peanut Butter Chocolate Chip Cookies and ice cream sundaes made with homemade Peanut Butter Syrup.
Peanut butter was the theme, for sure. It's a fantastic ingredient to use in cooking and baking, and we often simply eat peanuts by the handful. I love that they offer my family protein (since we're not huge meat-eaters) and other essential vitamins and nutrients that we need. Peanuts are a superfood! Did you know that?
Peanut Butter Chocolate Chip Cookies
I used natural creamy peanut butter to make the peanut butter chocolate chip cookies, and they came out with a nice crispy crunch on the outside while staying soft and moist on the inside. So good!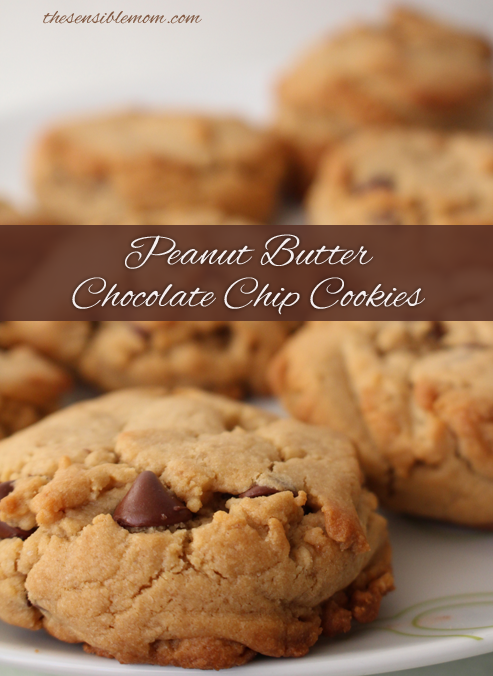 Here's the recipe I used to make these yummy cookies:
Peanut Butter Chocolate Chip Cookies
Ingredients
1-3/4 cups flour
1 teaspoon baking soda
1/2 teaspoon fine sea salt
8 tablespoons butter, softened
1/2 cup creamy peanut butter
3/4 cup light brown sugar
1/4 cup granulated sugar
1 egg
2 tablespoons almond milk
1-1/4 teaspoons vanilla extract
1/2 cup semisweet chocolate chips
Instructions
Preheat oven to 375 degrees.
In a large bowl, whisk together the flour, baking soda, and sea salt then set aside.
Using a mixer, in a separate bowl, cream together the butter, peanut butter, brown sugar and granulated sugar. Then beat in the egg, almond milk, and vanilla extract.
Make a well in the dry ingredients, then pour the wet ingredients into the bowl with the dry ingredients and beat with the mixer.
Finally, add the chocolate chips and beat just until the chips are incorporated.
Using a 1/4 measuring cup (so that the cookies are the same size) and a spoon (if needed), measure out the cookie dough and place individual cookies two inches a part on an ungreased baking sheet.
Bake for approximately 15 minutes, rotating the baking sheet halfway through, so that the cookies bake evenly.
Remove cookies from the oven and allow them to cool on a separate plate or cooling rack before serving. This recipe makes approximately 12-13 large cookies.
http://thesensiblemom.com/2013/10/peanut-butter-syrup-and-peanut-butter-chocolate-chip-cookies/
Peanut Butter Syrup
Besides the cookies, I decided to try making peanut butter syrup, too. I've never made it in the past, but I love drizzling caramel and chocolate sauce on ice cream and even over whipped cream when I often have it on my coffee. I thought…why not try making peanut butter syrup?
And wow. I'm glad I did, because it's so, so good! I can't wait to have a drizzle over my coffee tomorrow morning!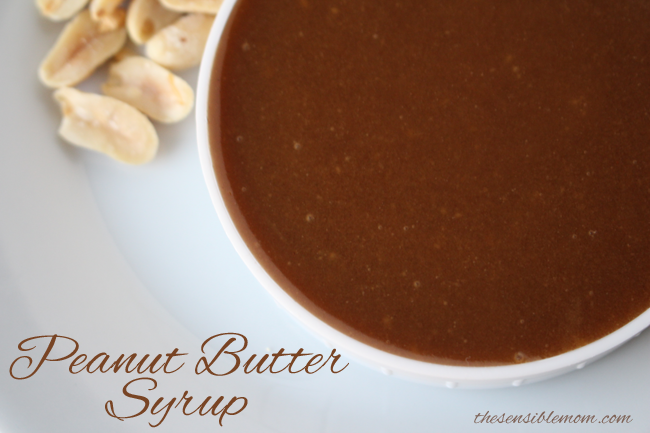 Here's the recipe I used to make peanut butter syrup:
Ice Cream Sundaes with Peanut Butter Syrup
I used the syrup to make crazy-good ice cream sundaes today. This particular sundae belonged to my daughter, Breanna. 🙂 She was patient enough to let me snap pictures of it before digging in.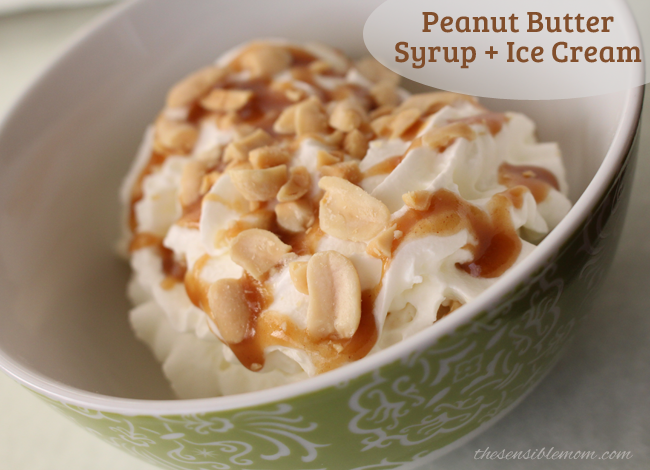 What's your favorite way to use peanut butter? What are some of your favorite recipes that involve peanuts?
More About Peanuts:

Juggling work, family and activities can take a lot out of us. More than ever, we need help to get through the day (or night) in our increasingly busy lives.
With 7 grams per serving, peanuts have more energy boosting protein than any nut. Coupled with their more than 30 essential vitamins and nutrients, peanuts are considered a Superfood.
Peanuts and peanut butter provide lasting energy and are a smart addition to your diet any time of the day. It's also an affordable source of protein and really convenient–you can take a pack with you or stir peanut butter in a smoothie or your oatmeal.
When you combine the value, nutrition and flavor of peanuts and peanut butter, families really get a nice bang for their buck!