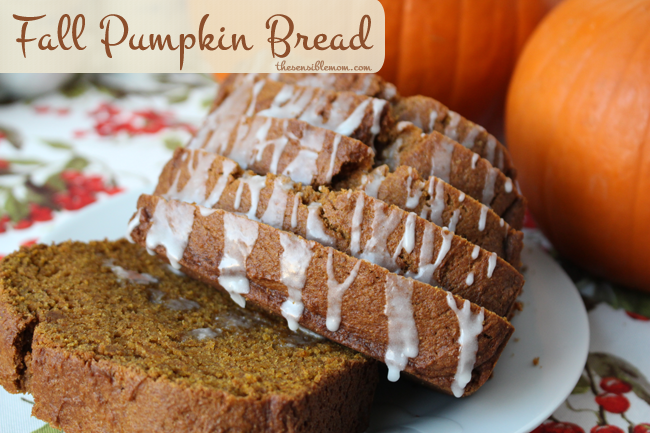 Pumpkin bread.
It's delicious. And I'm happy to say that I finally have a pumpkin bread recipe that everyone in my family loves – even the picky ones. 🙂
This pumpkin bread is delicious with a drizzle of pumpkin spice glaze over the top. It's so good served that way! You could also simply sprinkle a little powdered sugar over it.
That works, too.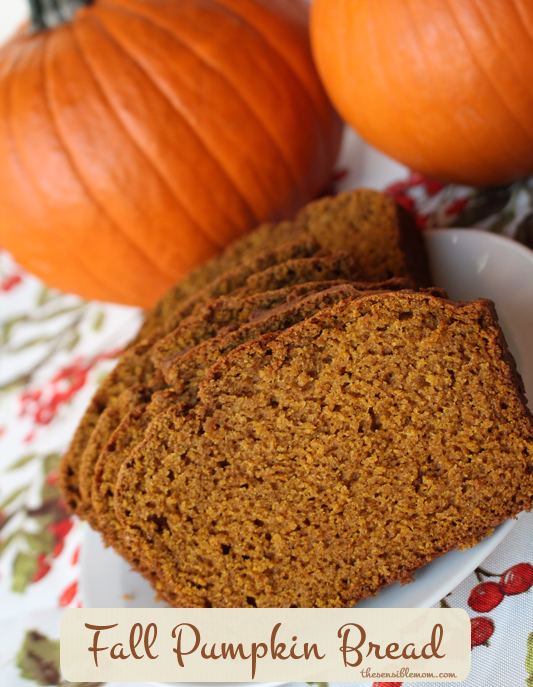 Here's the recipe: 
Ingredients
1 cup all-purpose flour
3/4 cup whole wheat flour
1 teaspoon baking soda
1 teaspoon baking powder
1 teaspoon ground cinnamon
1/2 teaspoon nutmeg
1/2 teaspoon salt
1 cup dark brown sugar
2 large eggs, lightly beaten
1-1/4 cups pumpkin puree, canned or fresh
8 tablespoons butter, melted and cooled
2 teaspoons vanilla extract
Instructions
Preheat oven to 350 degrees. Grease a loaf pan with oil or nonstick cooking spray. (I used coconut oil.)
In a large bowl, whisk together the all-purpose flour, whole wheat flour, baking soda, baking powder, cinnamon, nutmeg, and salt. Set aside.
In a separate bowl, whisk together the brown sugar and eggs. Then, one at a time, add the pumpkin, melted butter, and vanilla extract. Whisk the mixture after each ingredient is added.
Using a spatula, pour the pumpkin mixture into the flour mixture, and stir just until combined.
Pour the pumpkin batter into the loaf pan. Spread the batter evenly using the spatula. Bake for about 50 to 60 minutes. Then remove from the oven and cool for about 15 minutes.
Sprinkle with powdered sugar or drizzle with pumpkin spice glaze (recipe below).
http://thesensiblemom.com/2013/10/recipe-pumpkin-bread/
And, as I mentioned, this pumpkin bread is scrumptious when you serve it with a healthy drizzle of pumpkin spice glaze.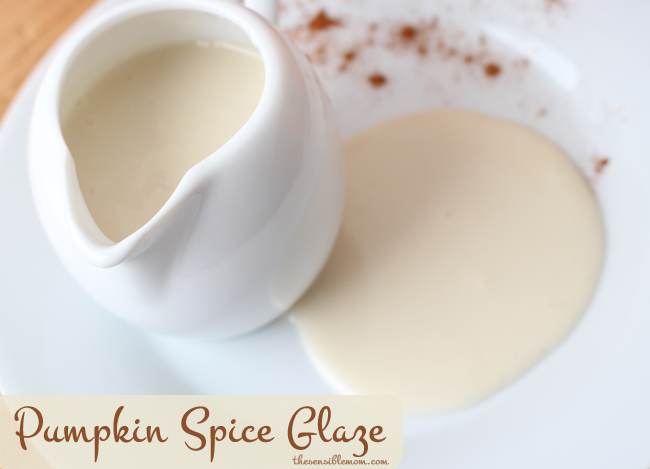 Here's that recipe:
I made this bread over the weekend, and it's gone already. I can't wait for an opportunity to make it again!
Have you made pumpkin bread yet this season? What's your favorite way to use canned pumpkin?