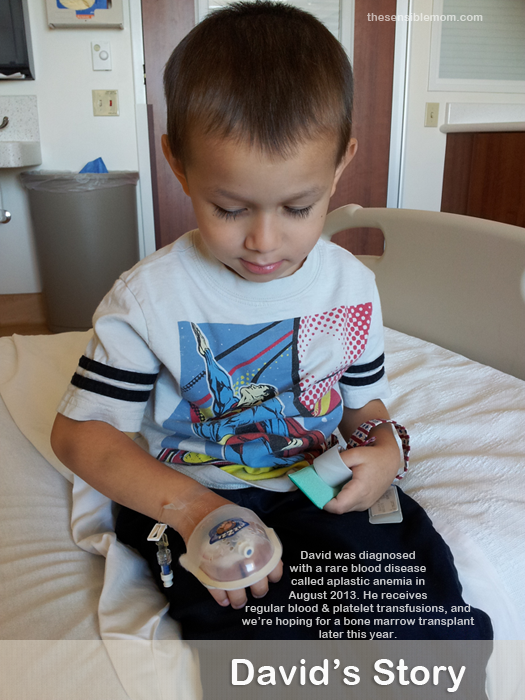 It's been almost a month since I've written a post about David. You can read part 1 of his story here.
I've been wanting to write and continue to share his story, and as I've thought over how I want to share his story with you, I've been mulling over the idea of creating videos to be able to tell the story more fully. I want to talk more about how life has changed for David, what it's like today, and show you what it looks like for a family to walk through a bone marrow transplant with a child.
Because, by God's grace, David will be having a bone marrow transplant next month. I'll talk more about that later, but I've shared dates and details about the transplant on David's Facebook page, if you'd like to know now.
There's much more to come.
For now, (because I'm at the library and forgot to bring the tripod) I'll write and continue the story of how we found out that David didn't have leukemia but did have a horrible, terrible life-threatening disease.
Ugh. As I wrote those last words, my heart sank. Writing this story is hard for me. I'm reminded that this is real life. David is sick. He's home today — face and body full of bruises and pin-point red dots called petechiae. Why? Because he has aplastic anemia. His platelets are incredibly low right now, but he's been in "this place" before, and his doctor would like him to make it to his appointment on Monday morning before getting another transfusion.
Will that happen?
I don't know. If David hits his head today and there's even a little swelling, we'll have to take him to the emergency room where he'll get a CT scan and be transferred by ambulance to the Children's hospital in Chicago. He'll receive a platelet transfusion as he sleeps and be observed by the nurses and doctors there. When he wakes up, familiar hospital staff will remark that "David's back!"
But he doesn't want to be back. He wants to be home.
I know this because it's happened before.
Okay, I can do this. Back to the story…
When David arrived at the Children's hospital in Chicago, there was no small amount of doctors and nurses in the room.
As they begin to observe David, a doctor kindly looks at me and asks, "Do you know why you're here?"
"Yes…because David may have leukemia," I reply.
It's welcome news to the doctor to know that I've been filled in, and she continues her job.
We're in the PICU (Pediatric Intensive Care Unit), and that night, David receives his first of many blood transfusions. There are no immediate answers, and we won't find out if David really has leukemia or if his illness has been caused by some sort of viral suppression as another doctor has suggested. We won't find out until a bone marrow biopsy can be performed on David, which will be in the very near future.
That night, I get online as David lays in bed. He's looking and feeling better now that he's received some much needed blood.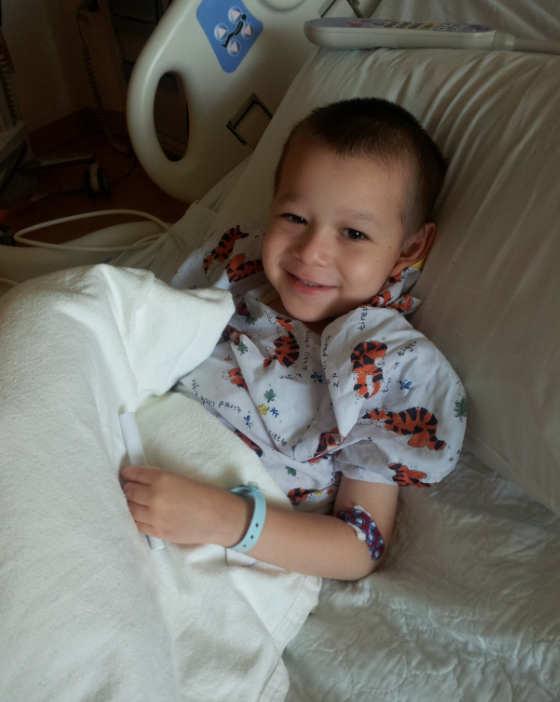 I don't know exactly what to type into Google, but I try something like "what does it mean when your white blood cells, red blood cells, and platelets are low." I land on a website that describes a disease I've never heard of before called aplastic anemia. Then I read about that disease, and I think to myself, "No. No. No. David does NOT have THAT disease. He just doesn't."
The Diagnosis of Severe Aplastic Anemia
David goes through a bone marrow biopsy and as we wait for the results (which takes days), I listen in one morning as the doctors perform rounds and discuss David's plan of care. I hear the words "aplastic anemia" uttered by one of the doctors.
No.
What did she say? Did she just say what I think she said?
It can't be that.
But it is. And it is very severe. David spends days in the hospital and receives transfusion after transfusion until he's well enough to go home. On the day we leave, our four other children all have blood drawn to see if one of them is a match for David and can donate their precious bone marrow to save his life.
At this point, as a mother, I feel like I'm dying inside.
To be continued…
One of my goals for writing these posts is to raise further awareness about aplastic anemia and even encourage others to register for the national bone marrow registry, Be the Match. By God's abundant grace, a match was found in the registry for David, and a man we've never met will donate some of his precious bone marrow to David next month. If you have any questions, feel free to ask away in the comments, and I'll share as much as I can.