I am a member of the Collective Bias®  Social Fabric® Community.  This shop has been compensated as part of a social shopper
insights study for Collective Bias®  and their client.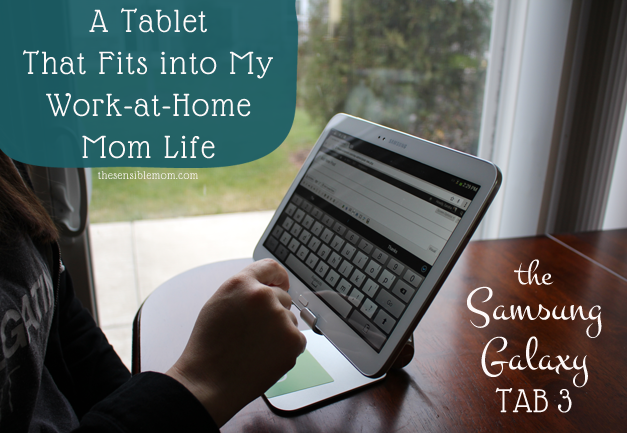 I'm a work-at-home mom.
Technically, I also work from the library when I need to get away and write or design without a baby on my lap or a little person needing me. Those days, I'll go to the library and check out a room, so that I can have peace and quiet and just write, return emails, check social media, and do the other things I need to do to keep this little online business of ours moving forward.
Even in the midst of all that's going on with David, I still have to work, and I've been lugging around my crazy-heavy laptop bag filled with everything I need to work while I'm sitting in the emergency room again or spending time with David during another hospital stay.
Decisions, decisions…
I finally decided to stop the madness and get a tablet (for myself), so that I don't always have to lug around a cumbersome laptop bag.
We trust Best Buy and have made several device purchases there in the past (plus I'm a fan of their warranty program), so we headed there to check out tablets. The Samsung Galaxy Tab 3 caught my eye. It has a powerful Intel processor (just what I need), and it's sleek and lightweight, which I love.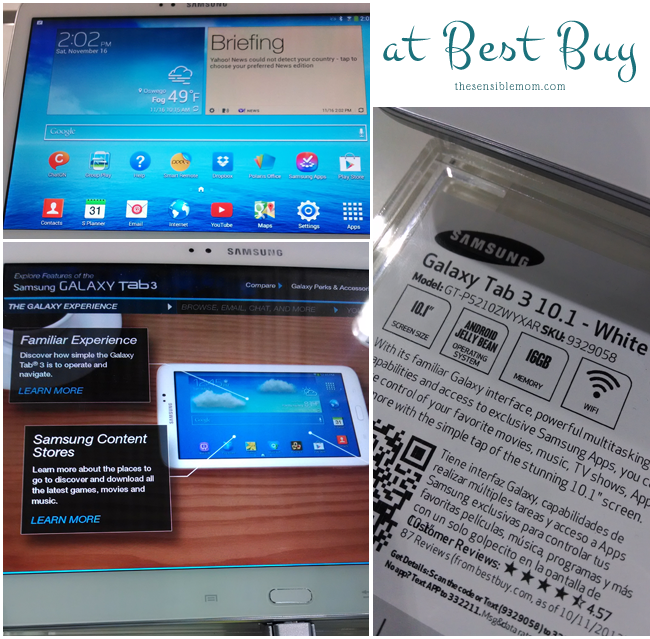 The Best Buy Experience
The employees at Best Buy were incredibly helpful and knowledgeable when it came to the Samsung Galaxy Tab 3. They answered all of my questions, and explained the benefits of owning an Android tablet. They made me feel confident about my decision, and I walked away a happy customer.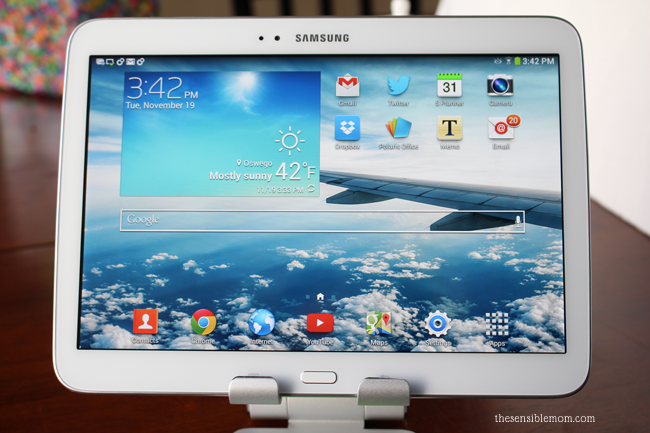 How I Use the Tab 3
Now that I'm officially a tablet owner, I've stopped lugging around my laptop bag every.single.time. we go to the hospital. David had 8 appointments (yes, EIGHT) to go to this past week, and instead of bringing my laptop with me, I left it and simply slipped my tablet into my purse to take along on our adventures.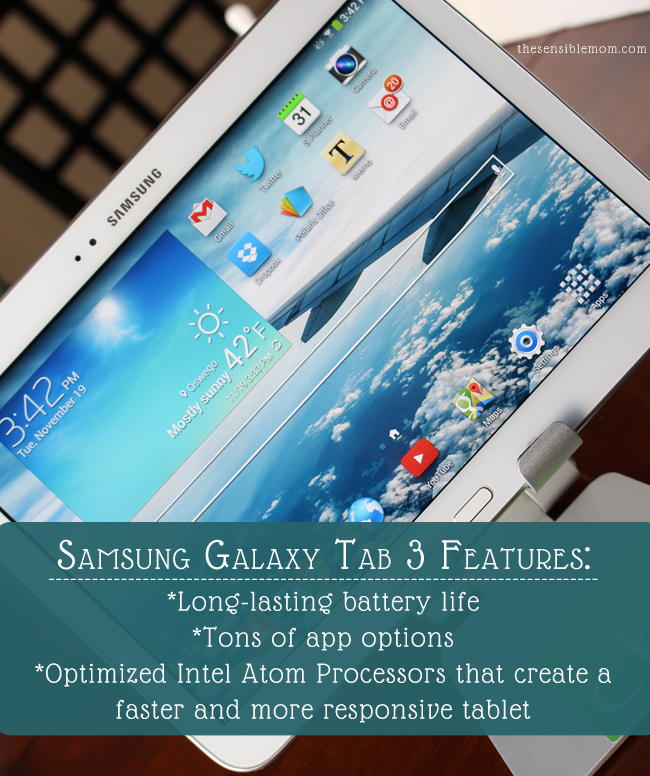 Whether I'm at home or in a waiting room, I can write posts and manage my blog on my tablet.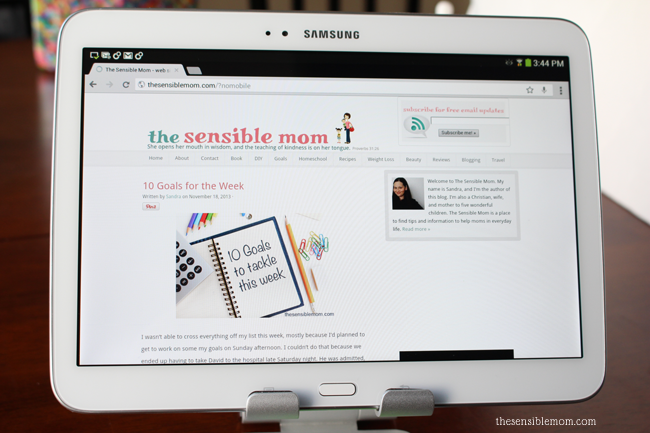 I also use it to check email and social media, listen to my favorite radio station, take pictures, and I even allowed my kids to install ONE game app on it. 😉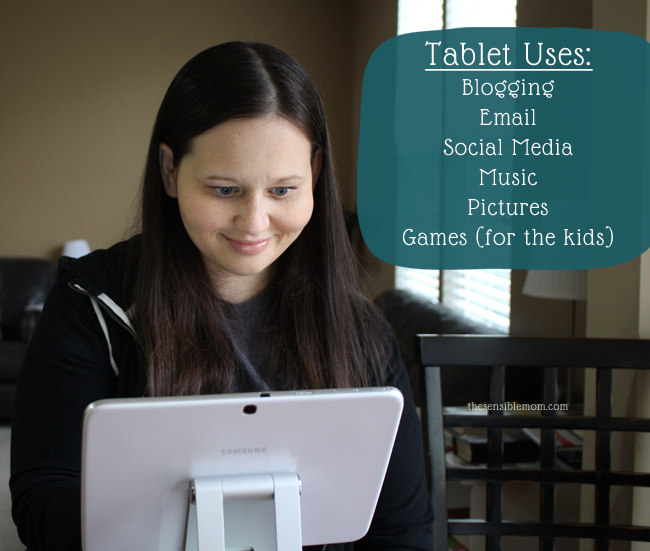 In the past, I've ever-so-carefully placed my laptop on the treadmill, so that I could walk and work at the same time. I love that I can now easily do the same things I did with my laptop on the treadmill but instead use my lightweight and portable tablet.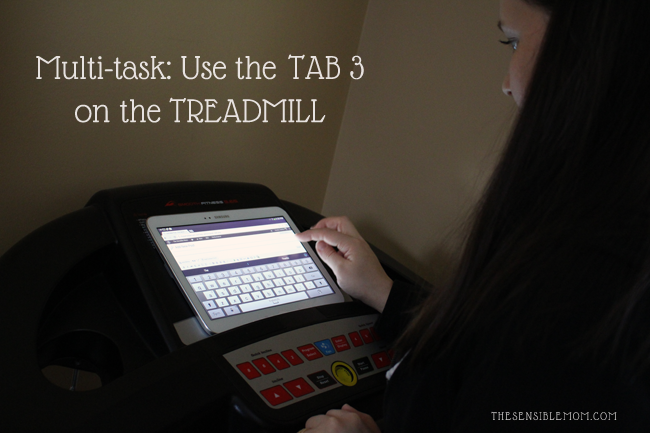 Across-the-board, I feel like this tablet is just what I need to be more productive as I juggle being a work-at-home mom with all of my other responsibilities. I know I'll be using it a lot over the next few months, and I may even use it to create videos to share with you when David is in the hospital next month.
Yes, I do think this tablet will become my new supertool.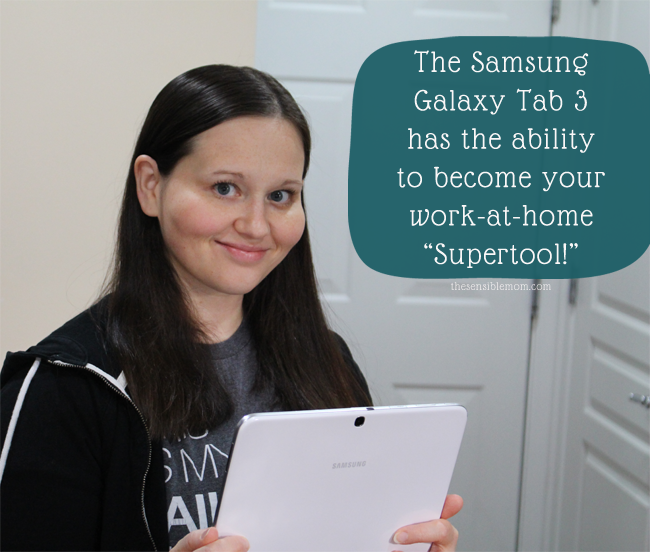 Have you ever used a tablet? In what ways do you think it could streamline an area of your life?
Learn More & Be Social
You can learn more about the Samsung Galaxy Tab 3 at Best Buy & receive Best Buy updates when you follow them on Twitter.

You can also stay up-to-date with Intel when you follow them on Facebook and Twitter.