A special thanks to Good Cook for the bakeware I received to create a delicious recipe for turkey pot pie.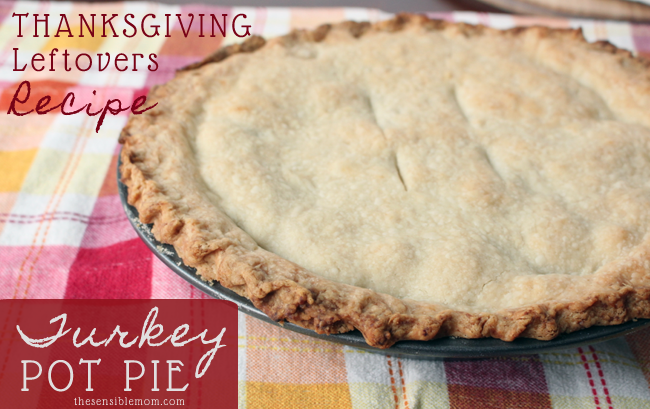 I love pot pies.
I think they're one of the best comfort foods on the planet, so you can imagine how excited I was to have the time carved out to make two turkey pot pies using leftover turkey meat.
Turkey Pot Pie
The first pot pie that came out of the oven was history in no time at all, so I decided to make a second turkey pot pie yesterday afternoon before David came down with a fever and had to be taken to the emergency room and subsequently admitted to the hospital a day earlier than expected. That's for another post, though. 😉
The good thing is that David is feeling better and my husband is going to be bringing me some of the leftover pot pie to eat as we continue our latest hospital stay. A little comfort away from home…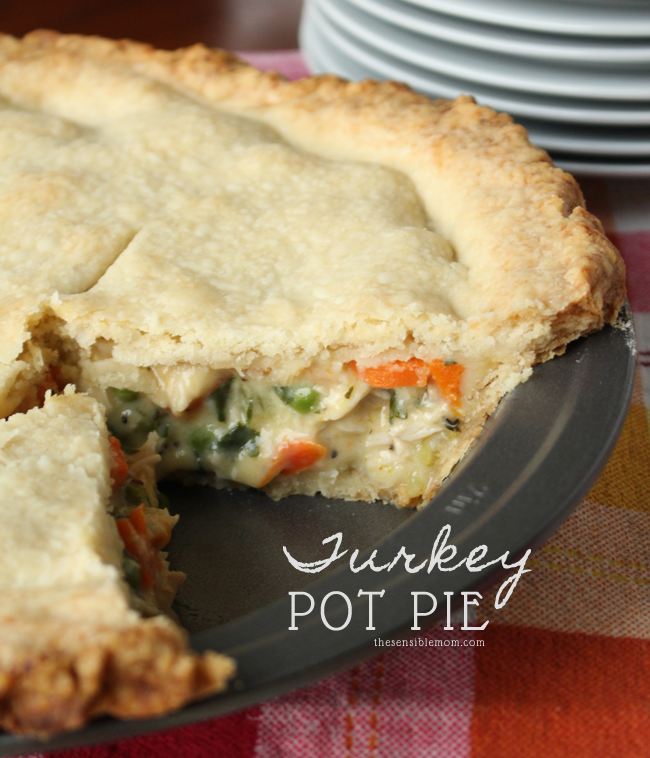 Achieving the Perfect Pot Pie Crust using a Good Cook Pie Pan
There are two things that you need to create the perfect crust for a pot pie. First, you need an awesome double pie crust recipe. I used the recipe that I posted here. Next, you need a fantastic 9-inch round pie pan. I used the one I received from Good Cook, and I was very impressed with how well it performed.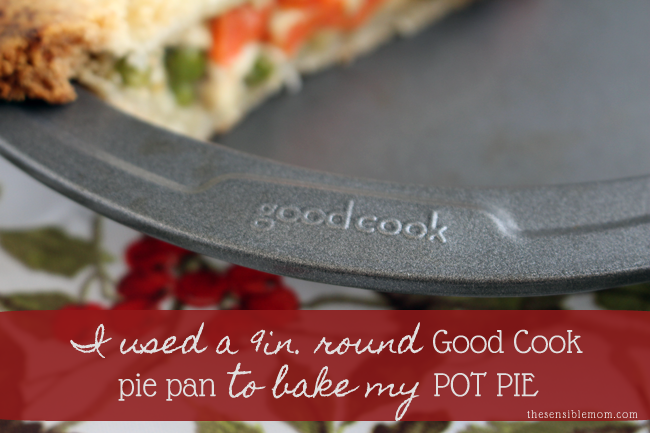 It's important that both the top and bottom crust of a pot pie be just right — flaky, soft, and delicious. The Good Cook pie pan definitely got the job done, and I'll be using it again and again, whenever I make a turkey or chicken pot pie.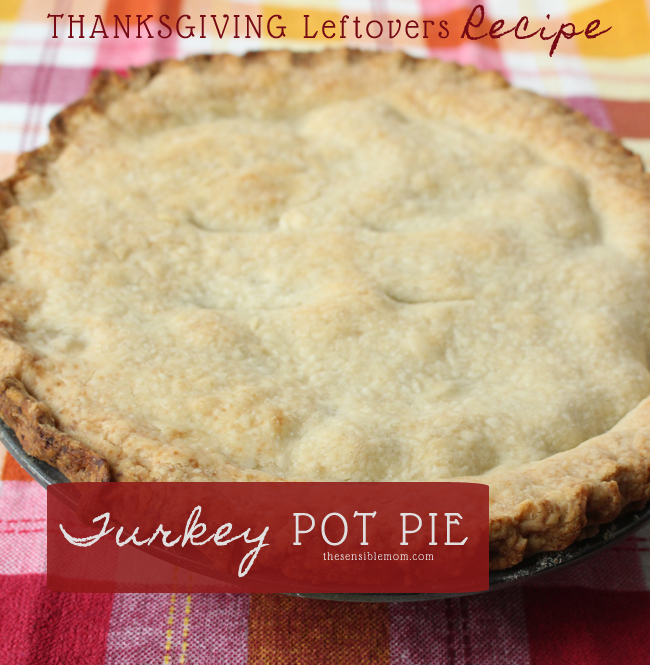 Here's the recipe for this Turkey Pot Pie:
Ingredients
2 tablespoons unsalted butter
2 carrots, peeled and cut into small pieces
2 ribs celery, cut into small pieces
1/4 teaspoon onion powder
1/4 teaspoon salt
1 garlic clove, minced
1/4 teaspoon dried thyme
1/4 cup flour
1-2/3 cups vegetable broth
1/4 cup heavy cream
1 bay leaf
1/8 teaspoon pepper
1-3/4 cups pre-cooked turkey, shredded or cut into small chunks
1/2 cup frozen peas
1 tablespoon fresh parsley, minced
1 double pie crust (see link in this post for a double pie crust recipe)
Instructions
Adjust an oven rack to the lower-middle position, then preheat the oven to 425 degrees.
Melt the butter in a large saucepan over medium heat. Add carrots, celery, onion powder and 1/4 teaspoon of salt. Cook until vegetables have softened, around 7-9 minutes.
Stir in the garlic and thyme. Then add the flour, vegetable broth, heavy cream, bay leaf and pepper. Lower the heat and simmer until the mixture has thickened, about 5-7 minutes.
While the filling is simmering, roll out the bottom pie crust and place it in the bottom of the pie pan. Then place the pie pan in the oven and bake the pie crust for about 7 minutes.
Back to the filling, stir in the turkey and continue to simmer for another 5 minutes.
Remove the bay leaf, then taste to see if you need to add more salt and pepper. After tasting and adding the appropriate amount of salt and pepper, stir in the peas and parsley.
Remove the filling from the heat and set aside.
Take bottom pie crust out of the oven and let it cool for about 7 minutes.
In the meantime, roll out top crust, so that it's ready.
Once the bottom crust has cooled for about 7 minutes, pour in the filling, then place the top pie crust over the filling. If necessary, trim the edges of the pie crust and then use either a fork or your fingers to pinch the edges of the crust all the way around the pie pan. Cut four slits in the top crust.
Bake for about 20 minutes or until the edges of the pie crust are golden brown.
Allow the turkey pot pie to cool for at least 10 minutes before serving.
http://thesensiblemom.com/2013/12/thanksgiving-leftovers-recipe-turkey-pot-pie/
I can't think of a better way to use leftover Thanksgiving turkey than to create a simple pot pie that doesn't take long to make and tastes great.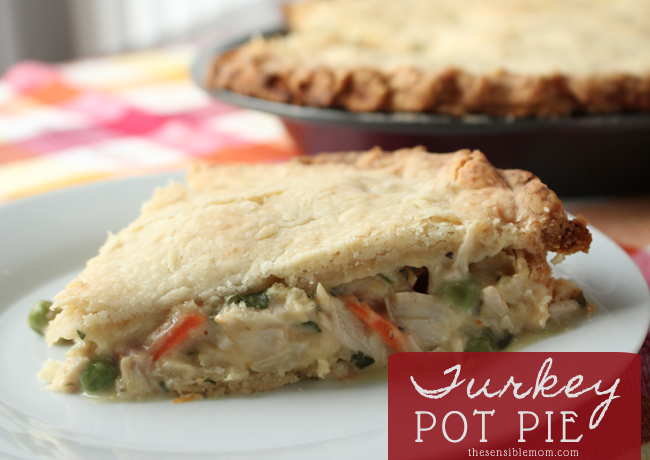 What's your favorite way to use Thanksgiving leftovers? 
Want more Thanksgiving Leftovers Recipe inspiration? Be sure to stop by the Good Cook blog for over 100 mouth-watering recipes!