This is a compensated campaign in collaboration with Kikkoman and Latina Bloggers Connect.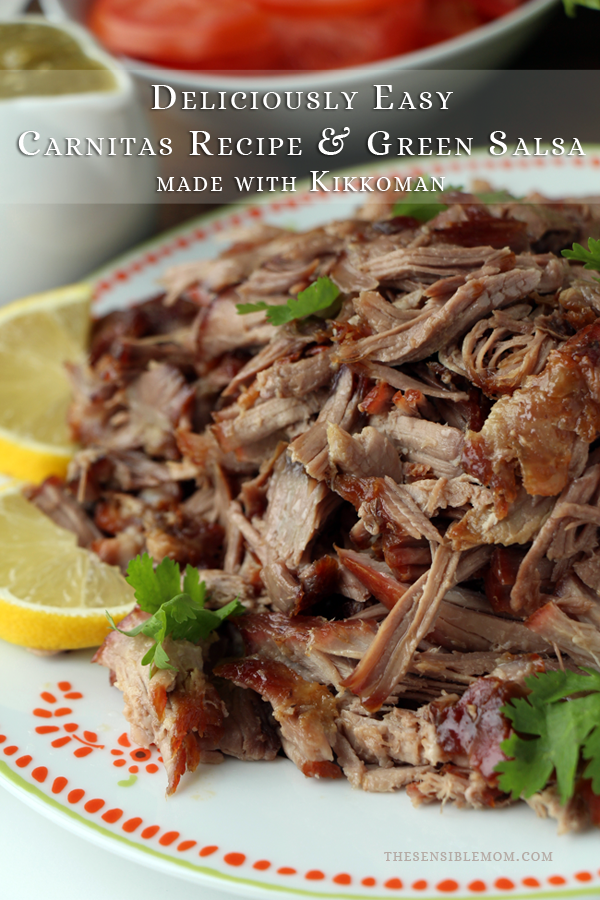 My favorite food in the world is tacos.
I remember the summers I spent in Mexico as a kid, and the many times my family and I took a very familiar one minute stroll to our neighborhood taco stand to eat seriously scrumptious soft tacos. Oh, they were good!
Those are fond childhood memories that I'll never forget. It is perhaps because of all those trips to the taco stand near my aunt's house in Mexico that I love tacos so much today. 🙂
So Many Varieties of Tacos to Choose From
I have tried so many different types of tacos over the years, but if I had to choose just one that would win over the rest, it would be tacos filled with carnitas.
Yes, I have a deep fondness for carnita tacos. Can you blame me? 😉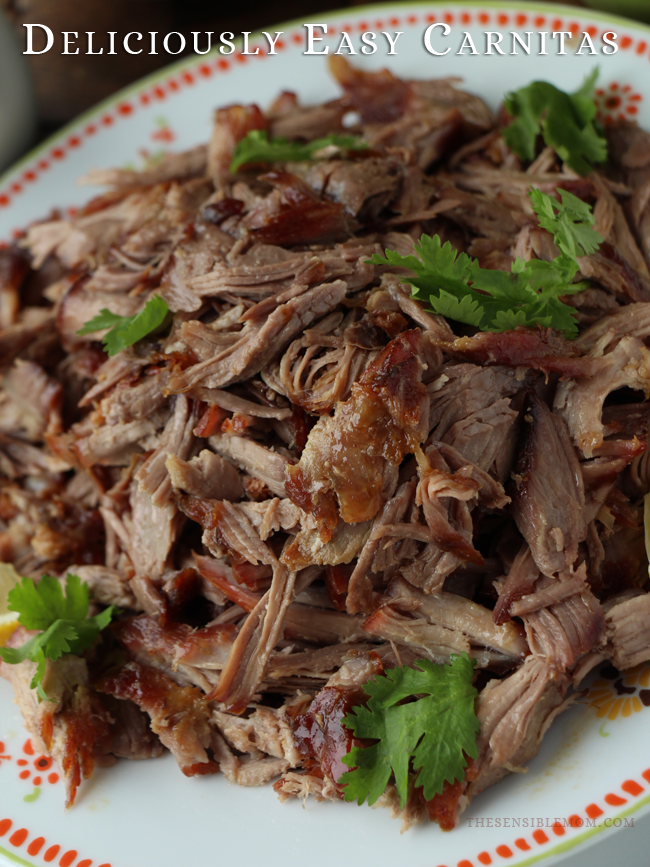 Easy Carnitas Recipe
I know what you may be thinking, especially if you've never made carnitas at home before. You might be thinking that carnita tacos sound absolutely delicious, but they're probably difficult and incredibly time-consuming to prepare. At least that's what I thought before I started making this dish for my family.
You might be surprised to find out that it is not at all difficult to cook carnitas in your very own kitchen. It's quite easy, and you can get that same authentic flavor infused into your homemade carnitas by using a versatile ingredient like Kikkoman soy sauce.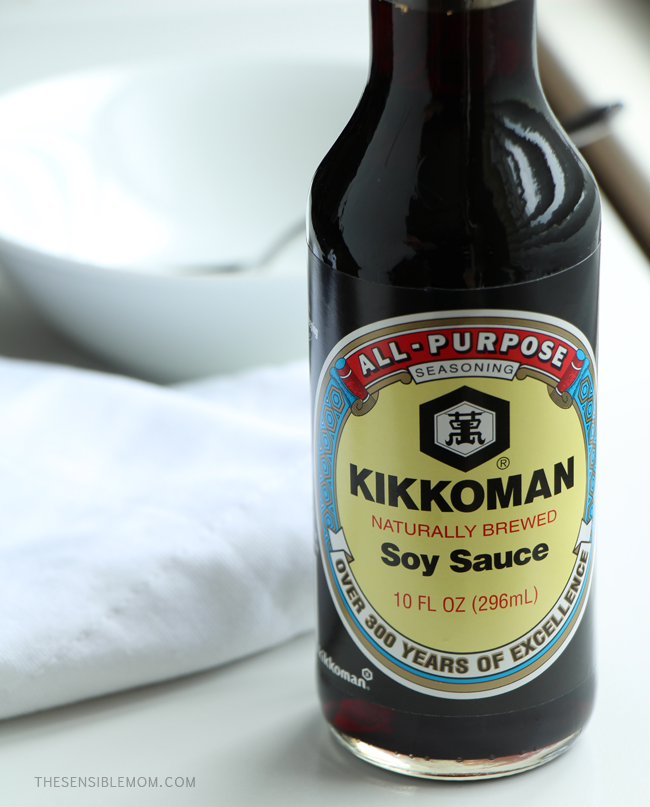 How to Cook Carnitas with Kikkoman Soy Sauce
I use Kikkoman soy sauce to enhance the flavor of the carnitas both before and during the cooking process. Beforehand, I marinate the meat in Kikkoman for thirty minutes before putting it into the oven. Then as the meat cooks, I add a little more soy sauce to bump up the flavor even further.
By doing things this way, the carnitas end up flavorful and mouthwatering.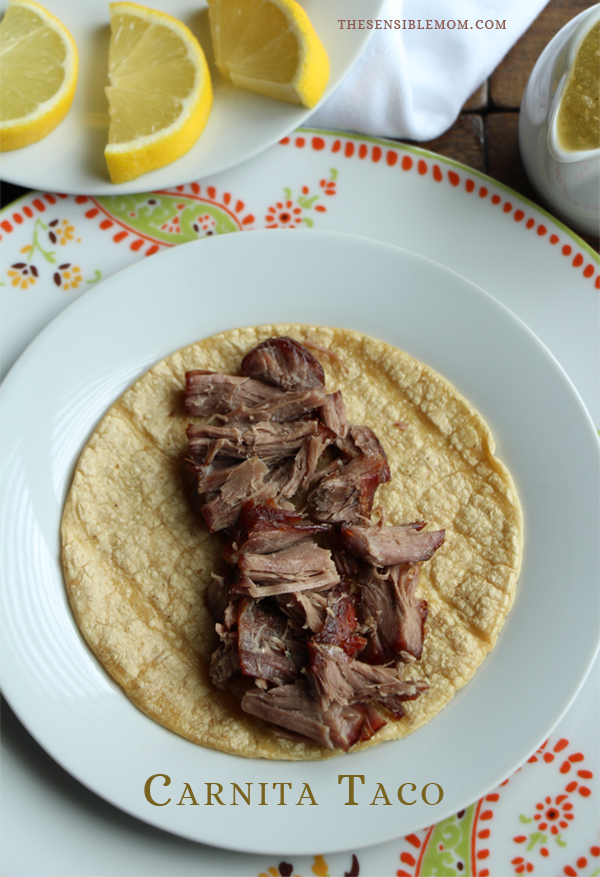 Green Salsa or "Salsa Verde"
When it comes to Kikkman soy sauce and carnitas, I don't stop at the meat. Part of the fun of eating tacos is about what you choose to put inside of your taco besides the meat, right?
For carnita tacos, green salsa is a fantastic accompaniment. And like carnitas, green salsa (also known as "salsa verde") is easy to make at home.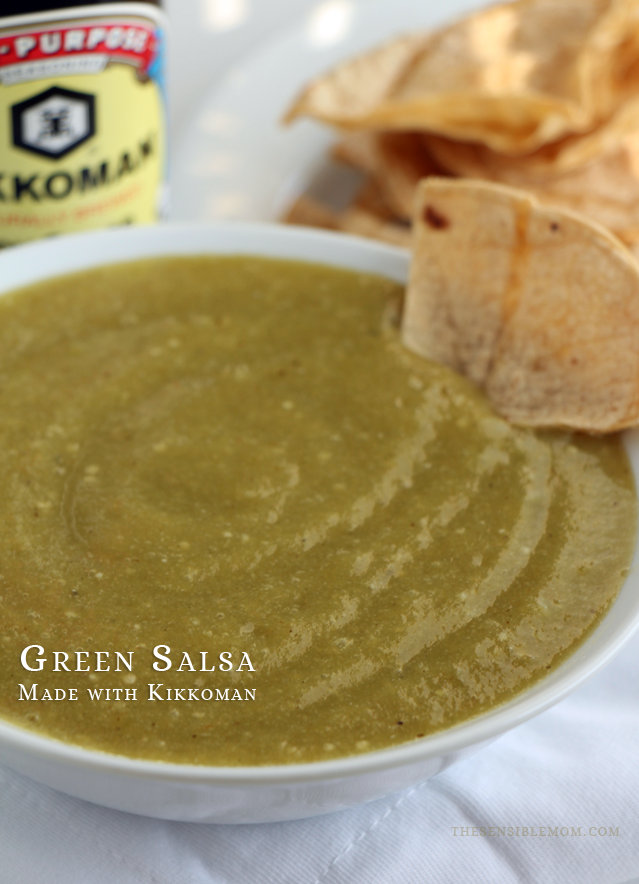 Green salsa isn't just spicy. It's savory and adds a burst of freshness to your taco.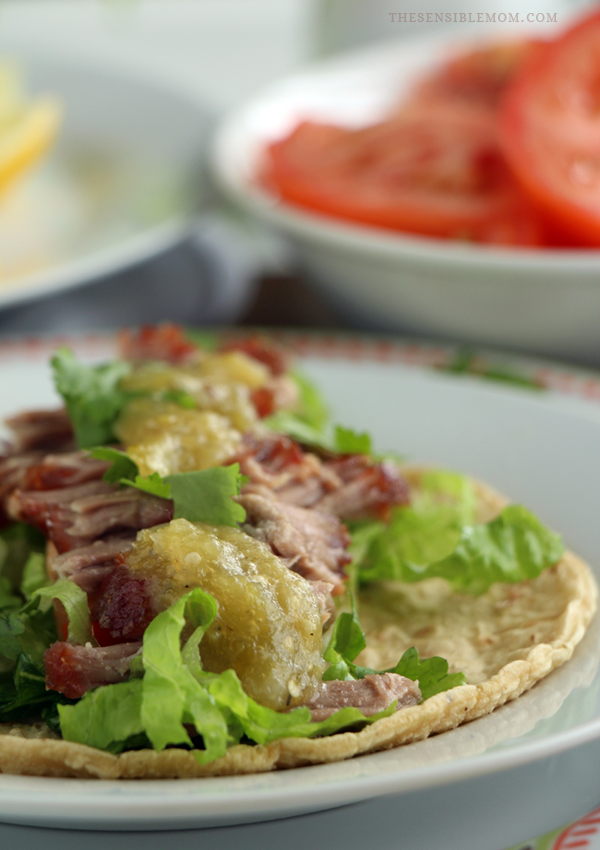 Carnitas and green salsa go very well together. To be honest, my eyes and my stomach both wanted tacos with green salsa as I sat and edited pictures for this blog post. 😉
Other Ideas for What You Might Include in Your Taco:
lettuce
tomato
avocado
lemon/lime
cilantro
pico de gallo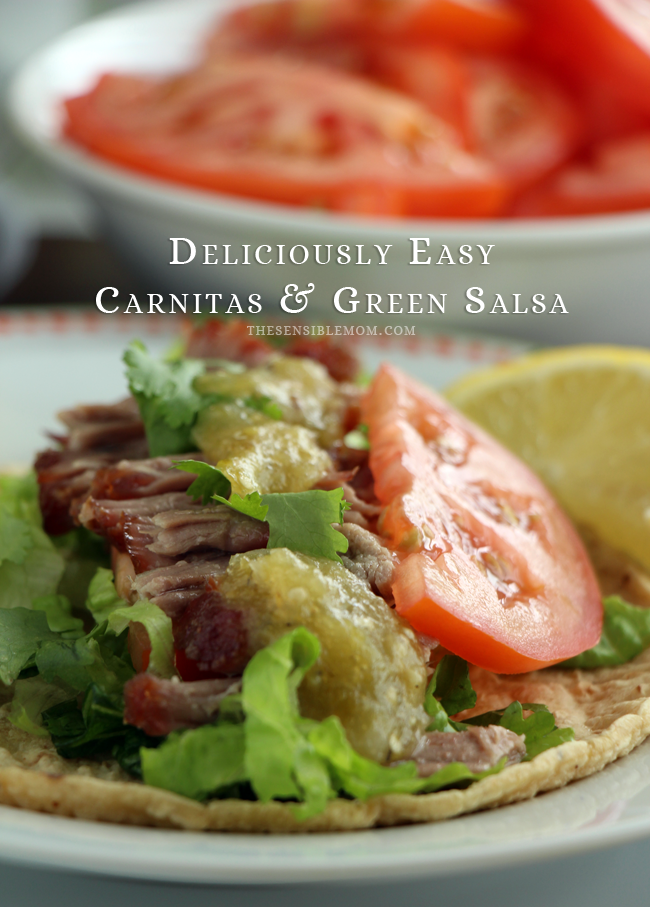 I'm hoping at this point you're hungry and would like the recipes now. 🙂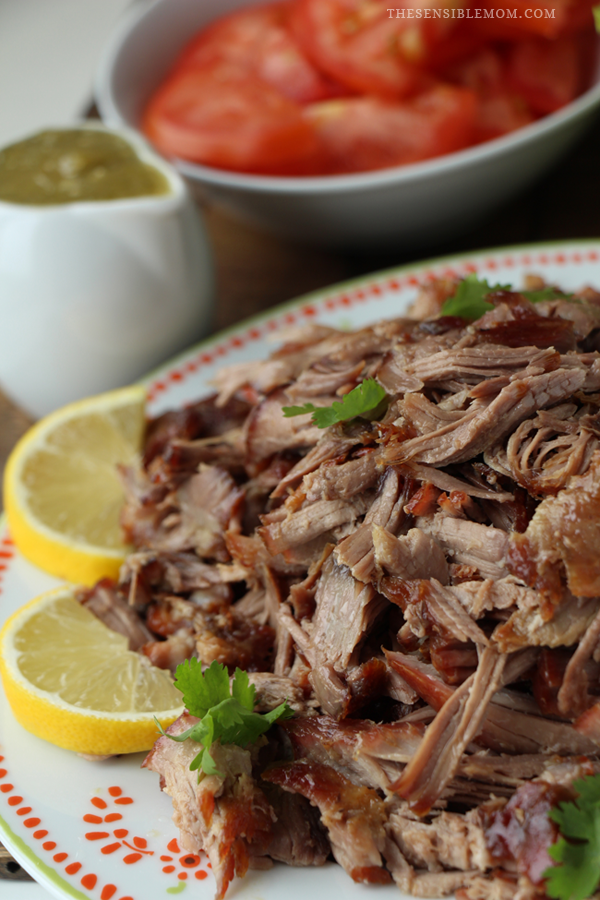 Here is the Easy Carnitas Recipe:
Ingredients
1 5-lb. bone-in pork shoulder butt roast, cut in half (feel free to trim a little of the excess fat)
5 teaspoons Kikkoman soy sauce
3/4 cup water
fine sea salt
Instructions
Place pork roast pieces in a large baking pan. Sprinkle sea salt all over the meat and rub both the tops and bottoms of the meat with one teaspoon each of Kikkoman soy sauce. Then cover the pan tightly with aluminum foil and place in the refrigerator to marinate for 30 minutes.
Adjust the oven rack to the middle position, and preheat the oven to 350 degrees. Once 30 minutes have passed, remove the meat from the refrigerator, uncover, and add water to the bottom of the pan. Then, once again, cover tightly with aluminum foil, and place the baking pan in the oven. Cook for 1 hour and 30 minutes.
Carefully remove the meat from the oven, remove the aluminum foil, then brush the top of the meat with one teaspoon of Kikkoman soy sauce and sprinkle with sea salt. Turn the temperature of the oven up to 425 degrees, place the now uncovered meat in the oven, and cook for 50 minutes more. *Very important: Flip the meat every 10 minutes during this time.
Once the meat is done cooking, remove it from the oven, flip it one more time, and then let it sit in the pan for at least 20 minutes to cool before shredding.
Once the meat is safe enough to handle, transfer it to a plate, and shred it.
Serve carnitas with warm corn tortillas and your favorite accompaniments.
http://thesensiblemom.com/2014/07/easy-carnitas-recipe/
A few additional notes about preparing carnitas:

Bumping the temperature of the oven up to 425 degrees after the meat cooks for 90 minutes allows the carnitas to develop a nice outer crust.
My favorite way to prepare carnitas is in a glass baking pan. I've made them in a ceramic baking pan a couple of times, and while they still turned out great, I found that the carnitas cooked much faster in that type of pan, which meant that I had to keep a close eye on the oven.
Cooking times may vary depending upon the weight of the piece of meat you're preparing.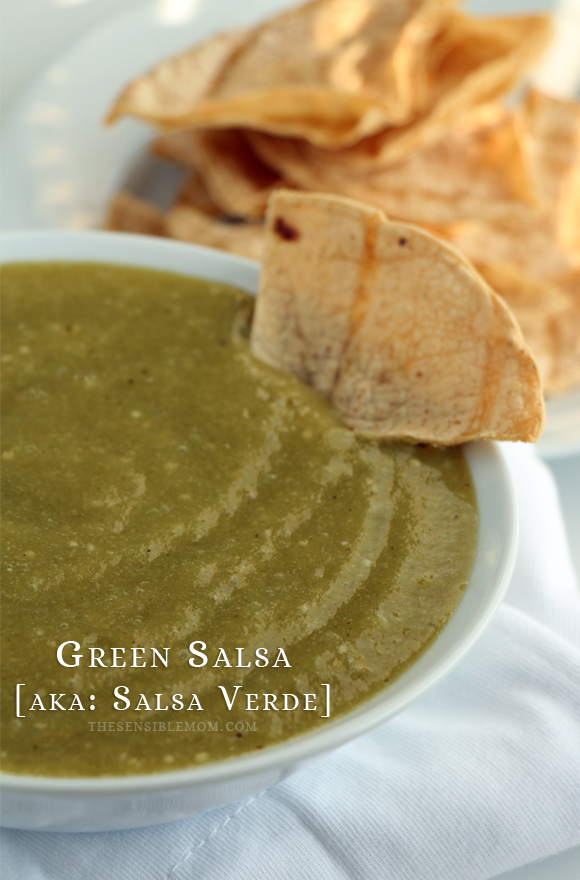 Here is the Green Salsa Recipe:
Green Salsa (Salsa Verde)
Ingredients
3 to 5 tomatillos (Only 3 are needed, if they're medium in size. Use 4 to 5, if they're small in size.), husked and rinsed
3 cloves garlic, whole with skins left on
1 jalapeño chile, whole
5 to 7 green onions (also known as scallions), trimmed
1/2 teaspoon Kikkoman soy sauce
salt
pepper
water (optional)
Instructions
Place tomatillos, garlic, jalapeño chile, and green onions on a baking sheet. Then place the baking sheet in the oven, and broil ingredients on high for 5 minutes.
After 5 minutes are up, remove the baking sheet from the oven, and turn everything over. Repeat this step until ingredients are soft. *Very Important: Ingredients will not soften all at the same time. Once you notice an ingredient is soft, remove it, and place it on a plate to cool. Repeat this will the remaining ingredients until everything is cooling on the plate.
Once ingredients have cooled, peel the skins off the garlic, and remove the seeds from the jalapeño chile. Peel away any overly charred pieces of skin on the vegetables.
Place everything in a blender, add Kikkoman soy sauce, and a pinch of salt and pepper. Blend until smooth. *Optional: Add a little water until you get the consistency you desire.
Store in a sealed container in the refrigerator until you're ready to enjoy the green salsa with food.
http://thesensiblemom.com/2014/07/easy-carnitas-recipe/
Carnitas and Family Time Together
If you're a regular reader, you know that my family and I make a big deal about spending intentional time together every week. Well, I'm really looking forward to our next family day, which happens to be on Sunday.
The green salsa is already in the fridge, and my husband brought home the meat to make carnitas on that day!
I can't wait. 🙂
What's your favorite way to eat tacos?