This is a sponsored conversation written by me on behalf of Hobby Lobby. The opinions and text are all mine.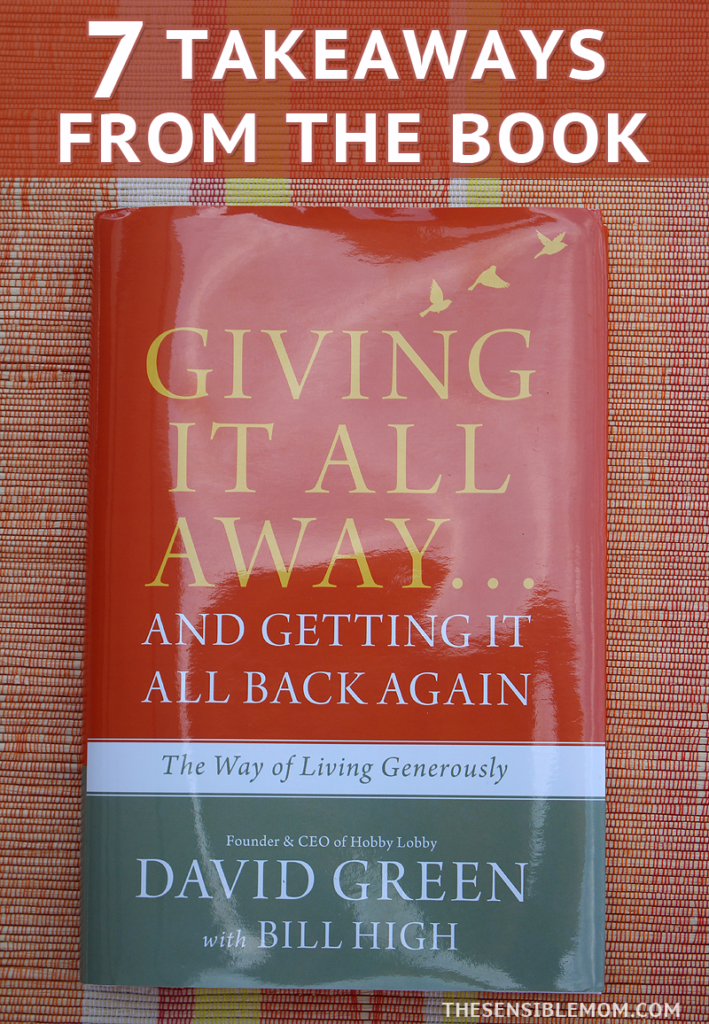 Giving It All Away…And Getting It All Back Again: The Way of Living Generously is the book I finished reading this week.
It's written by David Green, the founder and CEO of Hobby Lobby. And, to be honest, this book left lasting impressions on me that I won't soon forget. It also helped spark a few interesting conversations with my husband, Ruben. I like it when books do that in a marriage. 🙂
While it's hard to narrow down everything I'd like to share from what I read, I'm sure going to try.
So here are My Top 7 Takeaways from the book:
1. Growing up in a true Christian home is a great blessing. I was so encouraged by the stories David Green shared about his family and upbringing. His father was a pastor and his mother was a faithful servant of the Lord and a remarkable woman. His parents never brought home a paycheck for more than $138 in a week. Yet, they were rich (not by worldly standards) but rich in Christ's blessings. And the legacy they passed on to their six children is amazing.
After reading about their life and having a conversation with Ruben about our own mostly non-Christian upbringings (I'll spare you the details…), we're both encouraged by the fact that we're bringing our kids up in a Christian home. And God promises to bless as a result.
2. God owns Hobby Lobby. The Green family acknowledges this fact and treats Hobby Lobby as God's business that they are simply stewards over. What a different way of thinking when it comes to such a big company like Hobby Lobby, but I'm sure this pleases the Lord. Knowing that God owns everything including Hobby Lobby has taken the burden off of David Green. Instead, he has the Lord's peace.
Reading this reminded me that God owns our means of earning a living as well. Our family's main source of income comes from our YouTube channels. And those channels belong to God. It's a joy to see how God has used them to bless others while providing a steady monthly income for our family. Thank you, Jesus! 🙂
3. Wealth is more than money. Yes, it can include money, but real wealth isn't all about finances. True wealth is found in your faith, your family, and the things God has given you to steward while you're on this earth. Also, this books reminds us not to put our hope in money.
We need to hope in God and remember what the Bible says, "Do not store up for yourselves treasures on earth, where moth and rust destroy, and where thieves break in and steal. But store up for yourselves treasures in heaven, where moth and rust do not destroy, and where thieves do not break in and steal. For where your treasure is, there your heart will be also."
4. Passing the baton to the next generation requires preparation. When a legacy is being transferred from one generation to the next, it requires a lot of work and preparation ahead of time. Otherwise, catastrophe could follow just like in a relay race when one runner drops the baton and doesn't effectively transfer it to the next runner.
It was inspiring to read how the Green family includes several generations of their family in different aspects of the business of Hobby Lobby. They even have names for each generation. There's G1, G2, and G3. They're making sure the baton doesn't drop when their legacy is passed on from one generation to the next.
5. Our God is able to deliver us. You may or may not know this, but Hobby Lobby was recently part of a landmark Supreme Court case. In September of 2012, they filed suit in a US court against the federal mandate that would've forced them to provide and pay for potentially life-terminating drugs and devices. Not complying with the mandate would have resulted in huge fines that could eventually bankrupt Hobby Lobby. So after a family meeting, the Green family decided that their only option was to sue the government.
To make a long story short, their case went all the way to the Supreme Court and they won! During the years their case moved through the court system, there hung a huge sign outside of the executive offices that read, "Our God whom we serve is able to deliver us." And He did.
6. Make plans but hold them lightly. We can make plans for our lives, but in the end, the Lord directs our steps. I'm pretty sure most of us will know this to be true if we've lived on this earth long enough.
7. Hobby Lobby is generous. They give away 50% of their profits to Christian organizations they believe in. Why? Because they know that there are only two things in this world that last — God's Word and people's souls. In the book, we're reminded of the poem by C.T. Studd that reads, "Only one life…'Twill soon be past…Only what's done for Christ will last."
Final Thoughts
Those are my takeaways from the book, Giving It All Away…And Getting It All Back Again by David Green. I hope they're helpful. I recommend picking up a copy of the book and reading it for yourself if you have a chance. By the way, I'm usually a slow reader when it comes to any book outside the Bible, but I was able to finish this book in about seven days. So, if you're typically a slow reader like I am, I hope that's an encouragement. 🙂
Have you read any good books lately? I'd love to hear about them.
This is a sponsored conversation written by me on behalf of Hobby Lobby. The opinions and text are all mine.