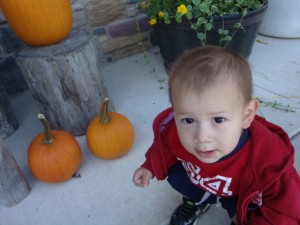 Not Me! Monday is hosted by My Charming Kids.net, and it's all about the things that we didn't do this past week but REALLY DID.  Here goes….
We did NOT go a little overboard on the pumpkins for this time of year.  When I went grocery shopping with the kids, we left the store with seven mini-pumpkins.  Then we went to Walmart the next day and bought four pie pumpkins.  That's a total of eleven pumpkins!  They are making a nice little display on our counter, though, and it feels like we are just a little bit closer to Fall…eventhough it was over 80 degrees here yesterday.
Many nights, I end up going to bed rather late after a session of homework.  That has NOT affected my sleep in the strangest way.  I end up thinking about html code all night long.  It's stuck in my head, and I keep replaying the same code over and over until the madness stops when I wake up.
Did you know that Jewel has a program going on right now where you get a "reward sticker" for every $10 you spend at their store?  Once you've collected enough stickers, you can redeem them for a piece of "professional cookware" for a penny.  Well, needless to say, I was NOT excited about this program.  I mean, getting a pan for a penny for spending money you would otherwise be spending anyway.  Sign me up!  We were all excited until we found out that ONE pan is going to cost well over $1,000 spent at Jewel!  We'll be lucky to earn enough stickers for a single pan by the time the program ends in January.  And if you spend $39.99, you only get 3 stickers (one for every $10 spent), not 4.  THEY ROUND DOWN.  So, really, to get one pan you will NOT likely have to spend somewhere around $1,200.  I will have to spend around $1,500 because the pan I want is 130 stickers!  Oh, Jewel….
My thinking that I would not have as much homework in the Fall as I did with my summer classes has NOT completely gone out the window.  What was I thinking?  School is going well, though.  I'm happy to be learning all about building web sites, and I can't wait to be able to do some giveaways here on The Sensible Mom.  I'm not quite where I need to be, but we are getting there!
David, my 18 month old son, is a climber.  And he has NOT recently decided to start climbing up on the desk chair, OPENING my laptop, and picking OFF the keys!  That child!  At least I've been able to get all the keys back on.  Oddly enough, though, he picked off the "P" and the "O" keys last week, and I accidentally put them back in the wrong places so when I hit the "O" key, it types a "P" and vice-versa.  But I'm leaving it because 95% off the time I type just fine this way–maybe better! :0)
Happy Monday!