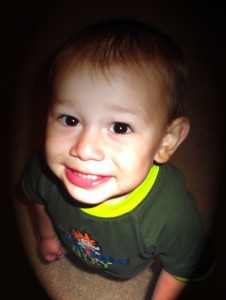 Since I've started school, coupons and deal shopping have been on the back burner.  I'm not happy about this, but, at the moment, I just don't have time to go to four or five different stores every week to get the deals anymore.  I'm happy if I make it to one or two and don't overpay too much for items I could've gotten cheaper had I had all my coupons in order.
At this moment in my life I feel like my days are FULL.  Too full.  I spend a considerable amount of time at school and working on homework during the week while trying to spend quality time with my family and help the kids with their school as well.  On the weekends, I cook, wash dishes and cook some more.  Then I wash more dishes and clean more.  Ruben does a lot of the meal preparation during the week since I'm usually at school for at least two meals so the weekends are my time to SHINE in the kitchen.  Actually, I'm usually making something with each one of the older kids since I try to cook with them at least once a week.  When we miss that time during the week, it gets pushed to the weekend and that's okay.  I had also been making more involved meals for us (following recipes) on the weekends, and my husband and I have both decided that that is also going to be minimized….cause my feet hurt at the end of the day!  And I need to make time for more homework and studying.
It's hard going to school full time with a family to care for, but I'm committed!  I love web design, and I love learning about how to make awesome looking web sites!  And the hard work is paying off at this point.  I have A's in all of my classes…..while my kids are watching.  They're interested in how Mommy does in school, and I want to set a good example for them.  I want them to work hard at school and not give up when something seems difficult.
Back to the main point of this post, though!  I got way off track there!  :0)  I wanted to show you how I took the time to cut and put away my coupons this week!  I wanted to get this done because even though I might not have a lot of time to spend visiting all my favorite blogs and getting a complete list put together for shopping, at least my coupons will be clipped and put away for easy access when I do step foot into ANY store. 
Here is my coupon pile BEFORE:
And AFTER: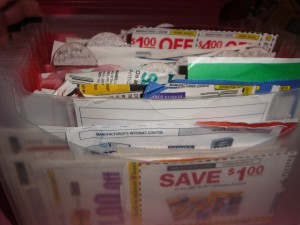 All the non-food item coupons went into their proper category (above)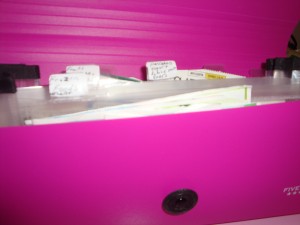 All the tasty food coupons went into their categories.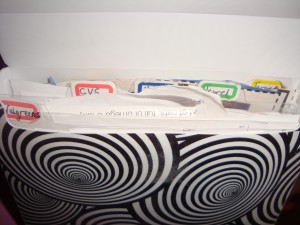 And finally, the lovely zebra print organizer holds my "store specific" coupons, Register Rewards, ECBs, etc…
Did you tackle anything this week?  I'd love to hear about it! :0)
To see what everyone else is tackling this week, please visit 5 Minutes for Mom!