I am a member of the Collective Bias®  Social Fabric® Community.  This shop has been compensated as part of a social shopper insights study for Collective Bias®  and Fruti. #cbias #SocialFabric #FreshNFruti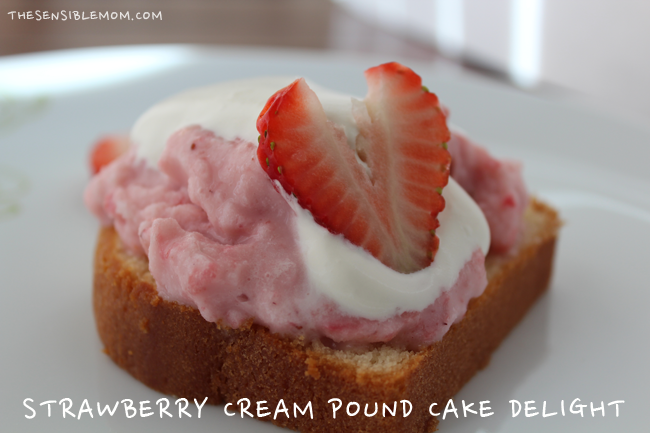 Fresh strawberries, homemade whipped cream, pre-made pound cake, and a not-so-secret 'ingredient' come together to make a decadent, delicious dessert.
It's a dessert that your family is sure to fall in love with. Mine sure did. There were seconds and even thirds requested of this luscious dessert.
The Secret Ingredient
The secret 'ingredient' that pulls this dessert together is (surprisingly) 100% natural fruit bars — Fruti natural fruit bars.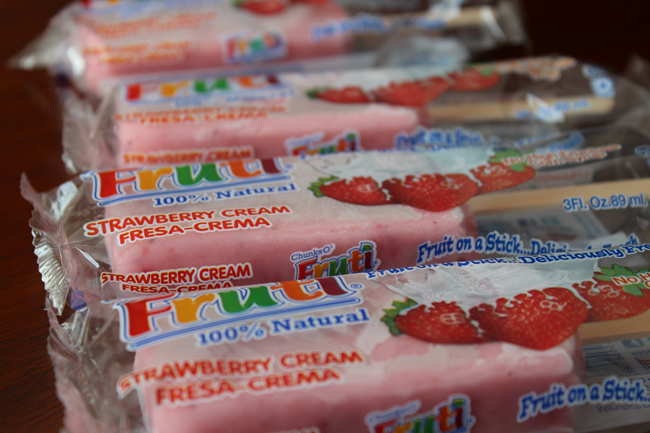 Not only were these fruit bars easy to use (I didn't even have to use a blender to get them to the right consistency), they also tasted great. These bars actually have a lot of great qualities that make them appealing to me as a mom.
Fruti natural fruit bars are:
Made from actual fruit
Great because of their "First Fruit Formulation," which means they contain more fruit than any other ingredient
So full of fruit, there's no need for added colors or flavors
Natural…they come from freshly picked fruit and don't contain high fructose corn syrup
Non-GMO verified (no genetically modified organisms in these bars!)
Kid-friendly
Creating a decadent dessert using the Fruti bars was so easy, and while I ended up preparing the dessert on my own for my family, as I was going through the steps and assembling the desserts, I realized that this is such a kid-friendly dessert. Not only will your kids likely gobble this dessert up and ask for more, but they can help you prepare it, too. I know I'll have one or two extra sets of hands in the kitchen the next time I make strawberry cream pound cake delight for my family.
And besides your family, you could totally impress your guests and friends with this dessert, too! 🙂
Here's how to make Strawberry Cream Pound Cake Delight:
First, take the Fruti natural fruit bars out of the freezer and allow them to soften a bit on your kitchen table/counter for about 15-20 minutes. Be sure to flip them over halfway through (a kitchen timer is helpful here). We used both the Fruti strawberry cream bars pictured here and the Fruti strawberry bars.
My family could not get enough of this yumminess so we had to use the strawberry bars, too. The plain strawberry bars were just as good as the strawberry cream bars for this dessert.
I'm starting to drool now.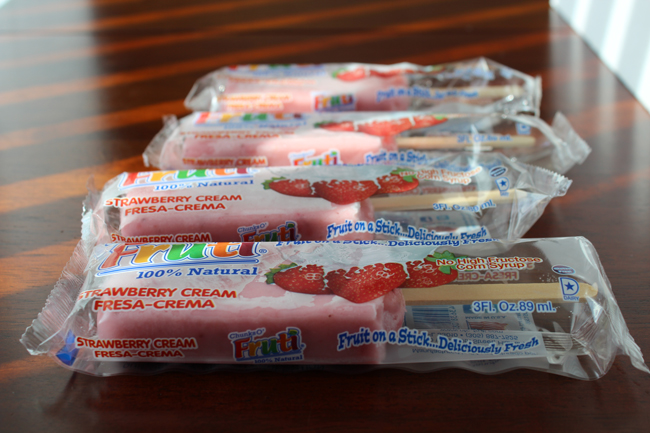 Alright, I'm pulling myself together. While the fruit bars are softening a bit, make homemade whipped cream (recipe below).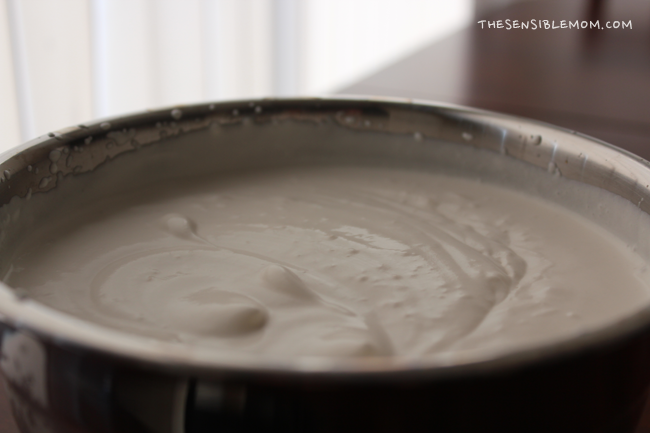 Homemade whipped cream is easy to make, and it only takes three ingredients.
Ingredients
2 cups heavy whipping cream, chilled
2 tablespoons cane sugar
2 1/2 teaspoons vanilla extract
Instructions
Place ingredients in a chilled medium-sized bowl, and whip with an electric mixer on low speed for about 3-5 minutes. Whip until soft peaks form. Be very careful not to over-whip.
http://thesensiblemom.com/2013/04/strawberry-cream-pound-cake-delight/
After you have the whipped cream done, wash and slice the strawberries. I tried to slice mine thinly.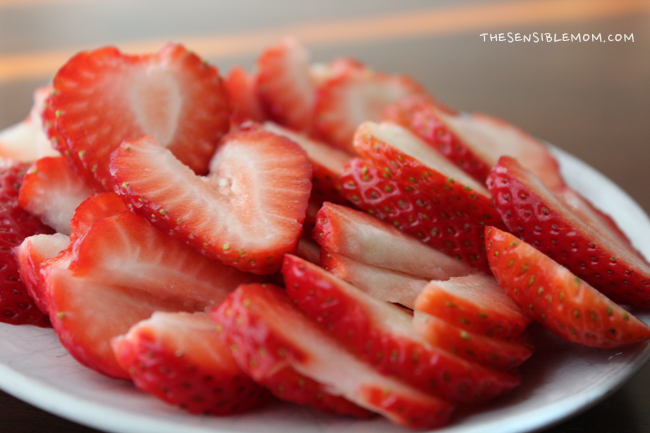 For this next part, you could make your own pound cake ahead of time. I chose to buy mine pre-made, and it worked out perfectly (though I've never met a pound cake I didn't like ;)). Whichever way works best for you, take your pound cake and slice it.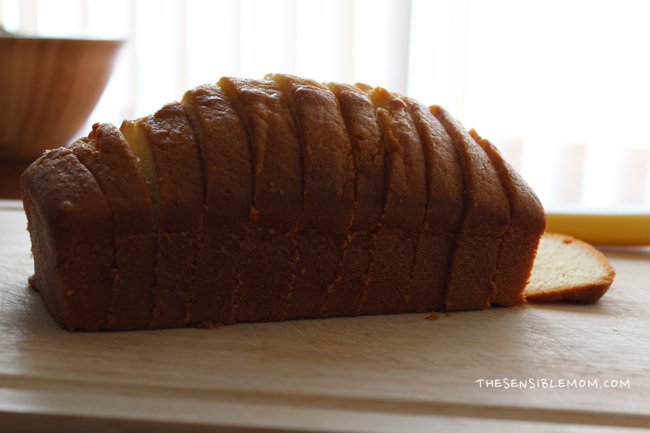 Your natural fruit bars should be ready by now. Open them up, transfer them to a bowl, and using a fork, gently remove the stick from the popsicle and carefully mash the strawberry bars until they're a creamy consistency.
This was easy to do because I'd allowed them to soften up first. I suppose you could use a blender to get to the bars to a creamy consistency, but I think leaving them out while you prepare everything else is easier and makes for less dishes in the end.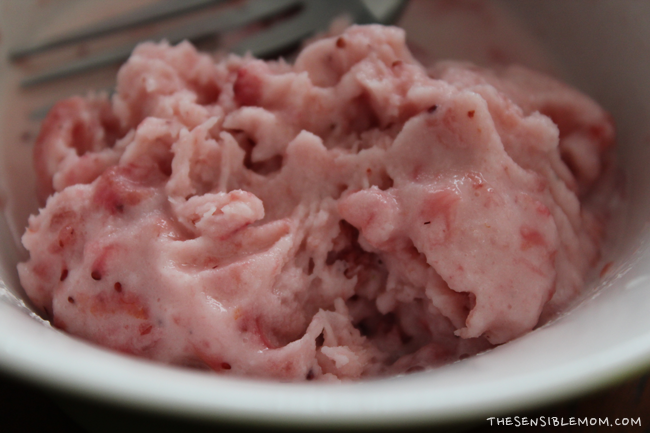 Finally, assemble the dessert. First, lay a slice of pound cake on a plate, top with the natural fruit bar mixture, add a dollop or two of your homemade whipped cream, then add the sliced strawberries either on top or to the side of the dessert or both. I found that not everyone in my family likes their strawberries on top, some prefer them on the side.
Here's what the finished dessert is like when you use natural Fruti strawberry cream bars: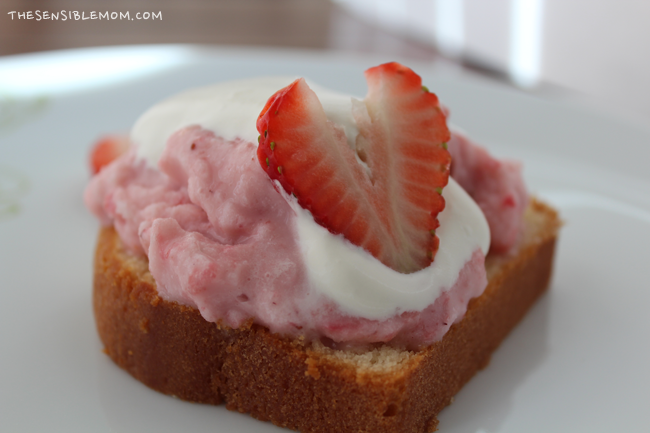 Here's what the finished dessert is like when you use natural Fruti strawberry bars: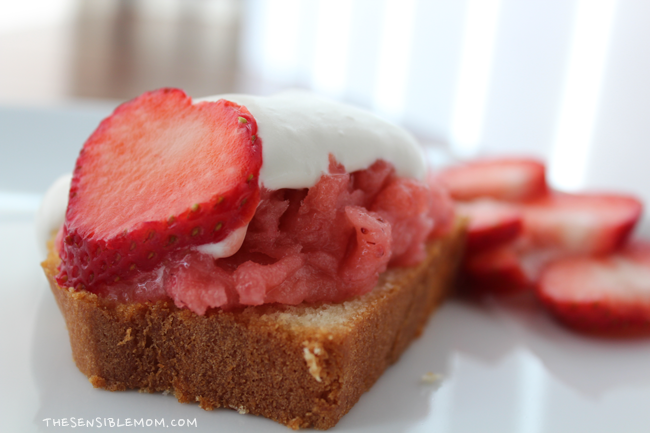 Either way, it's delicious. I'm looking forward to creating a new dessert for guests on Saturday that's pound cake, whipped cream, blueberries, and this time the secret 'ingredient' will be Fruti natural pina colada bars. Yum. 🙂
What's your favorite dessert?
Psst…there's an the upcoming Fruti and yogurt demo at Sam's Club on May 13th. What sort of recipe would you create with Fruti and yogurt?

You can see my recent trip to Sam's Club here in my Google+ story.