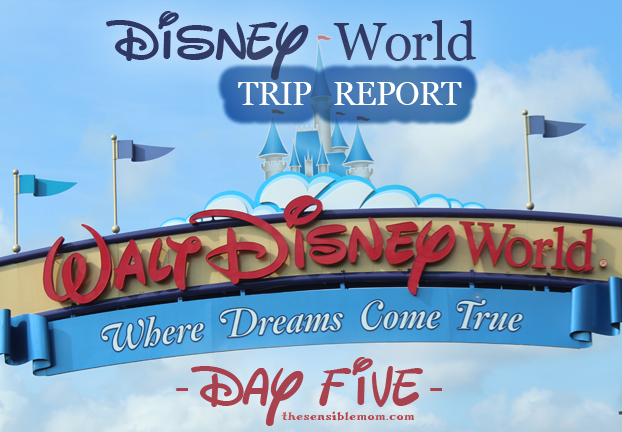 I'm recapping our trip to Disney World! We're on Day 5. If you've missed day 1, 2, 3, or 4,  just click on the links below in our Vacation Schedule to read those posts.
Our Vacation Schedule

Day 1: Disney's Animal Kingdom

Day 2: Disney's Hollywood Studios

Day 3: Disney's Hollywood Studios

Day 6: Magic Kingdom

Day 7: Magic Kingdom

Day 8: No parks. We checked out of our resort and tried to make it to our reservation at Chef Mickey's. It was not meant to be…I'll share the details as to 'why' in my Day 8 post. 🙁
Day Five: Our second day at Epcot
We started our second day at Epcot by taking those signature Spaceship Earth pictures. Somehow I missed getting a picture of myself, but we did get great pictures of Ruben and the kids.
Here's Isaac…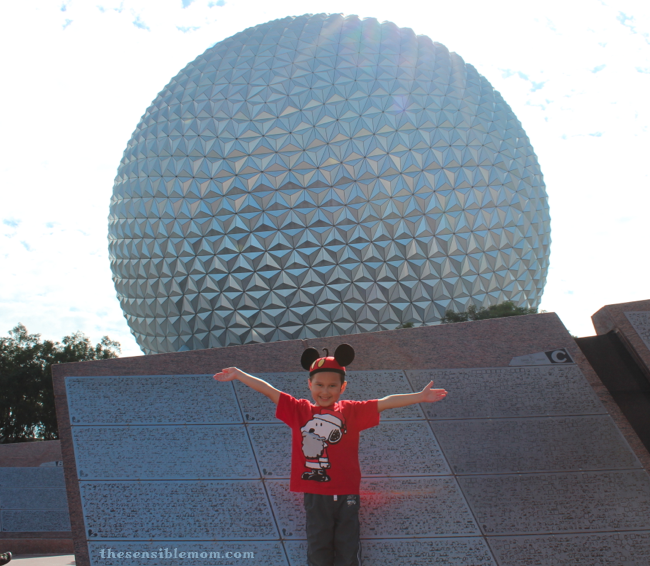 I love that the kids were all wearing their Mickey ears this day. It took a few days to find the right ears for each kid. We found Breanna's ears at Disney's Hollywood Studios, and we found the perfect ears for the other kids at our resort gift shop.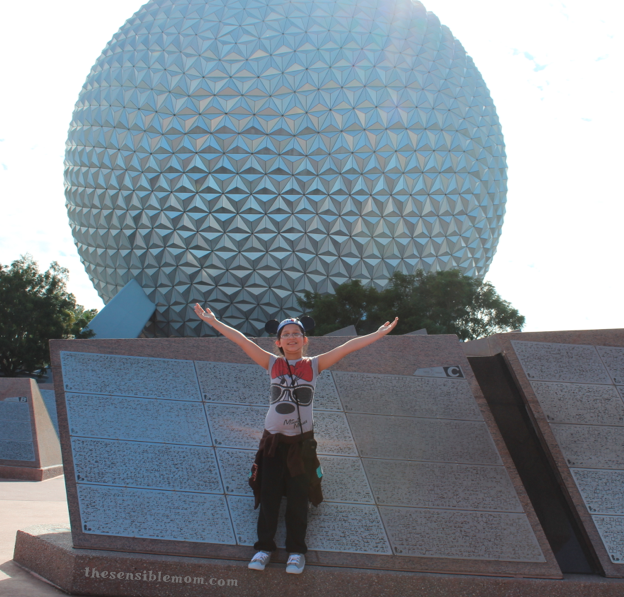 Breanna was also wearing a stylish Minnie Mouse shirt.
TIP: If your local mall has a Disney Store, be sure to check out the clearance section throughout the year. You could find some real deals that way. My favorite finds have been Disney flip flops and t-shirts.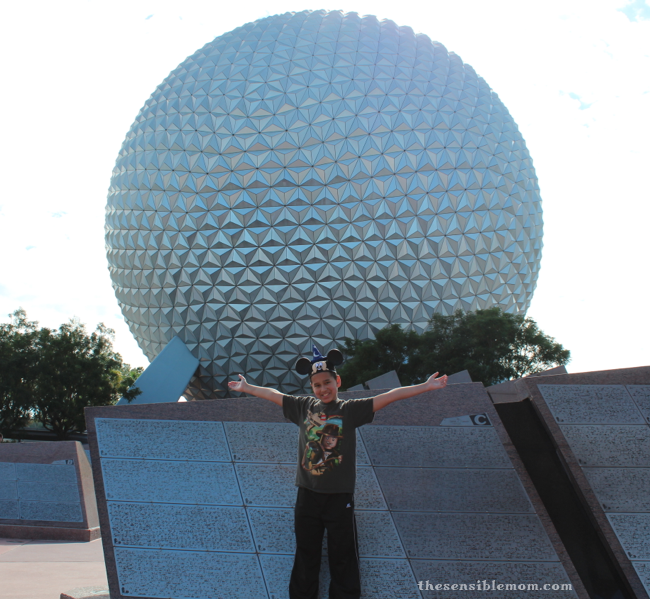 The weather was great for picture taking.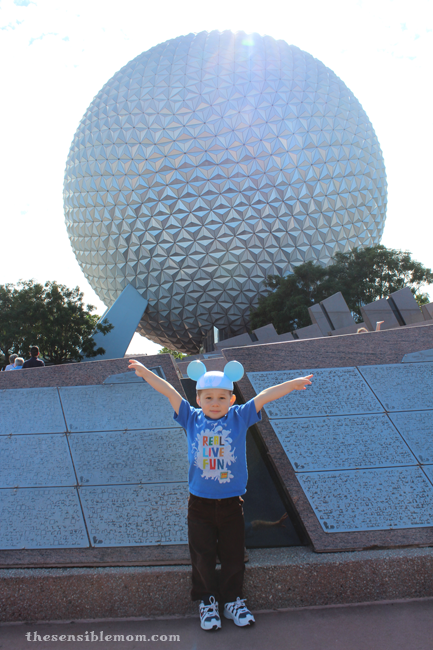 David is adorable. I love this picture of him.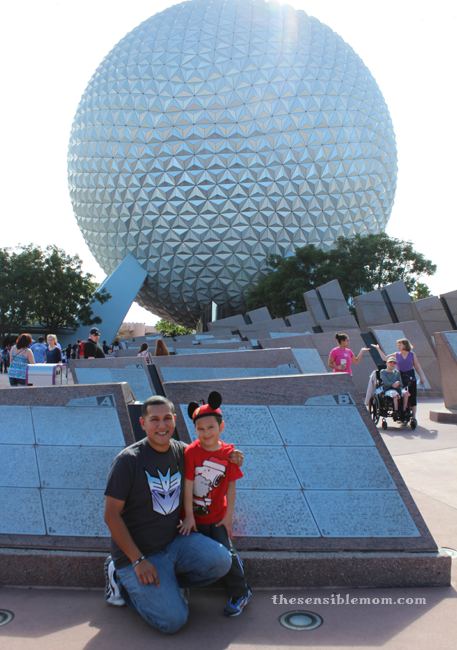 This is a great picture of Ruben and Isaac, too.
Free Character Meet & Greet (for Disney Card Holders)
Before we decided to head over to Epcot World Showcase, we hung out in Future World until we could get in line for the free character meet and greet at Innoventions West. When 1:30pm rolled around, we got in line to meet Mickey and Pluto! The kids got autographs and hugs from the characters, and we took a family picture, too. I love that Disney offers this for free to Disney card holders.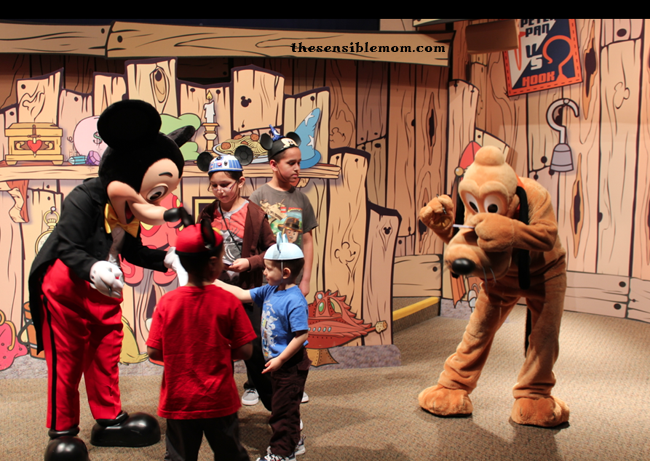 DID YOU KNOW: Everyday between 1:30-4:30pm, Disney Card holders can visit Innoventions West at Epcot Future World for an exclusive character visit and FREE 5×7 photograph! Just be sure to bring your ID and Disney credit card with you.
World Showcase
After visiting with the characters, we walked over to World Showcase. I love World Showcase, because the pace is so much more relaxed in this part of Epcot. We took our time taking in the sights and didn't feel rushed. We strolled through the different 'countries' in World Showcase, stopping when we wanted to eat, see a show or go on a ride. And of course, we took lots of pictures along the way.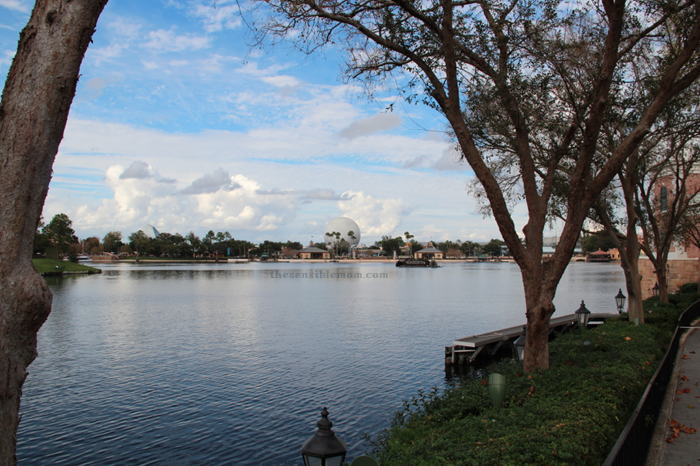 Don't forget your camera when you visit World Showcase. There are so many great things to snap photos of — from live performances to breathtaking scenery.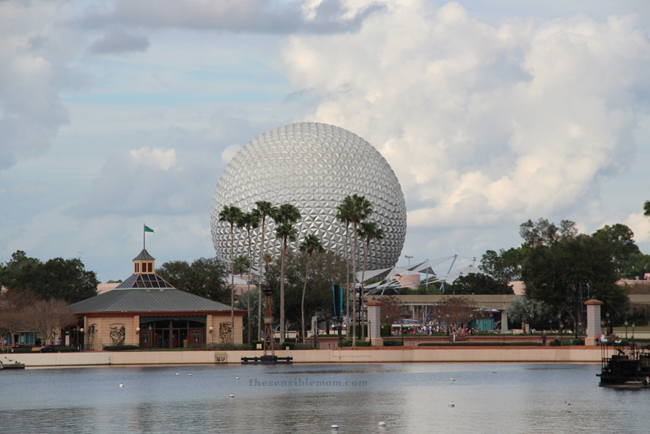 We were there just after Christmas, and the holiday decorations were still up. I'm glad Disney lets the decorations hang around until at least early January. We were there from January 2nd to January 9th.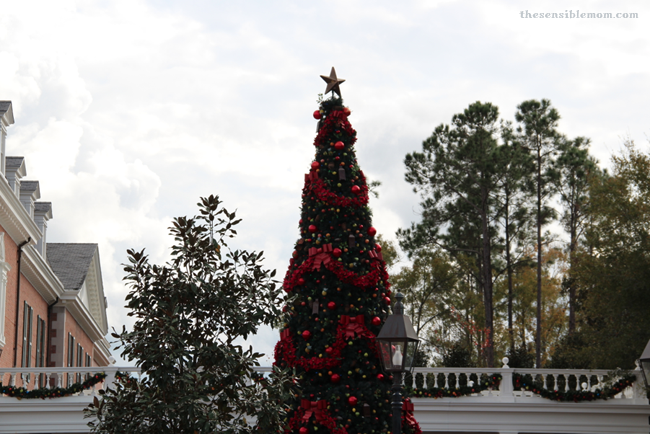 Oh, and besides Christmas decorations, we also saw plenty of lizards. These little lizards were a lot of fun for the kids to try to get a quick look at before they ran for cover. The lizards, not the kids. 😉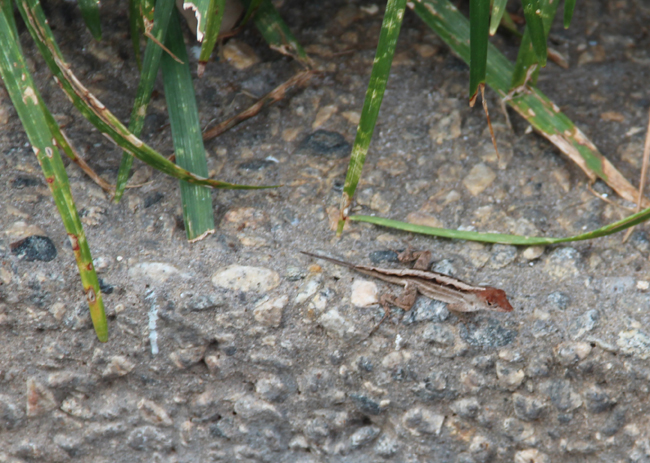 We noticed that the Hall of Presidents would be having a show soon, so we decided to stay in that area until showtime.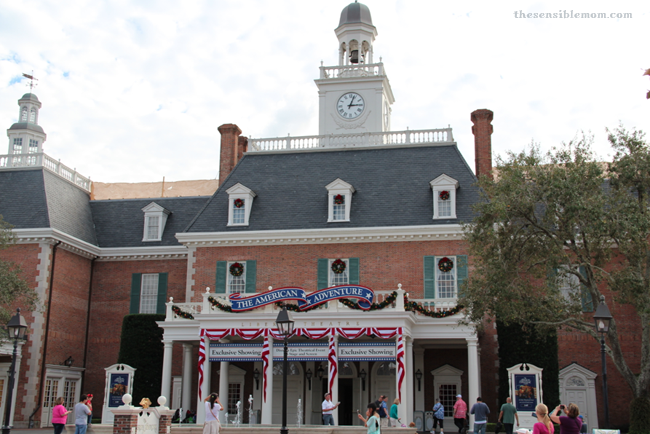 While we waited, we used some of our snack credits to enjoy Kaki Gori treats! Kaki Gori is basically Japanese-style shaved ice, and it's delicious. We all loved the Kaki Gori, especially Elisabeth, our baby girl.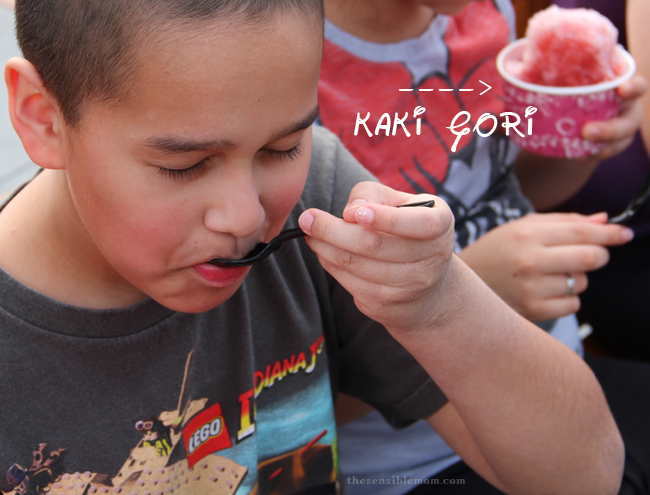 After we'd finished up our snack, we went inside the Hall of Presidents building and took a tour of the little indoor museum. We also took pictures and saw a little pre-show that's performed by Disney cast members. Disney cast members are also know as Disney employees.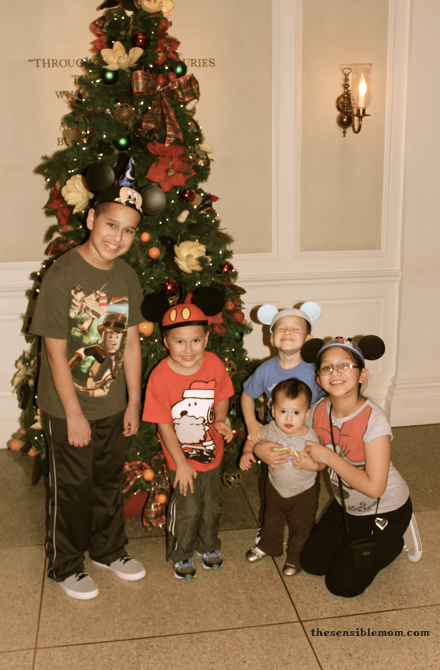 When it was about time for the show to begin, we entered the large theater and found seats. The show is really neat, and it's another one of Disney's educational experiences. I love all the learning Disney builds into your vacation. 🙂 BUT if you've spent most of the day walking around Disney, you may be ready for a nap by the time you see the Hall of Presidents show. Two members of our family actually fell asleep!
One of the members of our family, who couldn't keep their eyes open while the presidents of our country (past and present) put on a terrific performance, will remain unnamed, but um, I'll just say that it was one of the adult members in our party.
The other person in our family that fell asleep was David, our then 3-year-old son. While he slept, Elisabeth had a blast wearing his Mickey ears. We decided not to buy Elisabeth her own ears on this trip, because we knew she wouldn't leave them on for long.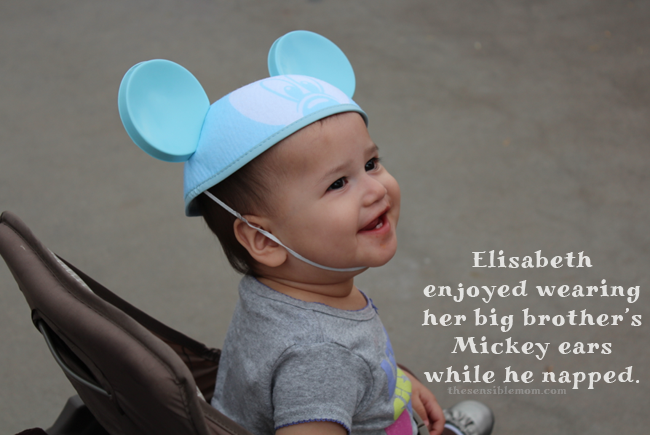 We toured more countries, and we rode Maelstrom in Norway. The kids also collected a stamp in Norway at one of the Kidcot fun stops.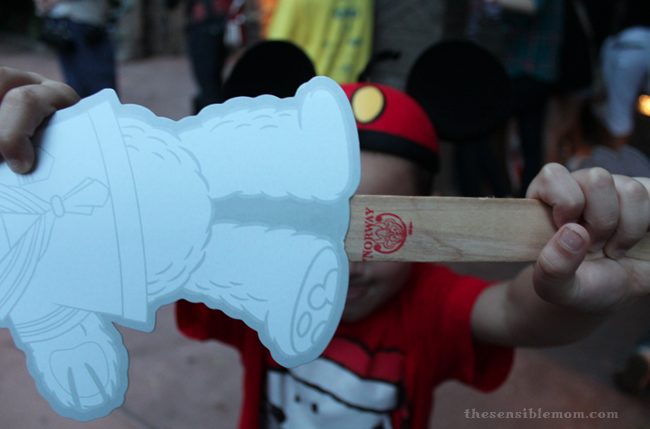 DID YOU KNOW: Kidcot fun stops keep kids engaged and excited about the different countries they're visiting in Epcot World Showcase. Basically, the child picks up a Duffy the Disney Bear and carries him around to the different countries, stopping at the fun stops to get Duffy stamped. Duffy ends a being a great souvenir, just be careful if you have little boys…because then Duffy may double as a cool 'bear-sword.'
One of our favorite things to do in the country of Mexico was meeting Donald Duck! I love Donald's festive Mexican sombrero and pancho!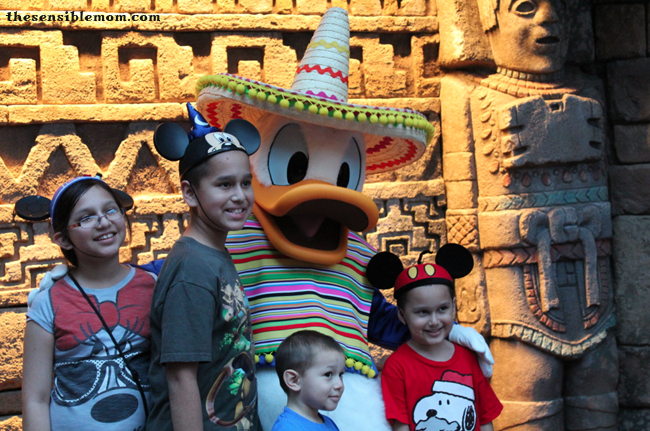 We finished up our time at World Showcase, and on our way out of the park, we stopped at Future World so that we could ride Soarin' one more time.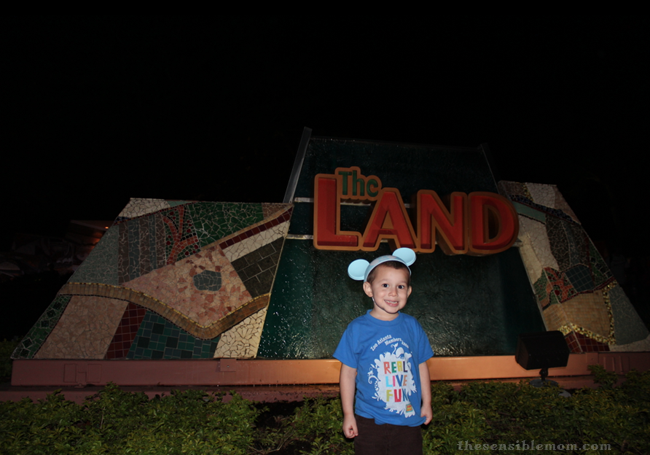 Our day at Epcot was full and happy. I can't wait to go back. It's truly one of my favorite Disney parks, because of the more relaxed pace you can take while you're there.
What's your favorite Disney park or your favorite vacation spot?
…stay tuned for Day 6 at Magic Kingdom!