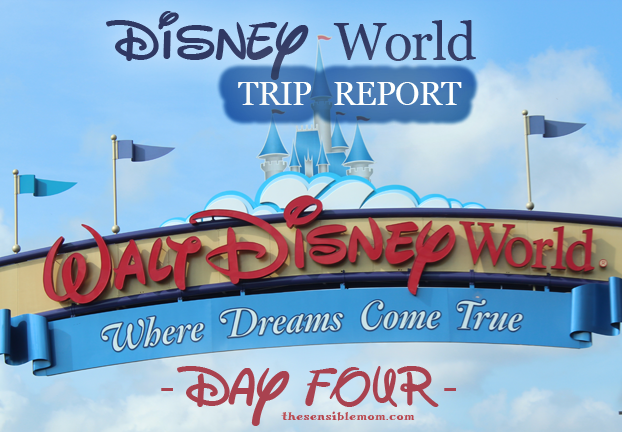 I'm recapping our trip to Disney World! We're on Day 4. If you've missed day 1, day 2, or day 3,  just click on the links below in our Vacation Schedule to read those posts.
Our Vacation Schedule

Day 1: Disney's Animal Kingdom

Day 2: Disney's Hollywood Studios

Day 3: Disney's Hollywood Studios

Day 5: Epcot

Day 6: Magic Kingdom

Day 7: Magic Kingdom

Day 8: No parks. We checked out of our resort and tried to make it to our reservation at Chef Mickey's. It was not meant to be…I'll share the details as to 'why' in my Day 8 post. 🙁
Day Four: Epcot
Just as we did every other day of our vacation, we tried to get up as early as we possibly could to get to whichever park we'd planned on visiting that day. We were pretty tired by day four of our trip, but we were at Disney World, so we made every effort to rise and shine! 🙂
Here's the view that day from our resort room window.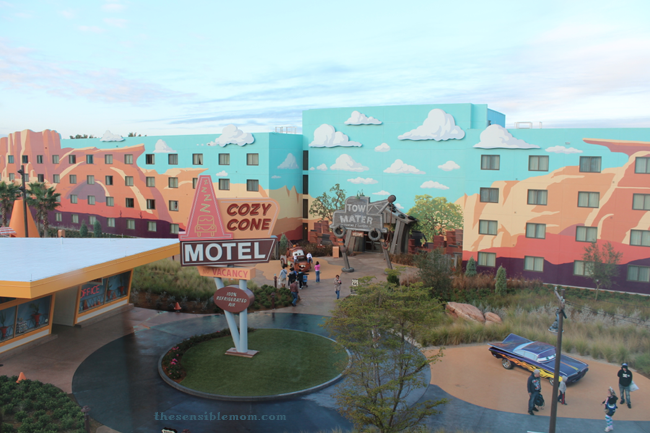 Is that amazing or what? I love how incredibly themed Disney has made their value resorts. Even the garbage cans are themed. I love it, because you feel like you're completely immersed in the Disney experience. It's so much fun for the kids, too. We stayed at the new Art of Animation Resort in a Cars family suite.
At the Park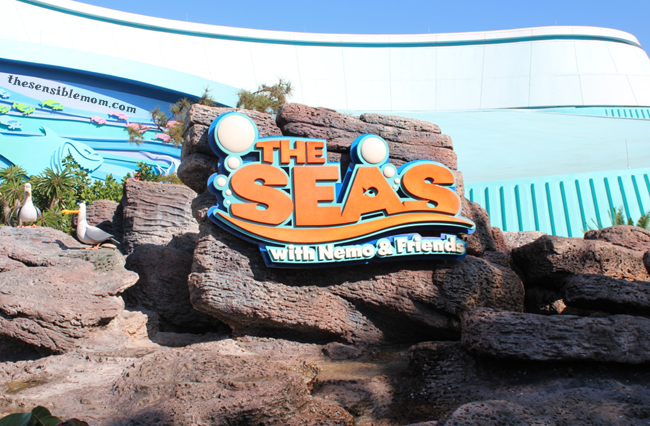 Once we got to the park, we went straight for The Seas with Nemo & Friends ride. I like this ride because it's great for kids of all ages. It's slow moving, and it's a fun experience overall. You basically get into a seashell and the rides moves you through a fun Nemo & Friends adventure scene…when the ride ends, you can get in line for one of the best interactive experiences at Disney — Turtle Talk with Crush!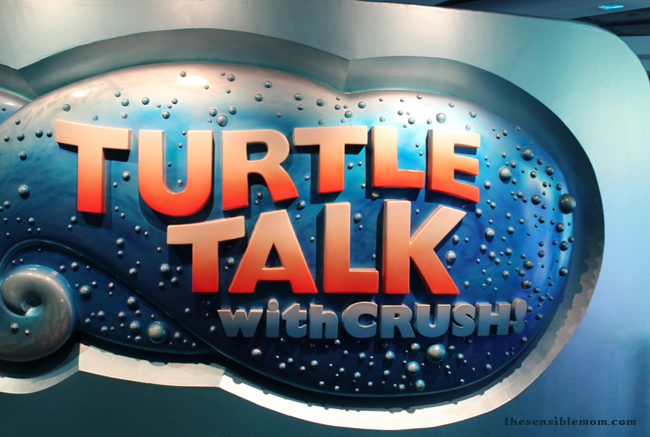 Turtle Talk with Crush is great, because it's different every time. Crush picks real kids and adults in the audience to talk to. It's so neat.
Here's the video we took that'll show you what I'm talking about. 🙂 (It's a little shaky.)
After Turtle Talk with Crush, we went to explore the park some more. I snapped this picture of the kids while Ruben went to get our double stroller.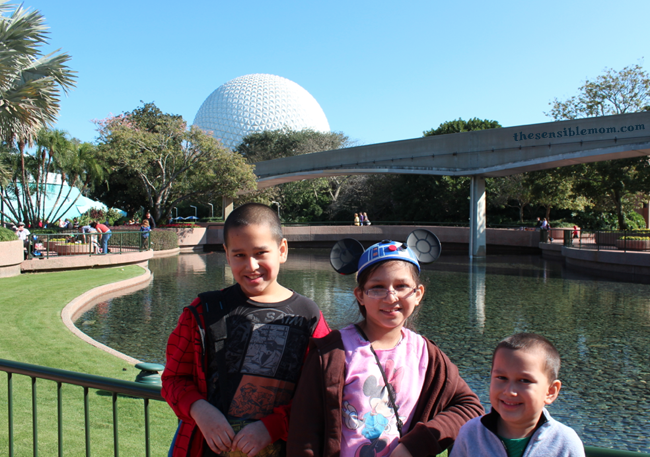 TIP: When you can't bring your stroller inside, look for the nearest 'stroller parking lot.' There's often a designated area for stroller parking around different attractions in all of the parks. At Epcot though, you're likely to have to park your stroller more often, because many of their main attractions/rides are indoors. Oh, and if it's raining or looks like it's going to rain, be sure to cover your stroller with a poncho or plastic covering. Don't forget to pack ponchos for your family, too.
Next, we went to ride Journey into Imagination with Figment. This is such a fun ride, and it's actually a learning experience for kids (learn about the five senses). They love it, and they even picked up a few special souvenirs after the ride. As you can imagine, some of the rides at Disney let you off right in front of a gift shop. We don't really mind. It's fun looking at all the different Disney stuff for sale. The kids know that Mama's not buying a lot of souvenirs, so they choose theirs very carefully.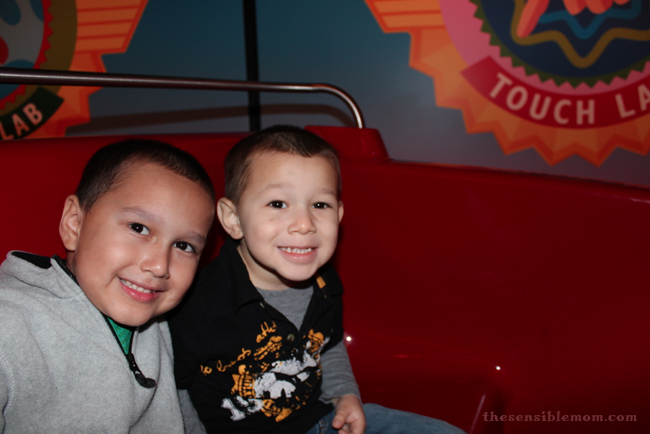 Next up was Living with the Land, The Circle of Life, and the amazing Soarin' ride!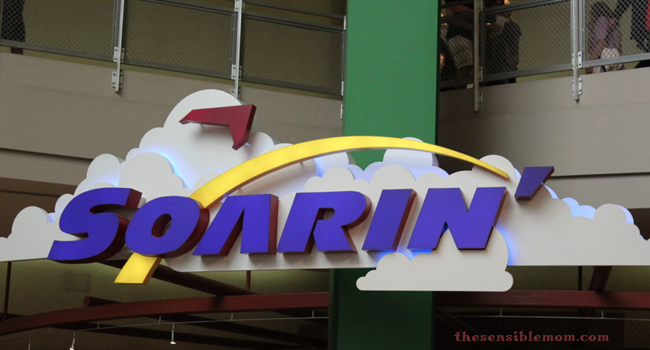 Soarin' is one of my favorite rides at Disney. You literally feel like you're soaring high above the earth and below you are different scenes you're flying over. You feel the wind blowing, and there's a light orange-y scent in the air. This is definitely a ride you may need to FastPass, because it's extremely popular.
DID YOU KNOW: FastPasses allow you to skip waiting in long lines. You simply insert your ticket into the FastPass machine and out comes your FastPass to a particular attraction. With your FastPass in hand, you can go on and enjoy other areas of the park and skip waiting in line for an hour (sometimes more). You simply return to that ride or show during your fast pass return time and get ushered into a shorter, faster moving line.
We had lunch at Sunshine Seasons using our quick service dining plan. Sunshine Seasons is a great choice to eat at Epcot, because not only is there a lot of seating, there's also a lot of variety as fas as food choices.
After lunch, we stopped by Club Cool, where we got to sample pop flavors from around the world! It's a neat experience.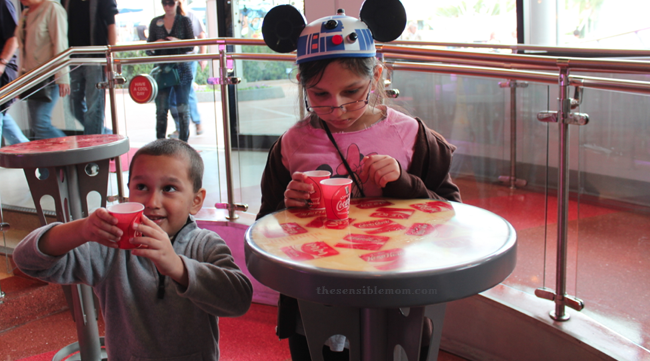 TIP: The flavor Beverly is gross. Feel free to use this tip to surprise other members in your party with Beverly and take a look at their faces after one sip. 😉
Once we'd had enough pop and bought a coca-cola piggy bank souvenir for David, we moved onto the giant golf ball Spaceship Earth!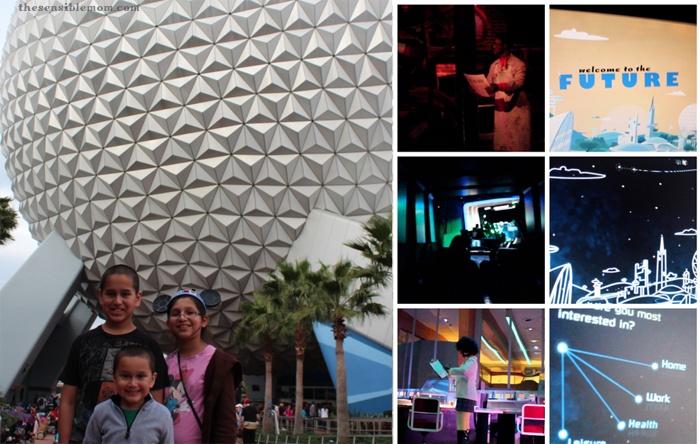 If you didn't already know, Spaceship Earth is an actual ride. It's a slow-moving ride that is not only fun but also educational. You learn about how we got our modern day alphabet and other interesting facts in history. It's a great experience, and if you've got a baby with you…well, baby may just be fast asleep by the end of the ride. Bonus!
After Spaceship Earth (and probably a few other rides/attractions – I can't remember), we needed a snack. We decided to use our snack credits on a crazy-big ice cream sandwich, brownie parfaits, and an iced coffee.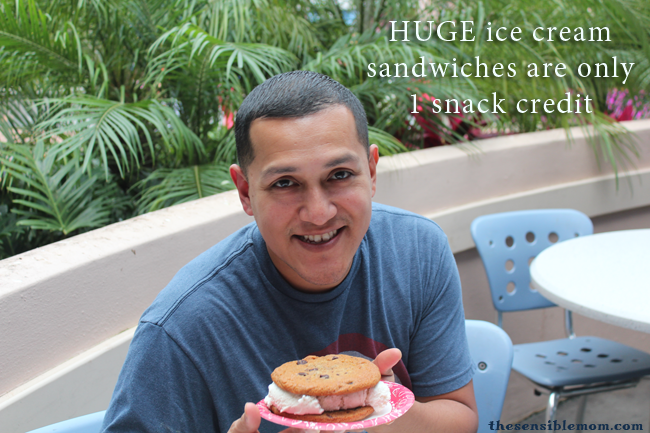 Yum!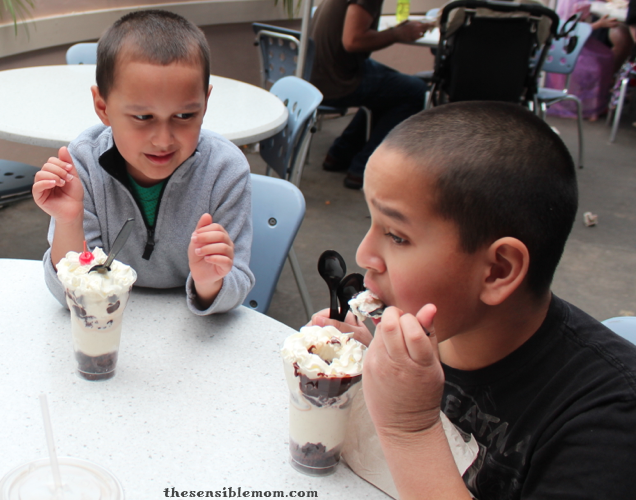 After we had our treats, we spent a little more time in the park and then called it a day, so that Ruben and Breanna could go to DisneyQuest, an interactive video game theme park. We had received two free vouchers for DisneyQuest with our Disney vacation package, and because this indoor theme park is mainly video games, we knew we didn't want to pay extra money to go as a family.
So we went back to the resort, and I chilled out with the kids, while Ruben and Breanna went to Downtown Disney, where DisneyQuest is located.
They spent around two hours there and then returned back to the resort. Once we were all together again, we headed to the Landscape of Flavors, our resort's food court. After a late dinner and some Disney cartoons, we finally went to bed so that we could get up early and do it all over again the next day. 🙂
Have you ever been to Epcot? Did you know that Spaceship Earth was actually a ride?
Stay tuned for Day 5 and our second day at Epcot!