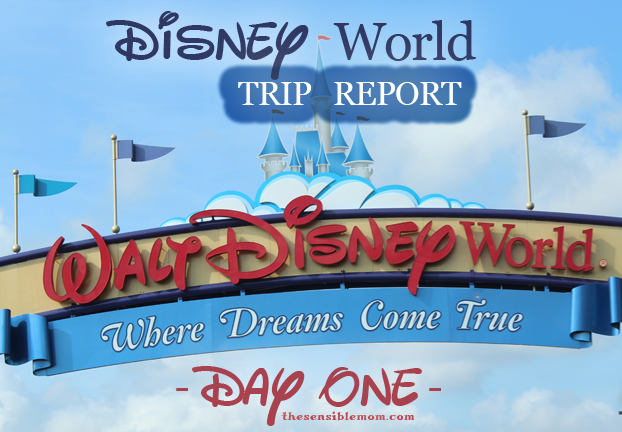 If you're a regular reader here on The Sensible Mom, then you know that my family and I were extremely blessed to be able to take a trip to Disney World in January of this year.
It was a very spur of the moment trip because we were selling our home in Georgia (had a buyer in less than a week and the closing was not far off), and we wanted to go to Disney World while we were still living there. Disney World was roughly 6 hours from our home in Georgia, and it's about 21 hours from where we live here in Illinois. It was a no-brainer. We'd save a lot of money in travel expenses by making the drive to Disney World, while we were still in Georgia.
So, after mulling over the idea, we decided to go for it and got to planning our trip! It was only 3 weeks away from the date we booked it on Disney's website. That didn't leave us a whole lot of time for planning, but there was no way that I'd be taking a trip to Disney without at least making a bare bones plan of what every single day of our trip would look like. You MUST plan your Disney trip. That is, of course, unless you want to be completely overwhelmed and disappointed. You'll also probably end up yelling at your family and spending way more money than you'd budgeted for your trip.
Planning is essential
I'm not saying you have to plan every minute, but do, at the very least, make a bare bones plan for what each day might look like. For instance, what park(s) you'll visit, what and where you'll eat, what time the parades are happening, when the fireworks start, where you can find ice cream sandwiches as big as your head, and things like that…plan.
The bonus to planning for Disney World is that it is SO. MUCH. FUN! It's exciting to plan for a Disney trip and realize all that Disney has to offer. The characters, rides, food, resort…it's like no other vacation spot you'll ever visit. It's Disney World.
It's fun to get the kids involved in planning, too. We enjoyed checking out the resort on Disney's website and on YouTube. We loved seeing videos of the rides we'd be experiencing. Planning for Disney World is fun for the whole family, at least it is for our family. I totally get the way some parents surprise their kids with a Disney World trip, and those videos are fun and adorable to watch on YouTube.
But I just couldn't do it
I love the excitement and experience of planning our Disney trip together. Plus, I'm not one for surprises, and I know I'd have a very hard time keeping a Disney trip a secret from my kids. I couldn't do it. 😉
Planning pays off
Because we'd planned our trip, we ended up having a wonderful time, despite the fact that we got sick with colds while we were there. I'm going to be sharing what each day of our trip looked like, and I'll also be sharing tips you can use when planning your next Disney vacation.
We visited Disney World from January 2nd through January 9th. That's a total of eight days. I hope you'll join me and share your tips and experiences as we go through this series of posts. 🙂
Let's get started!
Day One:
We left the house around 4:00am, and we arrived at our resort shortly after 10:00am. Because we left early and didn't have to deal with a lot of traffic, we made great time.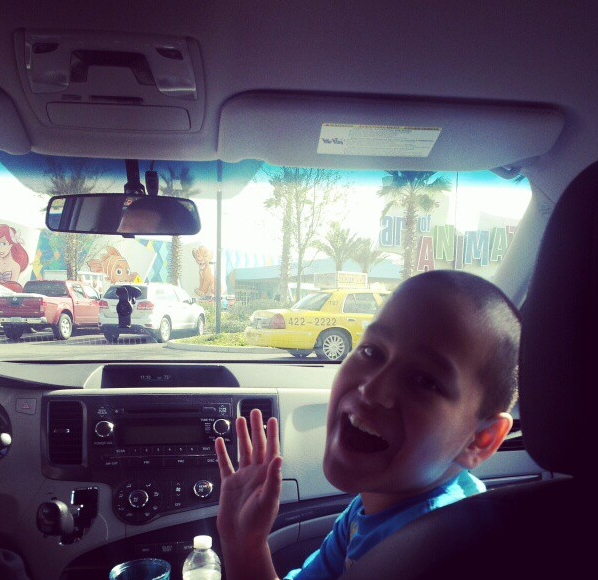 We were super excited to be staying at the brand new Art of Animation resort! There aren't a lot of budget-friendly resort options when it comes to Disney World and there are seven people in your family, but Disney recently built hundreds of new value resort family suites that met our needs. We stayed in a Cars themed suite, and it was fantastic. It met our needs, and it was super-themed, which was a lot of fun. I would definitely stay in this suite again.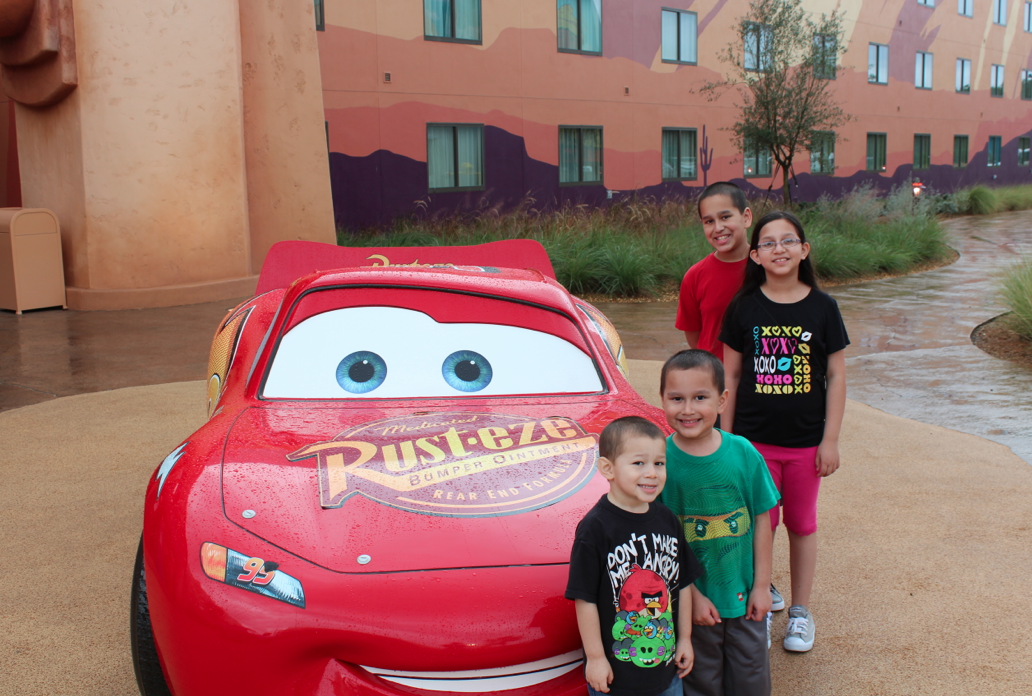 After we checked-in and had our 'Keys to the World,' we headed to our first park, Disney's Animal Kingdom! We decided not to take the Disney buses, because of our large family and the fact that we'd have to carry a double-stroller and all of our stuff on and off of possibly very full buses. Instead, we opted to drive to all of the parks in our own car (parking is FREE for resort guests), which ended up working out well…except when we wanted to die walking back to our car at the end of a long fun-filled day. And, no, that wasn't me you saw sitting in the front seat of the double stroller…or was it? 😉
TIP: Before you visit Disney, please, please, please, please make sure to start walking daily in preparation for the TONS and TONS of walking that you'll do at Disney. We actually paid our kids $2 a day (souvenir money) to walk on the treadmill the weeks leading up to our vacation.
After we arrived at Animal Kingdom, it wasn't long before we were riding TriceraTop Spin and snacking on the ever-popular Mickey Mouse ice cream bars.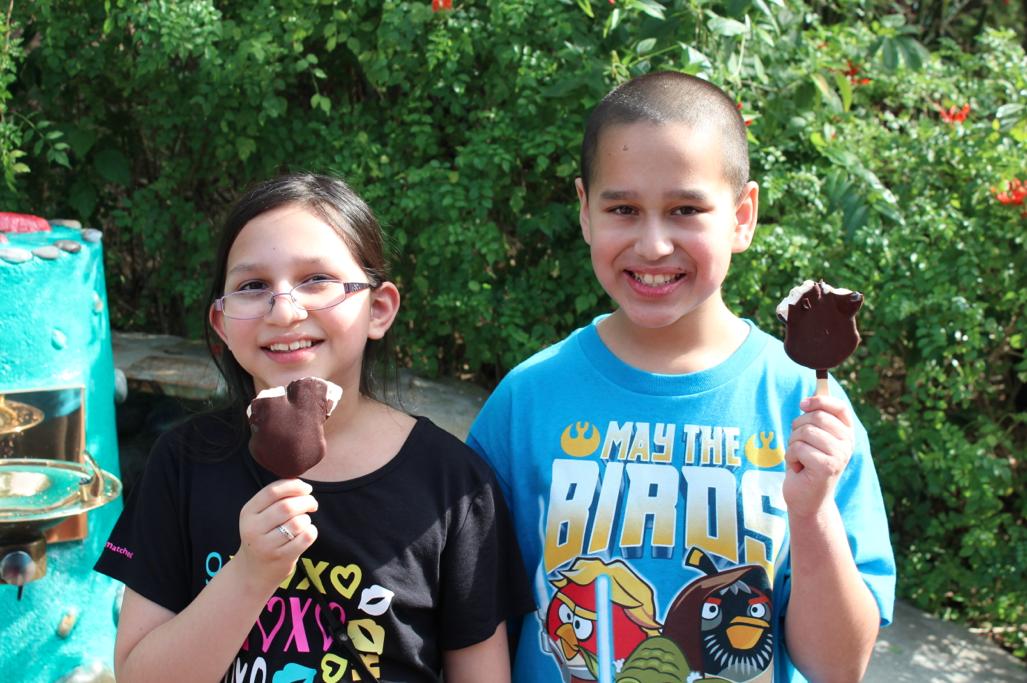 We toured the park some more (loosing following the touring plans from my favorite Disney book) and then decided to eat lunch. I knew we'd be eating at Flame Tree Barbecue, so we headed there and found a table under the shade.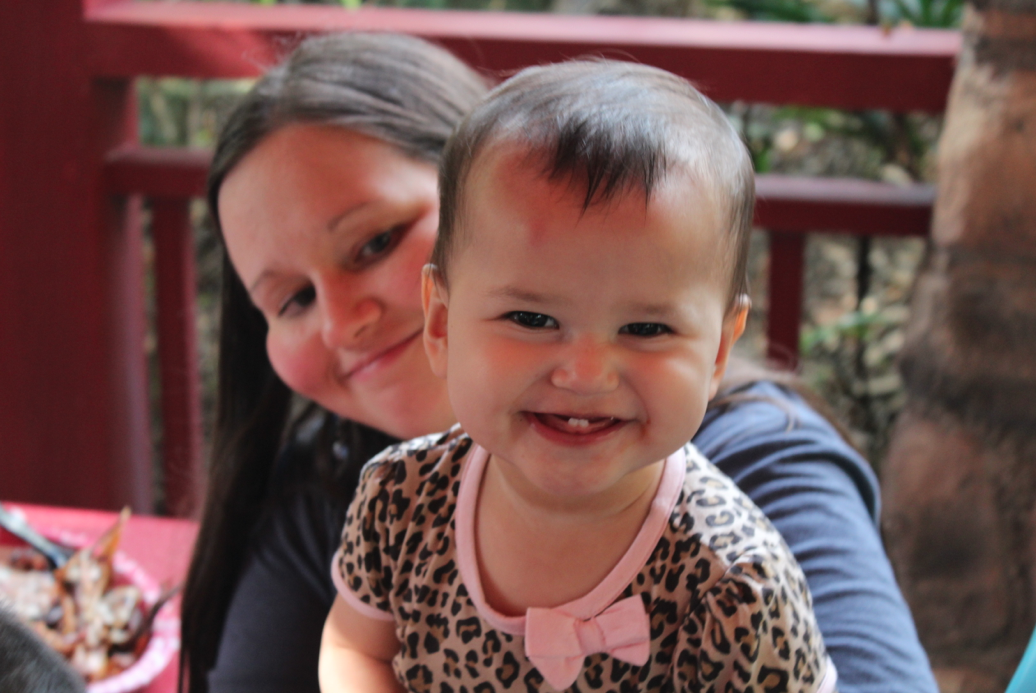 I went to order with the older kids while Ruben stayed with the younger kids. I already knew what we'd be eating, because I had printed the menu options at home.
DID YOU KNOW? You can see probably find out what is on just about every single menu at Disney World from the comfort of your computer chair? Just visit websites like WDWInfo.com to familiarize yourself with Disney menus ahead of time. Visiting their forums is also a great way to find reviews on Disney food. You can get a heads-up on the best snacks, quick-service, and table-service meals.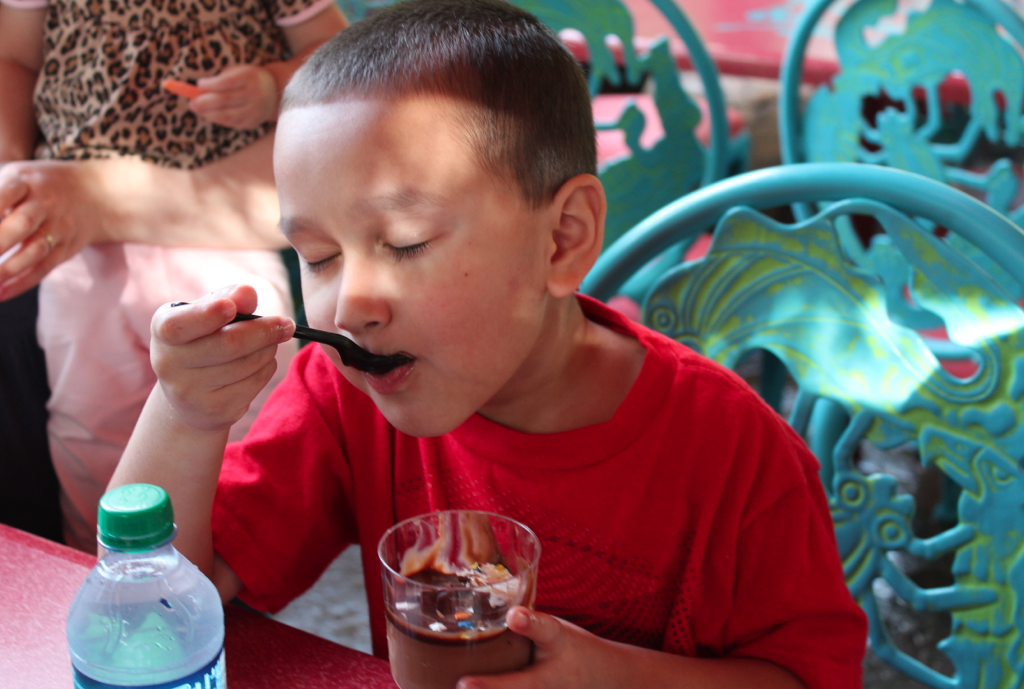 Our meals included dessert, because we were using Disney's Quick Service Dining Plan. Overall, I liked this dining plan, and I would use it again. I think the dining plan is a good option for our family for two reasons. One, being that our vacation package was a good deal, and it included the dining plan. Two, being that I couldn't handle the difficulty of leaving the park for lunch or dinner to save a little money then returning to the park to finish our day.
Doing THAT + five kids = crazy to me
The Disney parks and parking lots are HUGE. The idea to leave to eat somewhere cheaper then go back to the park…this would have taken a lot of time and energy. It made more sense to have the dining plan and be able to eat in the parks. It was definitely the best deal for us.
DID YOU KNOW? The Disney World Quick Service Dining Plan includes two quick-service meals per night of your stay at a Disney resort, a refillable drink mug (great souvenir! and about a $15 value) per person, and one snack credit per person per day (we used these on treats like the Mickey ice cream bars).
After lunch, we went on the Kilimanjaro Safari ride — this ride is amazing! It's not only entertaining, but you get to see the animals up close and personal. So cool.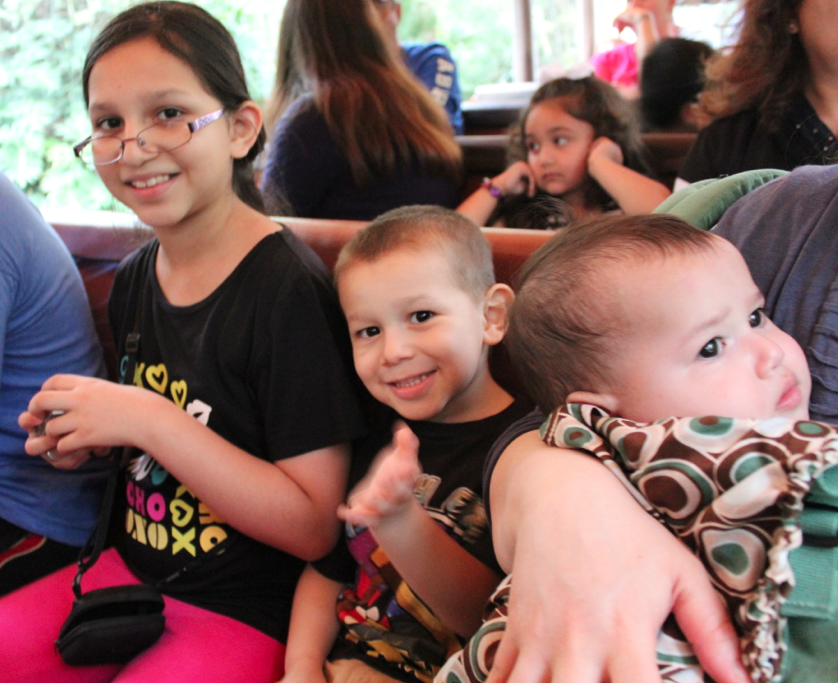 We stayed at the park as long as we could. I think it closed at 8:00pm on the day we were there. And even though we were there for all those hours, we still didn't get to do and see everything we wanted to. We had a great time, though, and we ended our time at Animal Kingdom on an exhausted but happy note.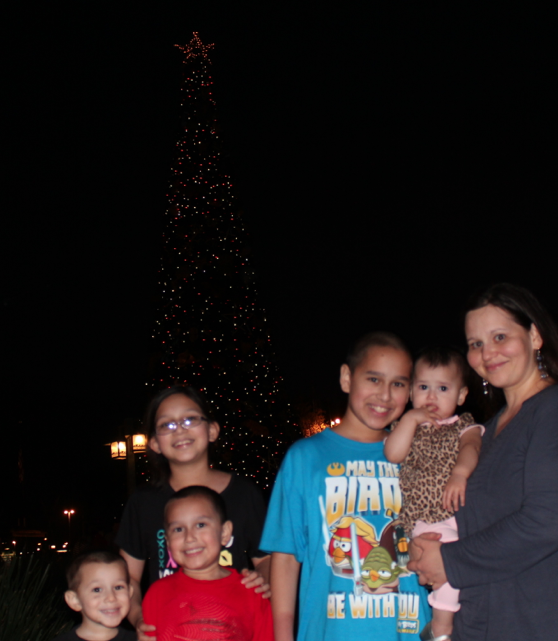 I loved that Disney still had their Christmas decorations up the week we were there. Just wait until you see the light display at Disney's Hollywood Studios. AMAZING! I can't wait to share that post with you guys. For now, this wraps up our first day. After the park, we headed back to our resort, rested a bit, and then we enjoyed a late family dinner at the Art of Animation food court.
Stay tuned for Day Two!
Have you been to Disney World? I'd love to hear about it!
This post contains my Amazon affiliate link.