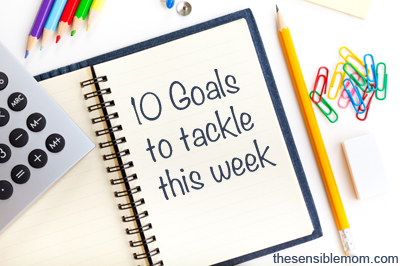 I haven't posted my goals in a few weeks because life still isn't quite "normal." I'll share more about what we've been up to and our future plans next month, but until then, I'm probably going to continue posting my goals sporadically. 🙂
Here's what I have planned:
Family/Mothering Goals:
1. Take a walk with the kids
2. Help Breanna upload a video
Personal Goals:
3. Publish 2 blog posts
4. Schedule a haircut appointment
5. Read at least 5 pages from each of these books: Toward a Growing Marriage by Gary Chapman, Be the Best Mom You Can Be by Marina Slayton, and Influencer Marketing for Dummies
6. Find my journal — I misplaced it somehow and after a lot of looking, I still haven't found it.
Home Management Goals:
7. Clean electronics
8. List one thing to sell
Business Goals:
9. Attend blogger event
10. Edit & upload at least one new video to my YouTube channel
What are your goals for this week?