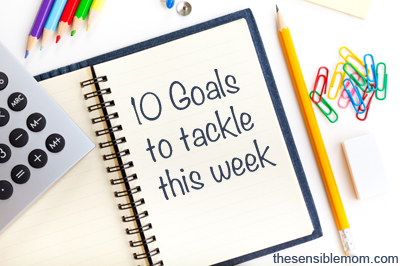 Right now, life isn't quite normal, so I've been sporadic with posting my goals. I'm hoping to share soon about what we've been up to and why life is different at the moment, but I can't do that just yet.
As soon as I can, though, I'll be sharing more here on the blog and on my YouTube channel. 🙂
For now, here are my goals for this week:
Family/Mothering Goals:
1. Continue to work on memorizing two verses of scripture as a family
2. Take Breanna shopping for her birthday
Personal Goals:
3. Publish 2 blog posts
4. Take a walk with the kids
5. Read at least 5 pages from each of these books: Toward a Growing Marriage by Gary Chapman, Be the Best Mom You Can Be by Marina Slayton, and Influencer Marketing for Dummies
6. Journal 2x
Home Management Goals:
7. Make dentist appointments
8. List 3 things to sell
Business Goals:
9. Shoot, edit & upload at least one new video to our family YouTube channel
10. Edit & upload at least one new video to my YouTube channel
What are your goals for this week?