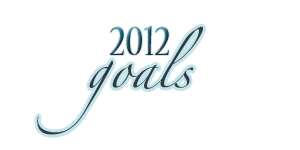 Setting goals helps me to stay focused and makes me feel like I've actually accomplished something when I'm able to cross it off my list. For my daily goals, I've been printing off a very handy printable from Ann Voskamp's blog. It's helping me to be intentional about setting daily goals each night for the following day. This has been working wonderfully the past 3 days, and I'm going to continue on with it.
Aside from daily goals, I know it's important to set long-term goals as well.
Here's my list for this year:
Personal Goals
Read 1 book each month (any more will be bonus – I want to keep this goal doable because I'll be taking 2 college courses for the Spring semester)
Exercise 4 days a week
Continue filling out printable planning worksheet each night to accomplish both short-term and long-term goals
Lose 50 lbs. through healthy eating and exercise
Begin waking up by 5:30am after the baby is 6 weeks old (giving myself a break until then as we continue to find our night-time groove with feedings)
Be in bed by 10:30pm each night
Marriage Goals
Read 3 books on marriage this year
Go to at least 1 marriage conference
Schedule at least one home date night each month
Family Goals
Start family days back up (we took a break while we cared for our new baby girl)
Start 'Day Out With Dad' back up for Ruben and the kids (the kids get a one-on-one date with Dad)
Cook with the kids once a week
Go on a family vacation
Take lots of pictures
Homeschooling Goals
Start homeschooling Isaac
Do one project with Nathan each week
Do one science project with Breanna each week
Read to the children each weeknight
Business & Blogging Goals
Create office hours for my blog design business and follow them
Write 1 blog post per day
Plan blog posts at least 3 days in advance
Spend 15 minutes each day focused on my blog design business
Those are my goals for the year. How about you? Have you set goals for 2012?