I am a member of the Collective Bias®  Social Fabric® Community.  This shop has been compensated as part of a social shopper insights study for Collective Bias®  and Mariano's. #MyMarianos #cbias #SocialFabric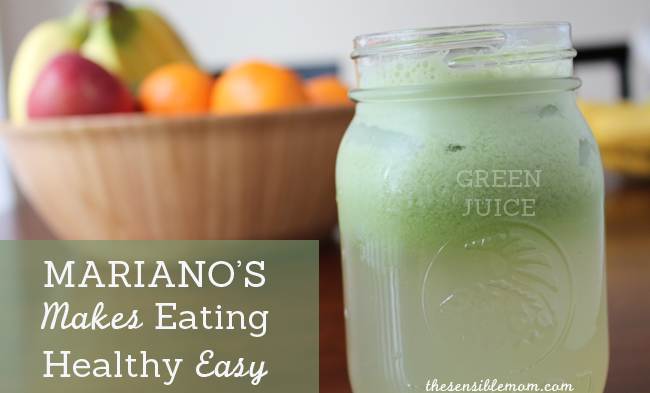 Summer is right around the corner.
Do you need a little inspiration to eat healthier?
I know with life being so busy lately, I'm not eating as healthy as I should be. In order to get back on track, I recently took a shopping trip to Mariano's. While I was there, I picked up lots of fresh foods and ingredients to make delicious recipes like kid-friendly cucumbers, guacamole, and a nutrient-packed green juice.
Shopping at Mariano's
In the past, I've shared how amazing Mariano's is, and I wish there was a Mariano's in every city. It's that outstanding of a grocery store. One of the reasons I love it is because not only do they have a ton of fresh fruits and vegetables to choose from when I'm grocery shopping, but they also have a huge assortment of at-the-ready healthy foods for people who are on-the-go.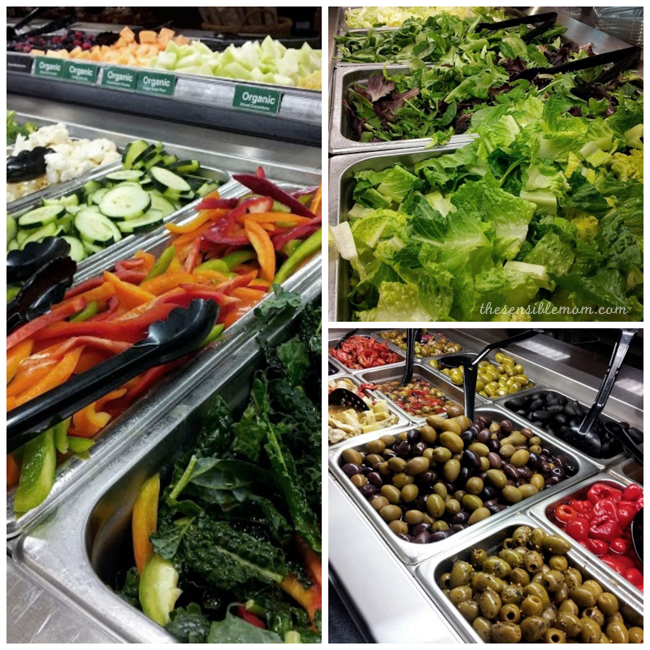 Better than your average shopping trip…
The assortment of healthy foods available at your fingertips is staggering, and I love the way Mariano's encourages its customers to live a healthy lifestyle by offering such a robust variety of healthy options. Mariano's doesn't simply have one salad bar with lettuce and vegetables, no, you can find island after island with tastebud tempting foods.
All this in a neighborhood grocery store.
This is part of what makes Mariano's such a unique experience when I shop there. I've never been to another grocery store like it on the planet.
In fact, when you shop at Mariano's you can look forward to:

an amazing assortment of healthy food options, from the islands to the grocery store aisles
a great value for your money
savings when you use your rewards card
an overall friendly atmosphere
Getting back to healthy habits
The main goal of my recent trip to Mariano's was to stock up on healthy foods, so that I could get back to eating healthy before summer hits next month. I have one pair of crazy looking shorts that I don't want to wear in public, and I'd love to be able to buy a couple new pairs that I can feel good wearing. In order to do that, I've gotten back on track, and I'm making healthy food choices.
I want to share these healthy food choices (and recipes) with you to inspire you to get back on track, too, if you've found yourself slipping away from healthy habits.
Health Food Choice #1 – Raspberries
I'd love to encourage you to simply enjoy some fresh berries the next time you need something sweet to snack on. These raspberries were delicious.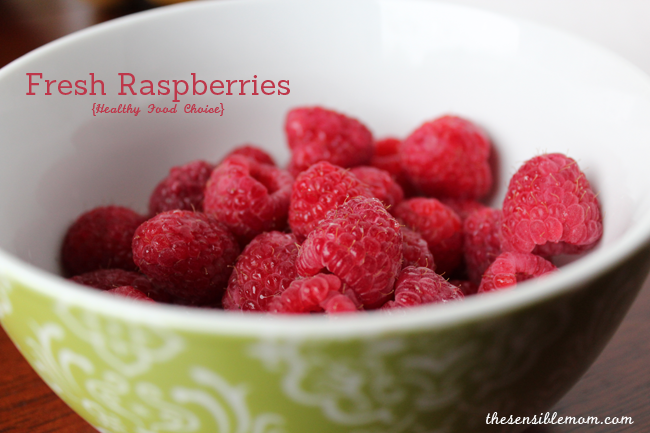 Health Food Choice #2 – At-the-ready Fresh Fruit
If you're a longtime reader of my blog, you've probably noticed that a lot of my pictures feature a basket of fruit in the background. 😉
It's actually a tip I gleaned from someone else a longtime ago, and we've simply adopted it. It's made a huge difference in our lives, because if there's a banana, apple, or orange always available…there's no reason not to make a healthy choice when you need something to tide you over until the next meal.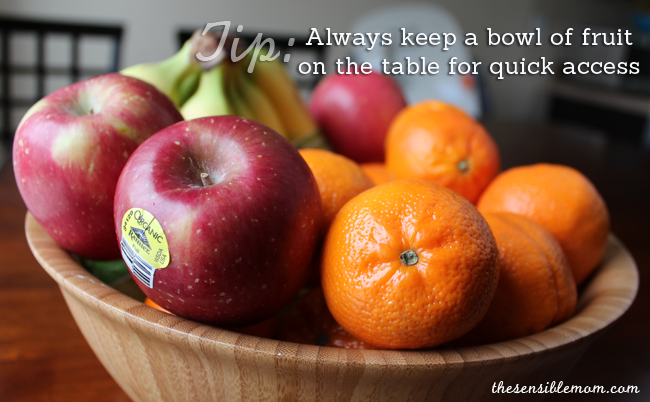 Health Food Choice #3- Vanilla Almond Milk
I drink coffee twice a day, and I used to create insane sugar-laden concoctions that I called "coffee." They were obviously not helping me lose any weight, so I switched to using vanilla almond milk in my coffee (most days), and now I can drink two cups of coffee per day and not feel like I'm hurting my efforts to lose weight and be healthy.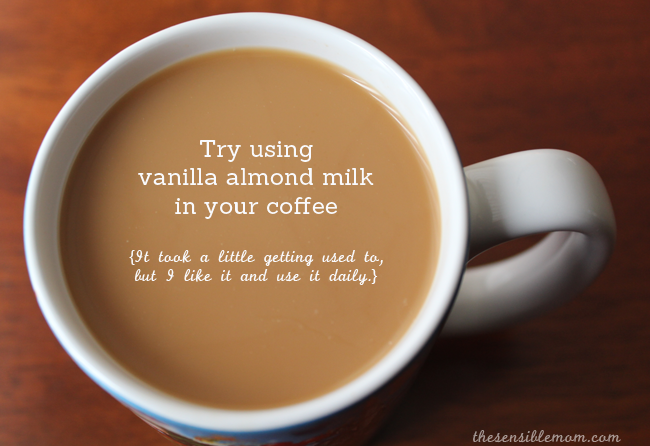 Health Food Choice #4 – Cucumbers
Need a delicious snack your whole family will love? I have just the recipe for you, and it's super simple.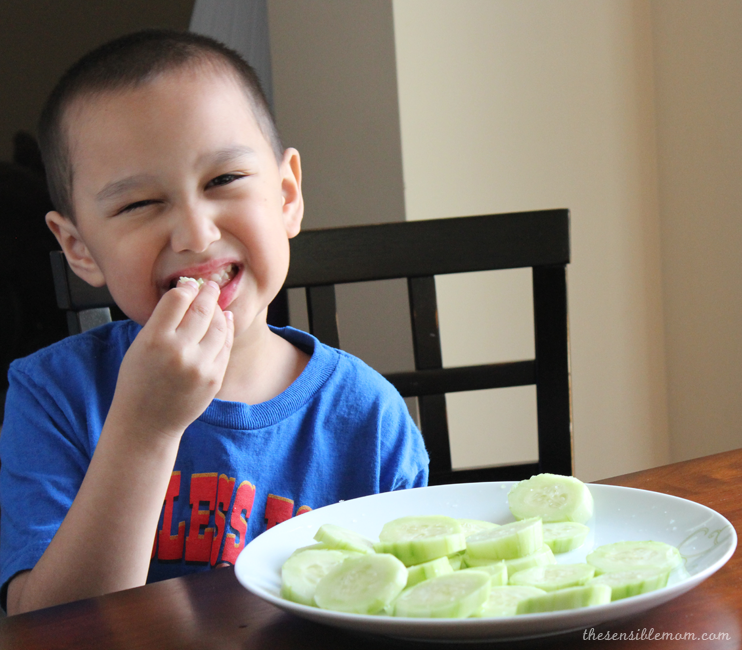 Simply add a little lime (or lemon) and salt to sliced cucumbers for a fun snack that's tasty and refreshing.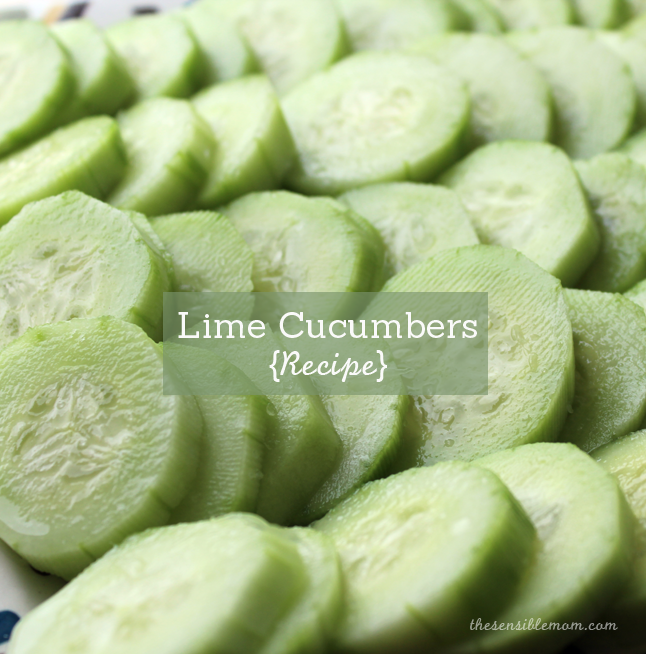 Here's the recipe:
Ingredients
3 cucumbers
fresh lime juice from 1/2 of a lime
coarse sea salt
Instructions
Peel and slice the cucumbers, then spread them out onto a large plate
Squeeze the lime juice of 1/2 of a lime over the cucumbers
Sprinkle coarse sea salt over the top of the cucumbers (to taste)
http://thesensiblemom.com/2013/05/healthy-food-choices/
Health Food Choice #5 – Guacamole
I love guacamole. Sometimes, I make it and have it as a meal. It's so easy to whip up, and, well, it's delicious. I'm sharing my recipe with you below.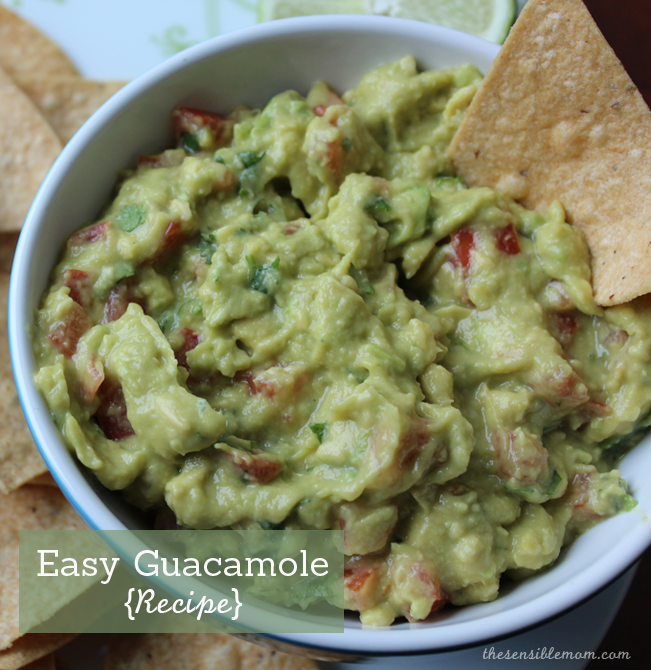 Here's the recipe:
Ingredients
2 large avocados, mashed
1 medium tomato, diced
1 tablespoon cilantro, chopped
2.5 tablespoons fresh lime juice
salt to taste
Instructions
Add mashed avocados, diced tomatoes, cilantro, lime juice, and salt to a bowl.
Stir ingredients just until they come together.
Taste and add more salt, if needed.
Serve with tortilla chips. This recipe makes approximately 2 cups of guacamole.
http://thesensiblemom.com/2013/05/healthy-food-choices/
Health Food Choice #6 – Green Juice
I've shared my recipe for homemade juicer lemonade in the past, but today, I'd love to share a simple green juice recipe that you can make in a juicer. I adore juicing, and green juices are definitely the best juices for you.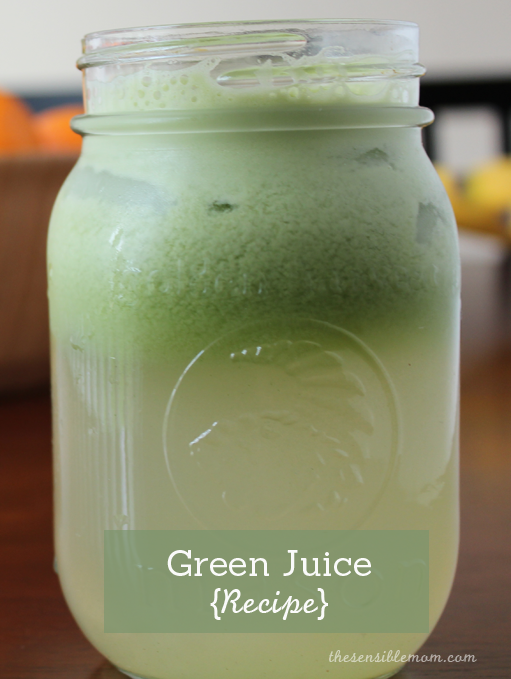 Here's the recipe:
So those are my 6 healthy food choice tips and recipes to help you think about making healthy choices before summer is here next month. 🙂
Are there any habits you need to kick in honor of the summer season? What's one of your favorite summertime recipes?
You can find more great recipes and ideas from the Mariano's Community. And you can follow Mariano's on Facebook and Twitter for their latest updates. You can also find out more about my shopping trip to Mariano's here in my Google+ story.