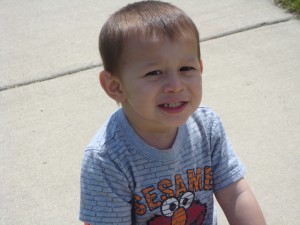 I thought it would be fun to do a pregnancy update today. Let's see….
:: I'm currently 17 weeks and 5 days pregnant.
:: I just bought my first pair of maternity pants/capris last weekend. AND I bought a skirt, too! It's probably been about 11 years since I last wore a skirt. It was at my high school graduation. I've tried to find one that fits well in the past but never could. I was happy to find the maternity skirt I bought on clearance for less than $10 at Motherhood Maternity. Yay! The capris were on clearance, too.
:: I'm having my 20 week ultrasound in a few weeks. Looking forward to that!
:: 99% of the time that we ask David, our youngest, where the baby is at, his reply is almost always, "He's gone!".
:: I've gained 12 pounds so far. I'm trying to keep my weight down by eating more salads and fruit. I'm also drinking a lot more water lately. I've discovered a love for lemon water which helps. I just squeeze about 1/2 a lemon into my water and that makes drinking it so much easier and more enjoyable.
Overall, I'm feeling pretty well except for the periods during the day when I feel very tired. This usually happens in the late morning or early afternoon. After that passes, I'm fine. Oh, and I've been getting daily headaches, too. I'm hoping those will go away soon.