I participated in an Ambassador Program on behalf of Mom Central Consulting (#MC) for Sprint.
I received product samples to facilitate my review.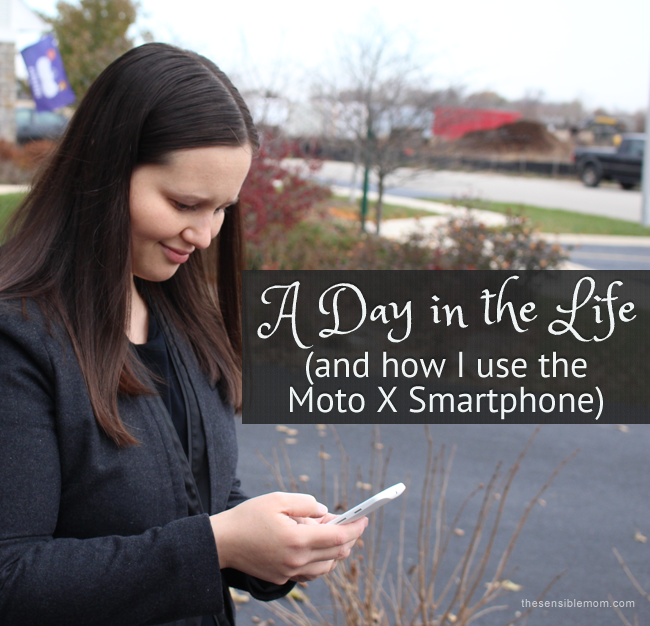 Life isn't easy these days.
No, not at all. But even with the unpredictability that's present in my life right now, I still have a few tools that help me to stay organized and on top of my to-do list.
The Moto X Smartphone
A smartphone is one of the tools that I use every single day to stay in the loop, check and delete email, keep on top of what's going on with my blog, and take pictures of my kids. I also use it as my only alarm clock and to send myself daily reminders to read my Bible — you'd be surprised how effective this is.
When my last phone decided to develop a mind of its own (people who know me in real life know what I'm talking about…), I switched to using the Sprint Moto X Smartphone. And it's been awesome.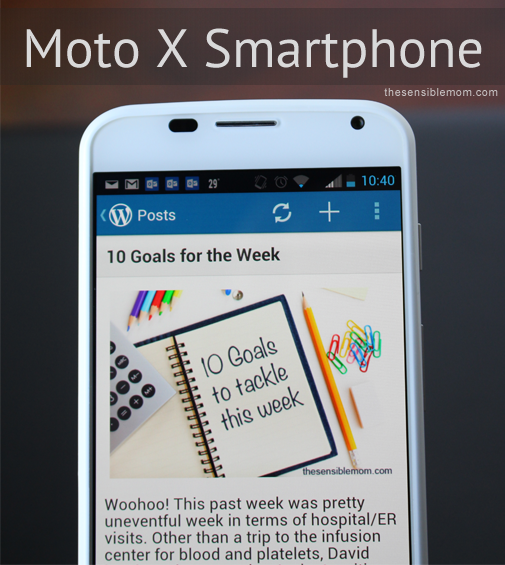 Incredibly Useful New Features
Besides being able to use this phone in all the ways I did with my old phone, there are new features that come along with the Moto X that have proved valuable in so many ways.
First, there's the Touchless Control. With this feature, I don't even have to touch the phone to get directions, check the weather, ask Google a question, etc… The Moto X knows my voice, and when I say, "OK, Google Now," it responds. So far, I love using this feature to get directions quickly and easily.
Because people who know me in real life also know that I get lost easily. 😉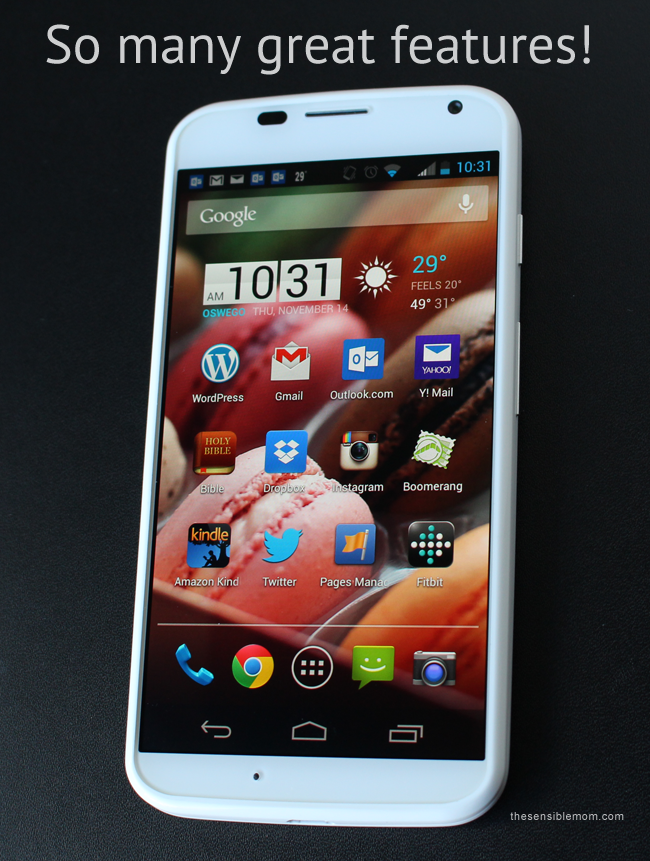 My second favorite Moto X feature is the Active Display. I use this feature A LOT.
It looks like this: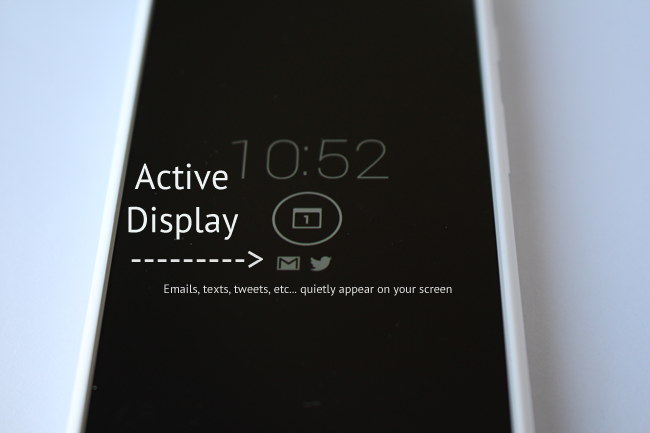 With this feature, information quietly appears on your screen, and with one touch of the finger, you can get more information and decide whether or not you want to swipe to unlock the screen and check that email or text message or whatever it may be.
A Day in the Life
Besides going over the cool features of the Moto X smartphone, I thought it would be fun to share what a somewhat typical day looks like for me at the moment.
Here goes…
A somewhat typical day:
Around 7:46 AM: I check the time on my phone, and then I sneak out of bed before Elisabeth wakes up (we co-sleep) and start getting ready for the day.

Around 8:00 AM: Elisabeth wakes up crying, so I grab my phone and lay back down with her. I nurse her and read my Bible using the app on my phone.

Around 8: 25 AM: Elisabeth has fallen back asleep, but instead of continuing to get ready for the day, I decide to sit at my desk and return an email.

Around 9:00 AM: I finally head for the shower. David wakes up shortly before this happens, and he's in a great mood. But he has lots more pin-point red dots (petechiae) on his face and body. I know this means his platelets are low, and I start contemplating whether or not he's going to be able to make it to his appointment on Monday before he needs a transfusion.

Around 9:50 AM: I head downstairs with the kids to eat breakfast. I bring my phone, laptop, and schedule with me, so that I can look things over and plan my day.

10:22 AM: I start preparing a spot at my kitchen table to take pictures of products I'll talk about in an upcoming blog post.

11:01 AM: I'm finally finished taking pictures for my post. It takes a little longer because the kids decide they want to play outside, and they keep thinking they hear a loose dog.

11:05 AM: I sit down to nurse Elisabeth, who is very upset because she didn't get to go outside with Nathan and Isaac. While I'm nursing her, David gets close and as I look at his face, I wonder whether or not I should call the doctor. He has so much petechiae. 🙁 His energy level is great, though, so I decide to wait until he sees his nurse this afternoon and go with her recommendation.

11:16 AM: Elisabeth is still upset about not being able to go outside, so I go outside with her.

Around 11:20 AM: Ruben arrives home, and after coming back inside with Elisabeth, I start getting ready to leave for the library. I'll spend as much time as I can there getting work done.

11:46 AM: I leave for the library where I can check out a room for a few hours to work.

11:55 AM: I pull into a parking space at our local library and head inside. I have less than three hours at the library today, because I need to be back home by 3:00 PM, when David's home health nurse will stop by for a visit.

2:28 PM: I pack up and get ready to head home from the library. Before I leave, though, I check out the books Nathan has on hold and choose five videos for the kids to watch this week.

2:42 PM: I arrive home, say hello to everyone, and then start a cup of coffee.

3:00 PM: David's nurse arrives. I go over issues we've been having with David's prescriptions and the obvious petechiae on David's face and body. She wants me to call the doctor's office right then and there, so I grab my phone and dial the number. I can only leave a message and have to wait for a call back.

3:28 PM: David's nurse leaves, and while I could go back to the library to get more work done, I decide it's best to wait on the phone call from someone on David's care team. They may want us to take David to the emergency room today.

3:50 PM: I open my computer and try to get work done from home.

4:27 PM: Still no word from the hospital, so I take Elisabeth upstairs to nap.

4:45 PM: Elisabeth falls asleep, and I work online.

5:20 PM: I head downstairs to make dinner.

5:28 PM: I get a call from the hospital, and we discuss David's increased petechiae and meds. David's doctor is okay with David not going to the ER today, and an appointment will be made for him to go to the infusion center on Monday afternoon after the appointment that's already scheduled with his doctor for that day. If there's another significant increase in petechiae or other symptoms, I'm instructed to call back.

5:50 PM: Elisabeth wakes up from her nap. I leave to help her get back to sleep while Ruben takes over dinner.

6:07 PM: David bursts into the room yelling that his leg hurts. I try to help him while I'm holding Elisabeth, but he wants me to put her down, so I do. Thankfully, Elisabeth stays asleep, and I rub David's leg. He's feeling fine shortly after this episode and hangs out with me for awhile.

6:16 PM: Dinner is ready, and David and I head downstairs.

6:56 PM: Dinner is finished, and I'm almost done cleaning the kitchen when Elisabeth wakes up again. I head upstairs to nurse her.

7:25 PM: Surprisingly, Elisabeth falls back to sleep, and I spend time chatting with Ruben and check email and Facebook.

Around 7:40 PM: Elisabeth wakes up (for real this time), and we head downstair to get dinner for her.

8:32 PM: I take time to read to the kids from their current favorite superhero book.

9:00 PM: I say goodnight to the kids and then get back online to return an email.

9:16 PM: I get off the computer to pray as a family and say goodnight to the kids again. They go to bed for real this time.

9:26 PM: I get back online to work, check email, etc…. Ruben and I talk about life and the kids, and I finally make it to bed around 1:30 AM.
How I'm Staying Active with the Fitbit Flex
In addition to using the Moto X throughout the day, I've also been wearing a Fitbit, which has been awesome because it reminds me to keep moving as the day progresses.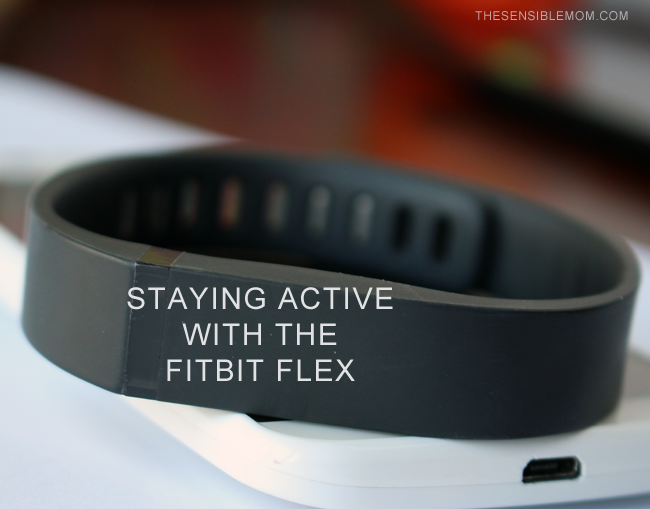 I've gained weight since life turned upside down with David's diagnosis, and the Fitbit is helping me take it off again. I'm still not down to the weight I was at, but little by little…step by step…I know I'll get there.
The Fitbit offers you the ability to:

Track your steps, distance, and calories each day
Track your sleep cycle and learn how to get better sleep at night
Set goals and view progress
Log food, weight, and more on the Fitbit website or app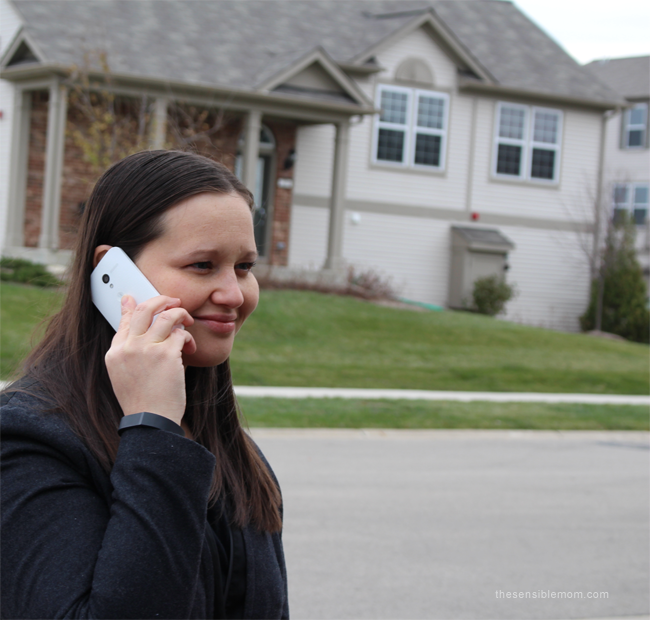 There's so much you can do with a Fitbit
Besides the obvious visual reminder that the Fitbit Flex offers, I also use a personalized Fitbit dashboard online to track things like my progress, weight, and calories. Both the online dashboard and the app for the Fitbit are super easy to use.
Overall, the Fitbit has been helping immensely, and it's also available at Sprint.
Have you ever used a Fitbit? Is there a tool that helps you stay on top of your to-do list? Or, what does a typical day look like at your house?