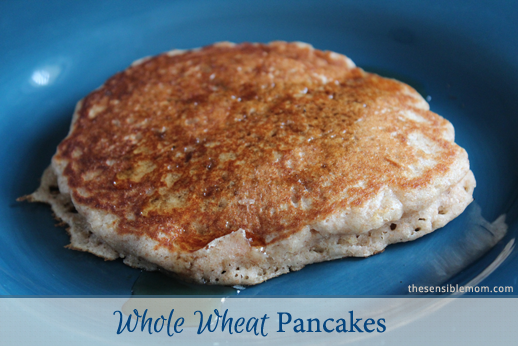 The thought of using whole wheat flour to cook or bake with, even a year ago, would have scared me. Seriously.
Not that we haven't been eating whole wheat products for awhile now, I've just never cooked or baked with whole wheat flour myself. I didn't grow up using it, and when I'd read recipes online, it seemed like most people would sub into a recipe a little whole wheat flour in place of some of the white flour, but they wouldn't use all whole wheat.
Then we changed our diet.
Again.
And the changes included eating more whole wheat and even replacing white flour with whole wheat flour. Scary. For us anyway. 🙂
The results?
Delicious. At least they've been delicious for our whole wheat pancake recipe.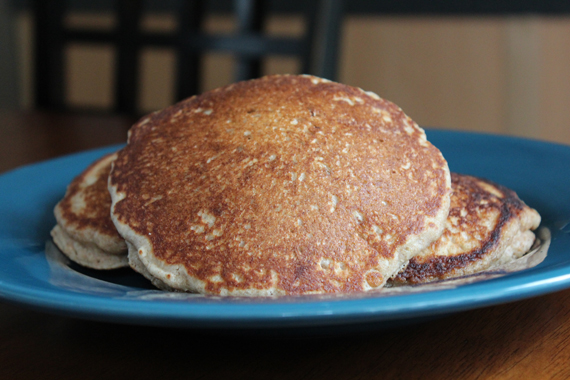 Our entire family loves these pancakes, even our 'picky' eaters, who have become a whole lot less 'picky' as we've made more changes to our diet.
Here's the recipe:
Whole Wheat Pancakes

Ingredients:

2 cups whole wheat flour (organic, if possible)

3 tbs. sugar

1/2 tsp. baking soda

2 tsp. baking powder

1/2 tsp. salt

1 large egg, lightly beaten

3 tbs. unsalted butter, melted

2 cups of soured milk (I use rice milk or almond milk – just measure out 2 cups and then add 2 tbs. of vinegar and let it sit for 5-10 minutes)

1-2 tbs. of either butter (not melted) or coconut oil for the pan

Directions:

In a large bowl, whisk together the flour, sugar, baking soda, baking powder, and salt.
In a separate medium bowl, whisk together the egg, butter and then soured milk.
Pour the wet ingredients into the bowl with the dry ingredients and mix.
Heat a pan over medium low heat, and then add the butter or coconut oil to the pan you are going to use to cook your pancakes.
Once the pan is hot and the butter/oil has melted, start cooking your pancakes.

Enjoy.
Do you cook and/or bake with whole wheat flour? Have you ever made whole wheat pancakes in the past?
P.S. We cook our pancakes in a stainless steel pan with butter. I don't add butter to the pan after each pancake. I add it after about every 5th or 6th pancake.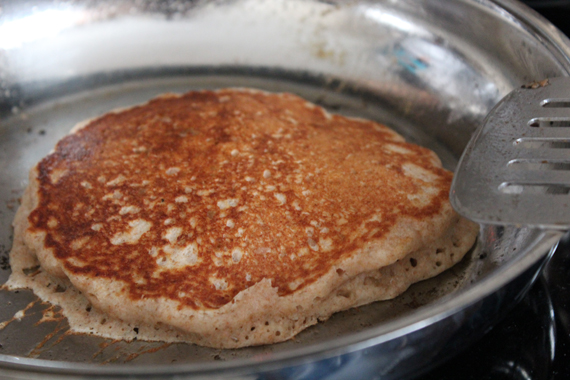 UPDATE: I created a YouTube video that features this recipe with a few variations that you can see here: