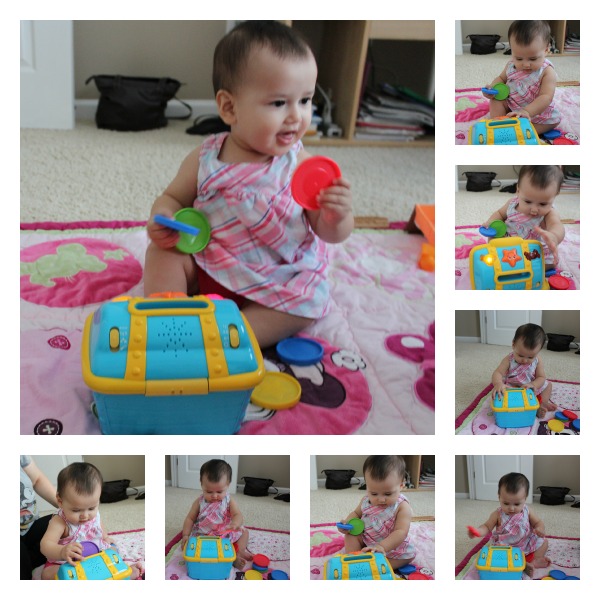 Fun, colorful, educational, and not-too-loud is how I'd describe the Baby Einstein Count & Discover Treasure Chest.
Our family was recently given the opportunity to review this toy and, let me tell you, from the moment we opened the box this toy has been getting lots of attention.
At first, all the attention this toy was getting was from a very excited 3 yr. old boy, but after I explained to him over and over that this toy belonged to his baby sister, Elisabeth, she was able to experience it.
This toy is an experience, too. It sings (at an acceptable volume – not at all like some other loud and obnoxious baby toys – you know, the kinds of toys kids get from the grandparents), it lights up, it speaks in other languages, and, as you can see, it's a treasure chest.
The one thing I didn't like about this toy is that it is top-heavy. That means it shuts when you want it be open sometimes. Other than that, it's a great toy.
It honestly has been getting played with every single day since we got it, and I like it. So does baby girl.
Here's a bit more information about this toy:
Capture your little one's imagination with the Count & Discover Treasure Chest from Baby Einstein. It introduces Baby to counting, shapes and colors in English, Spanish and French. It features classic melodies and Fun Ocean sounds.
Manufacturer's Suggested Age: 6 Months and Up
Includes: Coins
Educational Focus: Shapes and Colors, Teaching Aid, Motor Skills, Letters and Numbers
Number of Pieces: 11
Dimensions: 6.0 " H x 7.9 " W x 6.3 " L
Product Weight: 1.83 Lb.
Care and Cleaning: Hand Wash Only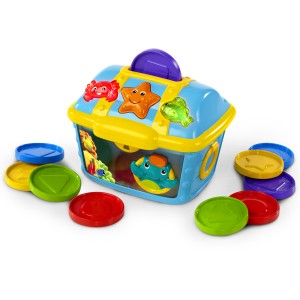 If you are interested in purchasing this toy, you can find it on Kids II and other online retailers. Kids II is a fast growing toy company, and I just saw on their Twitter page that they're located in Georgia. I had no idea, but that's cool!
Anyway, you can keep up with them and get their latest updates on Twitter, too!
 Disclosure: This review was made possible by Double Duty Divas and Kids II, Inc. I was provided the featured product free of charge to facilitate my review, and all opinions are 100% mine.