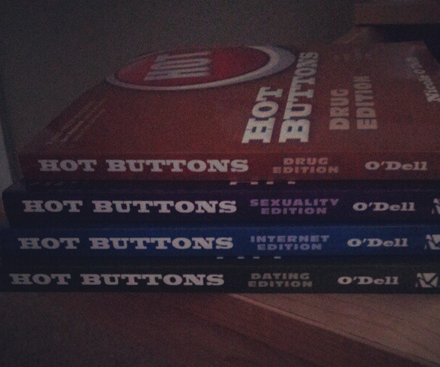 Moms, do you need practical advice on how to talk to your kids about hot button issues like drugs, dating, sexuality, and the internet?
Do you want to learn how to talk TO your kids about these issues and not just AT them?
Me too, so that's why I took the opportunity to review a series of four books by Nicole O'Dell.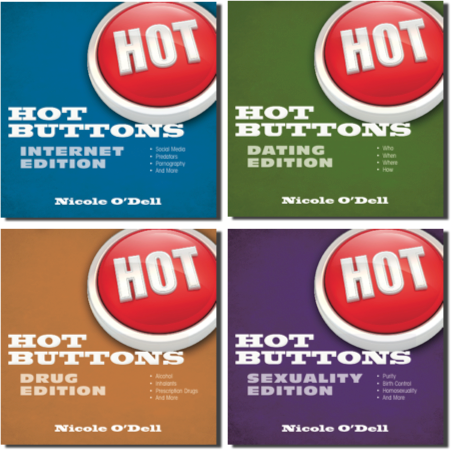 What these books are about
They're all about how to practically have a conversation with your kids about difficult situations and topics that pertain to internet use, dating, drugs, and sexuality.
What I enjoyed about these books
These books are full of practical, easy ways to talk to your kids about uncomfortable stuff. I am personally terrified to start talking to my kids about the birds and the bees. I know I shouldn't be, but I am. I just feel nervous about it. I need help to approach the subject in an understandable way. We have talked about drugs, the internet, and we've talked about marriage…not so much dating, because my husband and I probably have a less popular view on this subject than others.
The Hot Buttons books give you scenarios to go over with your kids, which is helpful and a great way to break into talking about difficult subjects. I also like that the books remind you to stay approachable as a parent. It's so easy to be fearful of discussing certain topics with your kids and easy to come off as unapproachable when they come to you with questions.
But I want them to learn about these subjects from me and my husband. I don't want them to learn about them the way I did…which was mostly from other kids my age, who – not surprisingly – didn't usually give the best advice.
What I didn't enjoy about these books
There are some scenarios that I don't feel I need to go over with my kids, because for them to be in those types of situations means I've probably messed up and…
allowed them to go somewhere they shouldn't be
allowed them to hang out with people they shouldn't be hanging out with (who your children are friends with is extremely important)
allowed them to be alone with someone that they should never be alone with
What I think, overall
These books are great tools to give you, as a parent, some guidance and practical help as to how to have a conversation with your kids about the topics in the books.
Now for how you can have a chance to win a $100 Visa Cash Card!
Nicole O'Dell will be having a Live "Hot Buttons" Video Chat on November 1st. Party begins at 5:00 PM PST (6:00 MST, 7:00 CST, 8:00 EST).
Just RSVP by going here and clicking JOIN and then go back the evening of the 1st and follow the link to the party.
I've been to the facebook parties, and they are not only fun, but also help you to get to know the author personally and go deeper into their books.
More About the books:


Nicole O'Dell helps address the Hot Buttons in teens' lives before the issues become problems

From dating to drugs, modesty to purity, morals to popularity, teens face all sorts of tough issues. How teens respond to these hot-button issues can have lasting effects on who they want to be and who they actually become. What if parents can help their teens prepare for these hot buttons-before the issues become a problem?

The uniquely packaged Hot Buttons Series is an accessible, quick-reference resource that parents can use to equip their children to make the right decisions, even in the face of peer pressure and outside influences. More than just another how-to manual, Hot Button Dating Edition offers practical real-life situations that parents can read and discuss with their preteens.

Author, mom, and broadcaster, Nicole O'Dell provides short scenarios followed by three or four responses that a teen might choose in that particular situation. Parents are then encouraged to help their children explore the issue, ask questions, and discuss the options, so when a similar situation comes up in real life, the teens are already prepared to respond.

Meet Nicole:

Youth-culture expert, Nicole O'Dell is the host of Choose NOW Radio: Parent Talk and Teen Talk and the founder of Choose NOW Ministries, dedicated to guiding teens through tough issues and helping parents encourage good decisions.

On air, O'Dell covers peer pressure, dating, purity, drugs, alcohol, modesty, popularity, and anything else that comes up along the way. Nicole writes and speaks to preteens, teenagers, and parents about how to prepare for life's tough choices.
As an author, O'Dell writes both fiction and nonfiction. Her popular YA fiction includes the Diamond Estate Series and the Scenarios for Girls interactive books that feature alternate endings, allowing young girls to decide the outcome for the main character. Her nonfiction for teens includes Girl Talk, which she wrote with her two daughters based on their popular advice column.

While her YA resources encourage and equip teens, Nicole also works to bridge the communication gap between teens and their parents. The Hot Buttons series helps parents discuss tough issues with their tweens and teens before the issues pop up in real life. Watch for future Hot Buttons books on subjects like bullying, image, prejudice, friendships, politics, and more.

O'Dell, resides in Paxton, IL, with her husband and six children-the youngest of whom are toddler triplets.
Buy these books on Amazon
I received free copies of these books from Litfuse in exchange for my review. 
This post contains my affiliate link.