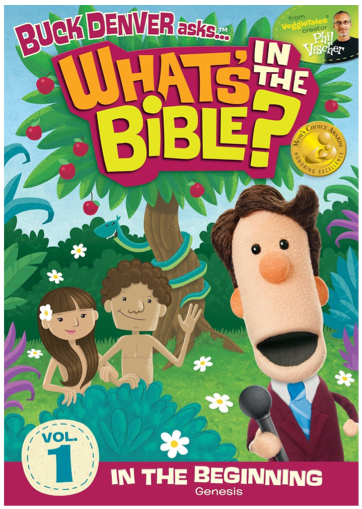 Are you interested in a great resource that'll give your kids solid Bible truth in an easy to understand, fun, interesting, child-friendly way?
If the answer is, "Yes," then I've got a fantastic resource for you. Check out the What's in the Bible? DVDs.
Why I loved 'What's in the Bible?'
These DVDs not only talk about the stories that are in the Bible, they go further and explain things like:
:: Who wrote the Bible?
:: How did we get the Bible?
:: How many books are in the Bible?
:: Why can we trust the Bible?
:: and many more important questions surrounding God's Word, the Bible
I know that I want my children to not only believe the Bible, but also to know why it is trustworthy, reliable, and a firm foundation for their hope. The creator of VeggieTales, Phil Vischer, explains more in the video:
What my kids thought about 'What in the Bible?'
Right after watching for the first time, my 5 year old son, Isaac, came and found me and sweetly said, "I like it." I could tell that the DVD had made an immediate impact on his heart.
Nathan, my 12 year old son, asked when we could get the next DVD in the series.
And above all, my kids started asking more questions that my husband and I were able to answer. Since we became Christians 9 years ago, Ruben and I have been reading through the Bible (have read all the way through it several times) and have earnestly sought to know that our faith is well-placed. We've studied apologetics and listened to countless teachings to know why we believe what we believe and why we can trust the Bible. But these things are not always easy for children, especially small children, to understand. I'm glad that the What's in the Bible? DVDs make teaching these things to young children so much easier.
There are some great, free resources that go along with the DVD
You can access those here:
And they include:
:: coloring pages
:: Bible flashcards
:: Study Guide
:: and more.
The bottom line?
These DVDs are different from VeggieTales, of which we own around 897,122.
We loved 'What's in the Bible?' and look forward to seeing the rest of the DVDs in the series.
Disclosure: "I was selected for participation in this review and given the What's in the bible DVD as a member of The Homeschool Lounge Review Team. All thoughts and opinions are my own."